BNIP3 Kits ELISA
(BCL2/adenovirus E1B 19kDa Interacting Protein 3 (BNIP3))
This gene is a member of the BCL2/adenovirus E1B 19 kd-interacting protein (BNIP) family. It interacts with the E1B 19 kDa protein, which protects cells from virally-induced cell death. The encoded protein also interacts with E1B 19 kDa-like sequences of BCL2, another apoptotic protector. This protein contains a BH3 domain and a transmembrane domain, which have been associated with pro-apoptotic function. The dimeric mitochondrial protein encoded by this gene is known to induce apoptosis, even in the presence of BCL2. [provided by RefSeq, Mar 2011].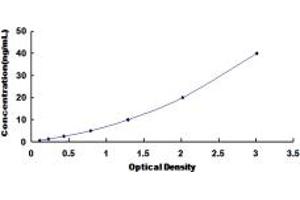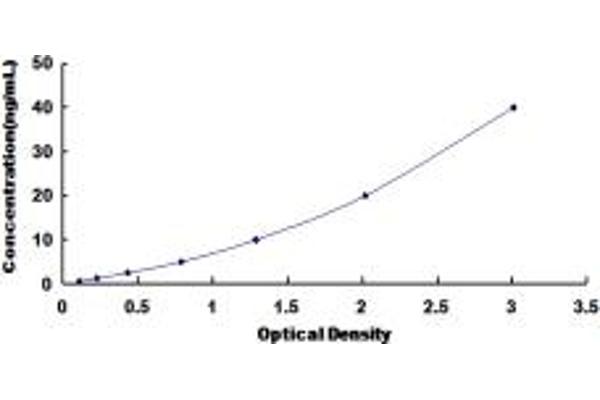 BNIP3 Kit ELISA

(ABIN6954066)
BNIP3 Reactivité: Rat Colorimetric Sandwich ELISA 0.62 ng/mL - 40 ng/mL Cell Lysate, Tissue Homogenate
BNIP3 Kits ELISA par Réactivité
Trouvez BNIP3 Kits ELISA pour une variété d'espèces telles que anti-Human BNIP3, anti-Cow BNIP3, anti-Mouse BNIP3. Les espèces listées ci-dessous sont parmi celles disponibles. Cliquez sur un lien pour accéder aux produits correspondants.
BNIP3 Kits ELISA par Méthode de détection
On trouve ici des BNIP3 Kits ELISA avec un Méthode de détection spécifique. Les Méthode de détection mentionnés ici sont quelques-uns de ceux qui sont disponibles. Un clic sur le lien correspondant permet d'accéder aux produits
BNIP3 Kits ELISA par Analytical Method
On trouve ici des BNIP3 Kits ELISA avec un Analytical Method spécifique. Les Analytical Method mentionnés ici sont quelques-uns de ceux qui sont disponibles. Un clic sur le lien correspondant permet d'accéder aux produits
BNIP3 Kits ELISA par Type de méthode
On trouve ici des BNIP3 Kits ELISA avec un Type de méthode spécifique. Les Type de méthode mentionnés ici sont quelques-uns de ceux qui sont disponibles. Un clic sur le lien correspondant permet d'accéder aux produits
BNIP3 Kits ELISA par Sample
On trouve ici des BNIP3 Kits ELISA avec un Sample spécifique. Les Sample mentionnés ici sont quelques-uns de ceux qui sont disponibles. Un clic sur le lien correspondant permet d'accéder aux produits
BNIP3 Kits ELISA fréquemment utilisés
Produit
Reactivity
Analytical Method
Validations
N° du produit
Quantité
Fiche technique
Reactivity Rat
Analytical Method Quantitative Sandwich ELISA
N° du produit ABIN6954066
Quantité 96 tests
Reactivity Mouse
Analytical Method
N° du produit ABIN1123395
Quantité 96 tests
Reactivity Cow
Analytical Method
N° du produit ABIN1123393
Quantité 96 tests
Reactivity Human
Analytical Method Quantitative Sandwich ELISA
N° du produit ABIN5690831
Quantité 96 tests
Reactivity Human
Analytical Method Semi-Quantitative Sandwich ELISA
N° du produit ABIN6384286
Quantité 96 tests
Pseudonymes pour BNIP3 Kits ELISA
BCL2 interacting protein 3 (BNIP3) Kits ELISA
BCL2/adenovirus E1B interacting protein 3 (Bnip3) Kits ELISA
BCL2 interacting protein 3 (Bnip3) Kits ELISA
NIP3 Kits ELISA
Nip3 Kits ELISA