CAPN2 Protéines
(Calpain 2, (M/II) Large Subunit (CAPN2))
The calpains, calcium-activated neutral proteases, are nonlysosomal, intracellular cysteine proteases. The mammalian calpains include ubiquitous, stomach-specific, and muscle-specific proteins. The ubiquitous enzymes consist of heterodimers with distinct large, catalytic subunits associated with a common small, regulatory subunit. This gene encodes the large subunit of the ubiquitous enzyme, calpain 2. Multiple heterogeneous transcriptional start sites in the 5' UTR have been reported. Two transcript variants encoding different isoforms have been found for this gene. [provided by RefSeq, Mar 2009].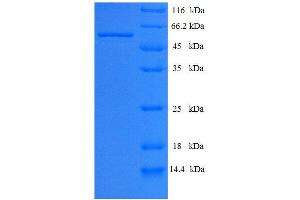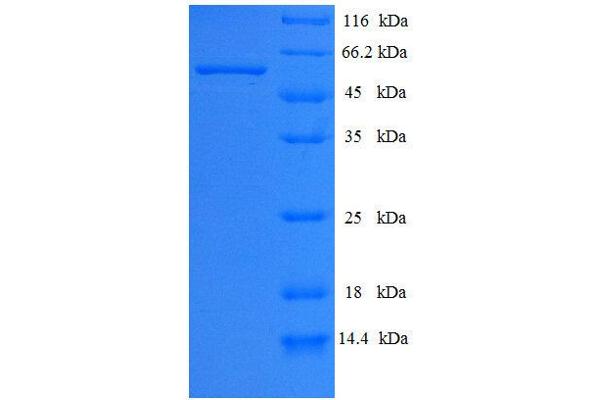 Calpain 2, (M/II) Large Subunit (CAPN2) (AA 1-324) protein (His tag)

(ABIN1472496)
CAPN2 Origine: Porc Hôte: Levure Recombinant > 90 % ELISA
CAPN2 Protéines par Origin
Trouvez CAPN2 Protéines pour une variété d'espèces telles que anti-Pig CAPN2, anti-Rabbit CAPN2. Les espèces listées ci-dessous sont parmi celles disponibles. Cliquez sur un lien pour accéder aux produits correspondants.
CAPN2 Protéines par Source
On trouve ici des CAPN2 Protéines avec un Source spécifique. Les Source mentionnés ici sont quelques-uns de ceux qui sont disponibles. Un clic sur le lien correspondant permet d'accéder aux produits
CAPN2 Protéines par Type Proteine
On trouve ici des CAPN2 Protéines avec un Type Proteine spécifique. Les Type Proteine mentionnés ici sont quelques-uns de ceux qui sont disponibles. Un clic sur le lien correspondant permet d'accéder aux produits
CAPN2 Protéines par Application
Trouver CAPN2 Protéines validé pour une application spécifique telle que ELISA. Certaines des applications disponibles sont énumérées ci-dessous. Cliquez sur un lien pour accéder aux produits correspondants
CAPN2 Protéines fréquemment utilisés
Pseudonymes pour CAPN2 Protéines
calpain 2 (CAPN2) Protéines
calpain 2 (Capn2) Protéines
calpain 2, (m/II) large subunit (CAPN2) Protéines
calpain 2, (m/II) large subunit b (capn2b) Protéines
calpain 2, gene2 L homeolog (capn2.2.L) Protéines
AI326419 Protéines
CANP2 Protéines
CANP 2 Protéines
canp2 Protéines
CANPL2 Protéines
canpl2 Protéines
CANPml Protéines
canpml Protéines
Capa-2 Protéines
Capa2 Protéines
capn2 Protéines
capn2.2 Protéines
im:6908877 Protéines
m-calpain Protéines
m-calpin Protéines
mCANP Protéines
mcanp Protéines
zgc:109906 Protéines