Endostatin Protéines
(Endostatin (ES))
This gene encodes the alpha chain of type XVIII collagen. This collagen is one of the multiplexins, extracellular matrix proteins that contain multiple triple-helix domains (collagenous domains) interrupted by non-collagenous domains. The proteolytically produced C-terminal fragment of type XVIII collagen is endostatin, a potent antiangiogenic protein. Mutations in this gene are associated with Knobloch syndrome. The main features of this syndrome involve retinal abnormalities, so type XVIII collagen may play an important role in retinal structure and in neural tube closure. Alternatively spliced transcript variants encoding different isoforms have been found for this gene. [provided by RefSeq, Sep 2008].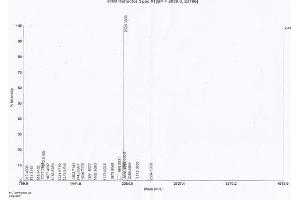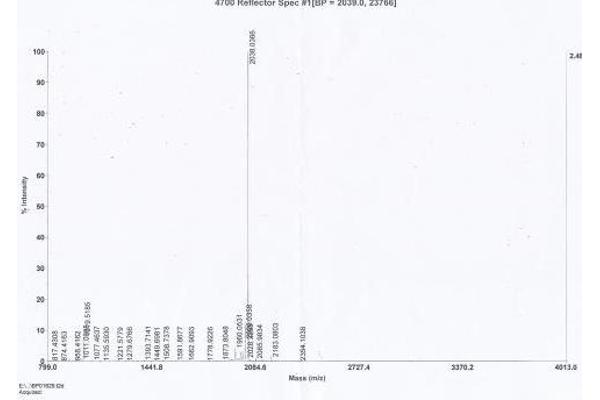 Endostatin (ES) protein (KLH)

(ABIN1880228)
ES Origine: Humain Hôte: Synthetic > 95 % IP, SDS, ELISA, WB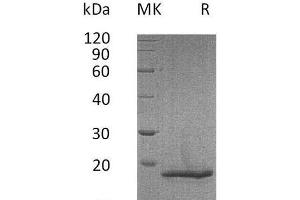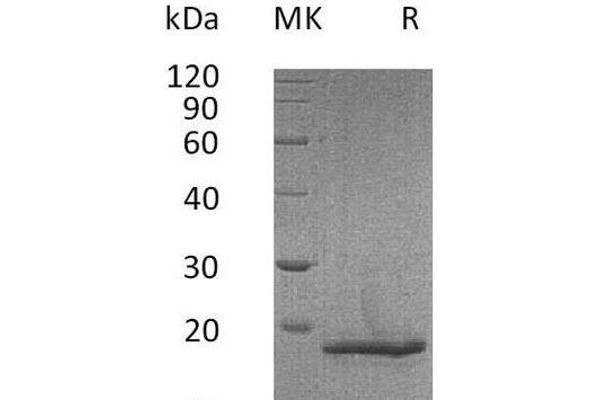 Endostatin (ES) protein (His tag)

(ABIN7320492)
ES Origine: Souris Hôte: Human Cells Recombinant > 90 % as determined by SDS-PAGE
Endostatin Protéines par Origin
Trouvez Endostatin Protéines pour une variété d'espèces telles que anti-Human Endostatin, anti-Mouse Endostatin, anti-Rat Endostatin. Les espèces listées ci-dessous sont parmi celles disponibles. Cliquez sur un lien pour accéder aux produits correspondants.
Endostatin Protéines par Source
On trouve ici des Endostatin Protéines avec un Source spécifique. Les Source mentionnés ici sont quelques-uns de ceux qui sont disponibles. Un clic sur le lien correspondant permet d'accéder aux produits
Endostatin Protéines par Type Proteine
On trouve ici des Endostatin Protéines avec un Type Proteine spécifique. Les Type Proteine mentionnés ici sont quelques-uns de ceux qui sont disponibles. Un clic sur le lien correspondant permet d'accéder aux produits
Endostatin Protéines par Application
Trouver Endostatin Protéines validé pour une application spécifique telle que WB, SDS, ELISA, Imm. Certaines des applications disponibles sont énumérées ci-dessous. Cliquez sur un lien pour accéder aux produits correspondants
Endostatin Protéines par Activité biologique
On trouve ici des Endostatin Protéines avec un Activité biologique spécifique. Les Activité biologique mentionnés ici sont quelques-uns de ceux qui sont disponibles. Un clic sur le lien correspondant permet d'accéder aux produits
Endostatin Protéines fréquemment utilisés
Produit
Reactivity
Source
Validations
N° du produit
Quantité
Fiche technique
Reactivity Human
Source Synthetic
N° du produit ABIN1880228
Quantité 200 μg
Reactivity Mouse
Source Human Cells
N° du produit ABIN7320492
Quantité 50 μg
Reactivity Human
Source Yeast (Pichia pastoris)
N° du produit ABIN987805
Quantité 100 μg
Reactivity Human
Source Escherichia coli (E. coli)
N° du produit ABIN935329
Quantité 100 μg
Reactivity Rat
Source Escherichia coli (E. coli)
N° du produit ABIN7403321
Quantité 100 μg
Reactivity Rat
Source Escherichia coli (E. coli)
N° du produit ABIN6120357
Quantité 100 μg
Pseudonymes pour Endostatin Protéines
collagen type XVIII alpha 1 chain (COL18A1) Protéines
collagen, type XVIII, alpha 1 (Col18a1) Protéines
KNO Protéines
KNO1 Protéines
KS Protéines