GRF2 Kits ELISA
(Rap Guanine Nucleotide Exchange Factor (GEF) 1 (RAPGEF1))
This gene encodes a human guanine nucleotide exchange factor. It transduces signals from CRK by binding the SH3 domain of CRK, and activating several members of the Ras family of GTPases. This signaling cascade that may be involved in apoptosis, integrin-mediated signal transduction, and cell transformation. Several alternatively spliced transcript variants of this gene have been described, but the full-length nature of some variants has not been determined. [provided by RefSeq, Jul 2008].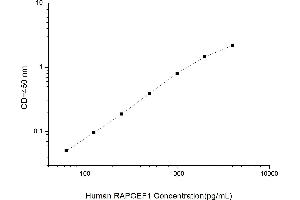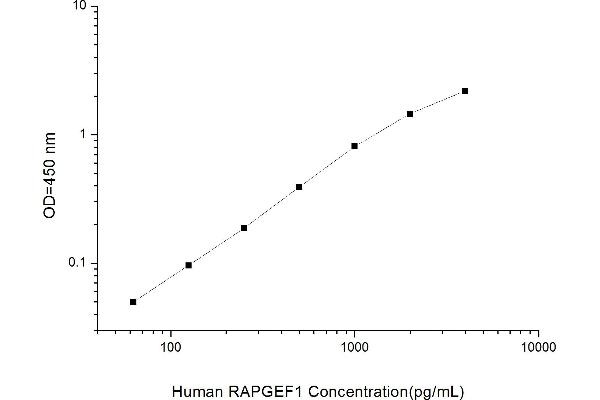 GRF2 Kit ELISA

(ABIN1116891)
RAPGEF1 Reactivité: Humain Colorimetric Sandwich ELISA 62.5 pg/mL - 4000 pg/mL Plasma, Serum
GRF2 Kits ELISA par Réactivité
Trouvez GRF2 Kits ELISA pour une variété d'espèces telles que anti-Human GRF2, anti-Chicken GRF2, anti-Cow GRF2. Les espèces listées ci-dessous sont parmi celles disponibles. Cliquez sur un lien pour accéder aux produits correspondants.
GRF2 Kits ELISA par Méthode de détection
On trouve ici des GRF2 Kits ELISA avec un Méthode de détection spécifique. Les Méthode de détection mentionnés ici sont quelques-uns de ceux qui sont disponibles. Un clic sur le lien correspondant permet d'accéder aux produits
GRF2 Kits ELISA par Analytical Method
On trouve ici des GRF2 Kits ELISA avec un Analytical Method spécifique. Les Analytical Method mentionnés ici sont quelques-uns de ceux qui sont disponibles. Un clic sur le lien correspondant permet d'accéder aux produits
GRF2 Kits ELISA par Type de méthode
On trouve ici des GRF2 Kits ELISA avec un Type de méthode spécifique. Les Type de méthode mentionnés ici sont quelques-uns de ceux qui sont disponibles. Un clic sur le lien correspondant permet d'accéder aux produits
GRF2 Kits ELISA par Sample
On trouve ici des GRF2 Kits ELISA avec un Sample spécifique. Les Sample mentionnés ici sont quelques-uns de ceux qui sont disponibles. Un clic sur le lien correspondant permet d'accéder aux produits
GRF2 Kits ELISA fréquemment utilisés
Produit
Reactivity
Analytical Method
Validations
N° du produit
Quantité
Fiche technique
Reactivity Human
Analytical Method Quantitative Sandwich ELISA
N° du produit ABIN1116891
Quantité 96 tests
Reactivity Pig
Analytical Method Quantitative
N° du produit ABIN779782
Quantité 96 tests
Reactivity Guinea Pig
Analytical Method Quantitative
N° du produit ABIN777603
Quantité 96 tests
Reactivity Cow
Analytical Method Quantitative
N° du produit ABIN995295
Quantité 96 tests
Reactivity Dog
Analytical Method Quantitative
N° du produit ABIN995294
Quantité 96 tests
Reactivity Goat
Analytical Method
N° du produit ABIN995293
Quantité 96 tests
Reactivity Human
Analytical Method Quantitative Competition ELISA
N° du produit ABIN511558
Quantité 96 tests
Reactivity Sheep
Analytical Method Quantitative
N° du produit ABIN1057984
Quantité 96 tests
Reactivity Chicken
Analytical Method Quantitative
N° du produit ABIN1057982
Quantité 96 tests
Reactivity Monkey
Analytical Method Quantitative
N° du produit ABIN1057983
Quantité 96 tests
Reactivity Rabbit
Analytical Method Quantitative
N° du produit ABIN775638
Quantité 96 tests
Reactivity Mouse
Analytical Method Quantitative
N° du produit ABIN773719
Quantité 96 tests
Reactivity Rat
Analytical Method Quantitative
N° du produit ABIN772382
Quantité 96 tests
Pseudonymes pour GRF2 Kits ELISA
Rap guanine nucleotide exchange factor 1 (RAPGEF1) Kits ELISA
Rap guanine nucleotide exchange factor (GEF) 1 (Rapgef1) Kits ELISA
Rap guanine nucleotide exchange factor 1 S homeolog (rapgef1.S) Kits ELISA
Rap guanine nucleotide exchange factor 1 (rapgef1) Kits ELISA
Rap guanine nucleotide exchange factor (GEF) 1 (RAPGEF1) Kits ELISA
Rap guanine nucleotide exchange factor 1 (Rapgef1) Kits ELISA
Rap guanine nucleotide exchange factor (GEF) 1b (rapgef1b) Kits ELISA
Rap guanine nucleotide exchange factor like 1 (Rapgefl1) Kits ELISA
Rap guanine nucleotide exchange factor like 1 (RAPGEFL1) Kits ELISA
4932418O06Rik Kits ELISA
C3G Kits ELISA
C3g Kits ELISA
C3G-1 Kits ELISA
C3G-2 Kits ELISA
GRF2 Kits ELISA
Grf2 Kits ELISA
RAPGEF1 Kits ELISA
rapgef1 Kits ELISA
zgc:56372 Kits ELISA