VGLL2 Protéines
(Vestigial Like 2 (VGLL2))
This gene encodes a protein with a transcriptional enhancer factor 1 (TEF-1) interaction domain. The encoded protein may act as a co-factor of TEF-1 regulated gene expression during skeletal muscle development. Alternatively spliced transcript variants encoding multiple isoforms have been observed. [provided by RefSeq, Jul 2012].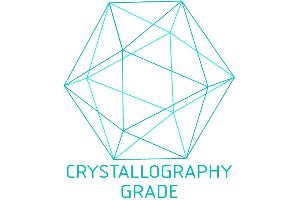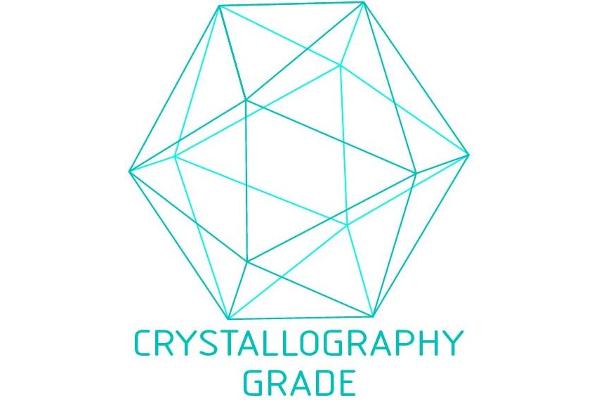 VGLL2 Protein (AA 1-317) (His tag)

(ABIN3075325)
Crystallography grade VGLL2 Origine: Humain Hôte: Cellules d'insectes Recombinant >95 % as determined by SDS PAGE, Size Exclusion Chromatography and Western Blot. ELISA, WB, Crys, SDS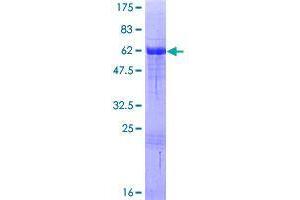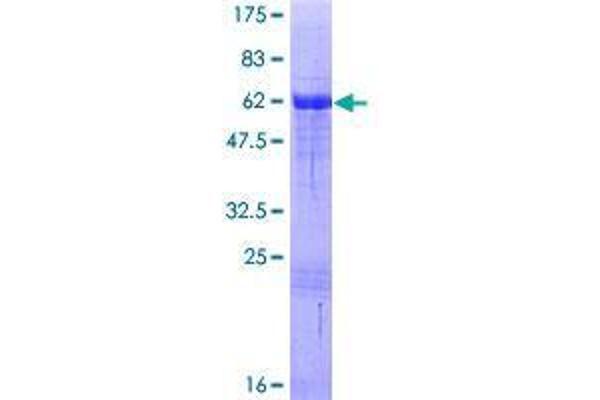 VGLL2 Protein (AA 1-317) (GST tag)

(ABIN1324994)
VGLL2 Origine: Humain Hôte: Wheat germ Recombinant ELISA, WB, AA, AP
VGLL2 Protéines par Grade
On trouve ici des VGLL2 Protéines avec un Grade spécifique. Les Grade mentionnés ici sont quelques-uns de ceux qui sont disponibles. Un clic sur le lien correspondant permet d'accéder aux produits
VGLL2 Protéines par Origin
Trouvez VGLL2 Protéines pour une variété d'espèces telles que anti-Human VGLL2. Les espèces listées ci-dessous sont parmi celles disponibles. Cliquez sur un lien pour accéder aux produits correspondants.
VGLL2 Protéines par Source
On trouve ici des VGLL2 Protéines avec un Source spécifique. Les Source mentionnés ici sont quelques-uns de ceux qui sont disponibles. Un clic sur le lien correspondant permet d'accéder aux produits
VGLL2 Protéines par Type Proteine
On trouve ici des VGLL2 Protéines avec un Type Proteine spécifique. Les Type Proteine mentionnés ici sont quelques-uns de ceux qui sont disponibles. Un clic sur le lien correspondant permet d'accéder aux produits
VGLL2 Protéines par Application
Trouver VGLL2 Protéines validé pour une application spécifique telle que ELISA, WB, AP, AA. Certaines des applications disponibles sont énumérées ci-dessous. Cliquez sur un lien pour accéder aux produits correspondants
VGLL2 Protéines fréquemment utilisés
Produit
Reactivity
Source
Validations
N° du produit
Quantité
Fiche technique
Reactivity Human
Source Insect Cells
N° du produit ABIN3075325
Quantité 1 mg
Reactivity Human
Source Wheat germ
N° du produit ABIN1324994
Quantité 10 μg
Pseudonymes pour VGLL2 Protéines
vestigial like family member 2 (VGLL2) Protéines
vestigial-like family member 2a (vgll2a) Protéines
vestigial like family member 2 L homeolog (vgll2.L) Protéines
vestigial-like family member 2 (Vgll2) Protéines
vestigial like family member 2 (Vgll2) Protéines
C130057C21Rik Protéines
MGC114146 Protéines
vgl-2 Protéines
VGL2 Protéines
vgll2a Protéines
VITO-1 Protéines
VITO1 Protéines
Vito1 Protéines
zgc:114146 Protéines