Asialoglycoprotein Receptor 2 Kits ELISA
(Asialoglycoprotein Receptor 2 (ASGR2))
This gene encodes a subunit of the asialoglycoprotein receptor. This receptor is a transmembrane protein that plays a critical role in serum glycoprotein homeostasis by mediating the endocytosis and lysosomal degradation of glycoproteins with exposed terminal galactose or N-acetylgalactosamine residues. The asialoglycoprotein receptor may facilitate hepatic infection by multiple viruses including hepatitis B, and is also a target for liver-specific drug delivery. The asialoglycoprotein receptor is a hetero-oligomeric protein composed of major and minor subunits, which are encoded by different genes. The protein encoded by this gene is the less abundant minor subunit. Alternatively spliced transcript variants encoding multiple isoforms have been observed for this gene. [provided by RefSeq, Jan 2011].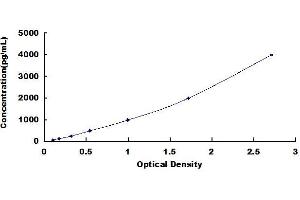 Asialoglycoprotein Receptor 2 Kit ELISA

(ABIN6953946)
ASGR2 Reactivité: Humain Colorimetric Sandwich ELISA 62.5 pg/mL - 4000 pg/mL Plasma, Serum, Tissue Homogenate
Asialoglycoprotein Receptor 2 Kits ELISA par Réactivité
Trouvez Asialoglycoprotein Receptor 2 Kits ELISA pour une variété d'espèces telles que anti-Human Asialoglycoprotein Receptor 2, anti-Mouse Asialoglycoprotein Receptor 2, anti-Rat Asialoglycoprotein Receptor 2. Les espèces listées ci-dessous sont parmi celles disponibles. Cliquez sur un lien pour accéder aux produits correspondants.
Asialoglycoprotein Receptor 2 Kits ELISA par Méthode de détection
On trouve ici des Asialoglycoprotein Receptor 2 Kits ELISA avec un Méthode de détection spécifique. Les Méthode de détection mentionnés ici sont quelques-uns de ceux qui sont disponibles. Un clic sur le lien correspondant permet d'accéder aux produits
Asialoglycoprotein Receptor 2 Kits ELISA par Analytical Method
On trouve ici des Asialoglycoprotein Receptor 2 Kits ELISA avec un Analytical Method spécifique. Les Analytical Method mentionnés ici sont quelques-uns de ceux qui sont disponibles. Un clic sur le lien correspondant permet d'accéder aux produits
Asialoglycoprotein Receptor 2 Kits ELISA par Type de méthode
On trouve ici des Asialoglycoprotein Receptor 2 Kits ELISA avec un Type de méthode spécifique. Les Type de méthode mentionnés ici sont quelques-uns de ceux qui sont disponibles. Un clic sur le lien correspondant permet d'accéder aux produits
Asialoglycoprotein Receptor 2 Kits ELISA par Sample
On trouve ici des Asialoglycoprotein Receptor 2 Kits ELISA avec un Sample spécifique. Les Sample mentionnés ici sont quelques-uns de ceux qui sont disponibles. Un clic sur le lien correspondant permet d'accéder aux produits
Asialoglycoprotein Receptor 2 Kits ELISA fréquemment utilisés
Produit
Reactivity
Analytical Method
Validations
N° du produit
Quantité
Fiche technique
Reactivity Rat
Analytical Method
N° du produit ABIN1122610
Quantité 96 tests
Pseudonymes pour Asialoglycoprotein Receptor 2 Kits ELISA
asialoglycoprotein receptor 2 (ASGR2) Kits ELISA
C-type lectin domain family 10 member A (clec10a) Kits ELISA
asialoglycoprotein receptor 2 (Asgr2) Kits ELISA
asialoglycoprotein receptor 2 (LOC100347178) Kits ELISA
ASGP-R2 Kits ELISA
ASGPR2 Kits ELISA
Asgr Kits ELISA
Asgr-2 Kits ELISA
ASGR2 Kits ELISA
asgr2 Kits ELISA
CLEC4H2 Kits ELISA
HBXBP Kits ELISA
HL-2 Kits ELISA
MGC137129 Kits ELISA
Vous êtes ici:
Asialoglycoprotein Receptor 2 Kits ELISA