CST1 Protéines
(Cystatin SN (CST1))
The cystatin superfamily encompasses proteins that contain multiple cystatin-like sequences. Some of the members are active cysteine protease inhibitors, while others have lost or perhaps never acquired this inhibitory activity. There are three inhibitory families in the superfamily, including the type 1 cystatins (stefins), type 2 cystatins and the kininogens. The type 2 cystatin proteins are a class of cysteine proteinase inhibitors found in a variety of human fluids and secretions, where they appear to provide protective functions. The cystatin locus on chromosome 20 contains the majority of the type 2 cystatin genes and pseudogenes. This gene is located in the cystatin locus and encodes a cysteine proteinase inhibitor found in saliva, tears, urine, and seminal fluid. [provided by RefSeq, Jul 2008].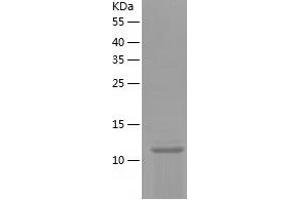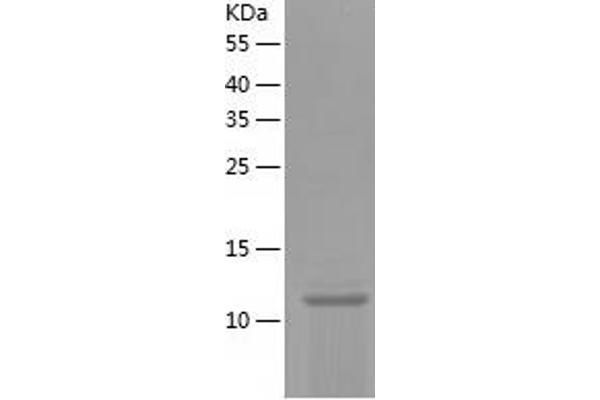 CST1 Protein (AA 21-141) (His tag)

(ABIN7122558)
CST1 Origine: Humain Hôte: Escherichia coli (E. coli) Recombinant Greater than 95 % as determined by SDS-PAGE WB, ELISA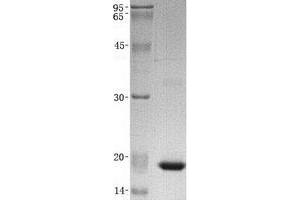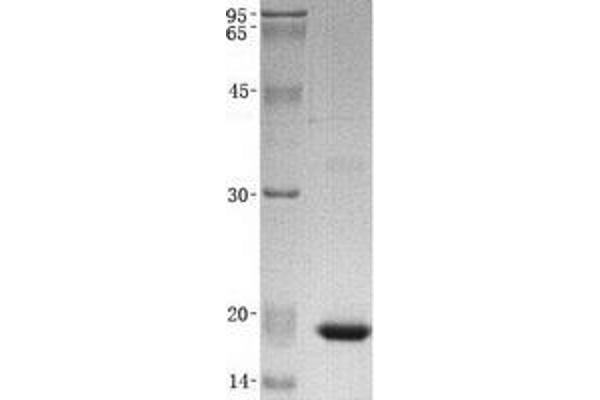 CST1 Protéine

(ABIN2712804)
CST1 Origine: Humain Hôte: HEK-293 Cells Recombinant > 95 % as determined by SDS-PAGE and Coomassie blue staining AbP, STD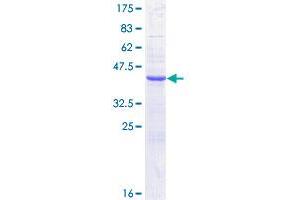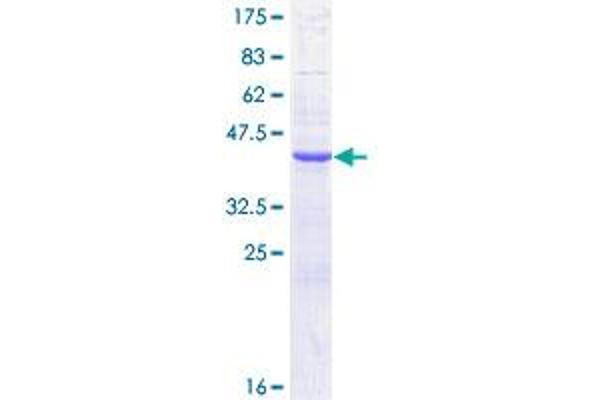 CST1 Protein (AA 1-141) (GST tag)

(ABIN1350576)
CST1 Origine: Humain Hôte: Wheat germ Recombinant WB, ELISA, AA, AP
CST1 Protéines par Origin
Trouvez CST1 Protéines pour une variété d'espèces telles que anti-Human CST1. Les espèces listées ci-dessous sont parmi celles disponibles. Cliquez sur un lien pour accéder aux produits correspondants.
CST1 Protéines par Source
On trouve ici des CST1 Protéines avec un Source spécifique. Les Source mentionnés ici sont quelques-uns de ceux qui sont disponibles. Un clic sur le lien correspondant permet d'accéder aux produits
CST1 Protéines par Type Proteine
On trouve ici des CST1 Protéines avec un Type Proteine spécifique. Les Type Proteine mentionnés ici sont quelques-uns de ceux qui sont disponibles. Un clic sur le lien correspondant permet d'accéder aux produits
CST1 Protéines par Application
Trouver CST1 Protéines validé pour une application spécifique telle que ELISA, WB, AP, AA. Certaines des applications disponibles sont énumérées ci-dessous. Cliquez sur un lien pour accéder aux produits correspondants
CST1 Protéines fréquemment utilisés
Produit
Reactivity
Source
Validations
N° du produit
Quantité
Fiche technique
Reactivity Human
Source Escherichia coli (E. coli)
N° du produit ABIN7122558
Quantité 50 μg
Reactivity Human
Source HEK-293 Cells
N° du produit ABIN2712804
Quantité 10 μg
Reactivity Human
Source Wheat germ
N° du produit ABIN1350576
Quantité 10 μg
Reactivity Human
Source Human Cells
N° du produit ABIN1096503
Quantité 50 μg
Reactivity Human
Source Escherichia coli (E. coli)
N° du produit ABIN2128734
Quantité 100 μg
Pseudonymes pour CST1 Protéines
cystatin 1 (cystatin 1) Protéines
cystatin SN (CST1) Protéines