DGKA Kits ELISA
(Diacylglycerol Kinase, alpha 80kDa (DGKA))
The protein encoded by this gene belongs to the eukaryotic diacylglycerol kinase family. It acts as a modulator that competes with protein kinase C for the second messenger diacylglycerol in intracellular signaling pathways. It also plays an important role in the resynthesis of phosphatidylinositols and phosphorylating diacylglycerol to phosphatidic acid. Alternative splicing occurs at this locus and four transcript variants encoding the same protein have been identified. [provided by RefSeq, Jul 2008].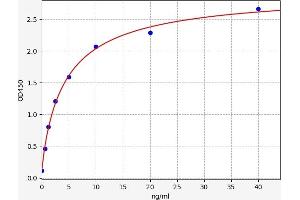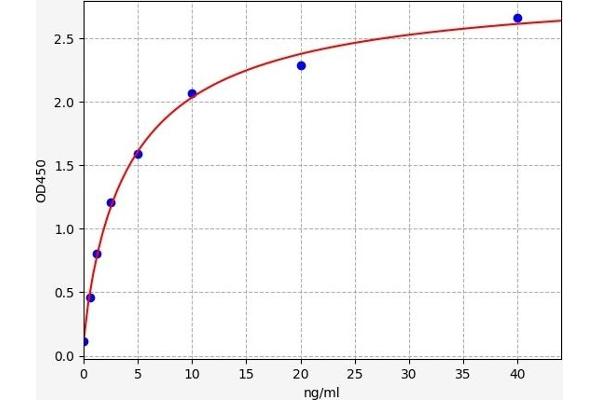 DGKA Kit ELISA

(ABIN6966348)
DGKA Reactivité: Rat Colorimetric Sandwich ELISA 0.625 ng/mL - 40 ng/mL Plasma, Serum, Tissue Homogenate
DGKA Kits ELISA par Réactivité
Trouvez DGKA Kits ELISA pour une variété d'espèces telles que anti-Human DGKA, anti-Mouse DGKA, anti-Cow DGKA. Les espèces listées ci-dessous sont parmi celles disponibles. Cliquez sur un lien pour accéder aux produits correspondants.
DGKA Kits ELISA par Méthode de détection
On trouve ici des DGKA Kits ELISA avec un Méthode de détection spécifique. Les Méthode de détection mentionnés ici sont quelques-uns de ceux qui sont disponibles. Un clic sur le lien correspondant permet d'accéder aux produits
DGKA Kits ELISA par Analytical Method
On trouve ici des DGKA Kits ELISA avec un Analytical Method spécifique. Les Analytical Method mentionnés ici sont quelques-uns de ceux qui sont disponibles. Un clic sur le lien correspondant permet d'accéder aux produits
DGKA Kits ELISA par Type de méthode
On trouve ici des DGKA Kits ELISA avec un Type de méthode spécifique. Les Type de méthode mentionnés ici sont quelques-uns de ceux qui sont disponibles. Un clic sur le lien correspondant permet d'accéder aux produits
DGKA Kits ELISA par Sample
On trouve ici des DGKA Kits ELISA avec un Sample spécifique. Les Sample mentionnés ici sont quelques-uns de ceux qui sont disponibles. Un clic sur le lien correspondant permet d'accéder aux produits
DGKA Kits ELISA fréquemment utilisés
Produit
Reactivity
Analytical Method
Validations
N° du produit
Quantité
Fiche technique
Reactivity Mouse
Analytical Method
N° du produit ABIN425631
Quantité 96 tests
Reactivity Human
Analytical Method Quantitative Sandwich ELISA
N° du produit ABIN6228156
Quantité 96 tests
Reactivity Mouse
Analytical Method Quantitative Sandwich ELISA
N° du produit ABIN6228157
Quantité 96 tests
Reactivity Cow
Analytical Method
N° du produit ABIN1129622
Quantité 96 tests
Reactivity Pig
Analytical Method
N° du produit ABIN1129625
Quantité 96 tests
Pseudonymes pour DGKA Kits ELISA
diacylglycerol kinase alpha (DGKA) Kits ELISA
diacylglycerol kinase, alpha (Dgka) Kits ELISA
diacylglycerol kinase, alpha 80kDa (DGKA) Kits ELISA
diacylglycerol kinase, alpha a (dgkaa) Kits ELISA
diacylglycerol kinase alpha (Tsp_02164) Kits ELISA
diacylglycerol kinase alpha (dgka) Kits ELISA
diacylglycerol kinase alpha S homeolog (dgka.S) Kits ELISA
diacylglycerol kinase alpha (Dgka) Kits ELISA
80kDa Kits ELISA
AW146112 Kits ELISA
DAGK Kits ELISA
dagk Kits ELISA
DAGK1 Kits ELISA
Dagk1 Kits ELISA
dagk1 Kits ELISA
DGK-alpha Kits ELISA
dgk-alpha Kits ELISA
dgka Kits ELISA
zgc:136759 Kits ELISA