GPER Protéines
(G Protein-Coupled Estrogen Receptor 1 (GPER))
This gene is a member of the G-protein coupled receptor 1 family and encodes a multi-pass membrane protein that localizes to the endoplasmic reticulum. The protein binds estrogen, resulting in intracellular calcium mobilization and synthesis of phosphatidylinositol 3,4,5-trisphosphate in the nucleus. This protein therefore plays a role in the rapid nongenomic signaling events widely observed following stimulation of cells and tissues with estrogen. Alternate transcriptional splice variants which encode the same protein have been characterized. [provided by RefSeq, Jul 2008].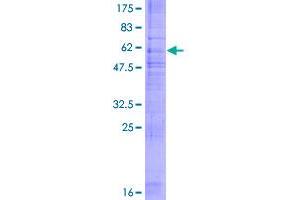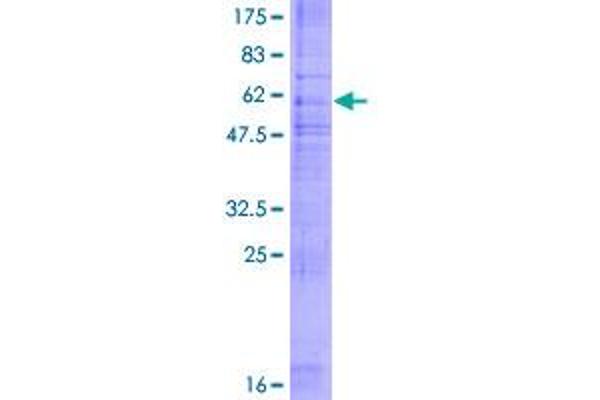 GPER Protein (AA 1-375) (GST tag)

(ABIN1355538)
GPER Origine: Humain Hôte: Wheat germ Recombinant WB, AP, ELISA, AA
GPER Protéines par Origin
Trouvez GPER Protéines pour une variété d'espèces telles que anti-Human GPER, anti-Mouse GPER. Les espèces listées ci-dessous sont parmi celles disponibles. Cliquez sur un lien pour accéder aux produits correspondants.
GPER Protéines par Source
On trouve ici des GPER Protéines avec un Source spécifique. Les Source mentionnés ici sont quelques-uns de ceux qui sont disponibles. Un clic sur le lien correspondant permet d'accéder aux produits
GPER Protéines par Type Proteine
On trouve ici des GPER Protéines avec un Type Proteine spécifique. Les Type Proteine mentionnés ici sont quelques-uns de ceux qui sont disponibles. Un clic sur le lien correspondant permet d'accéder aux produits
GPER Protéines par Application
Trouver GPER Protéines validé pour une application spécifique telle que WB, SDS, Imm, PC. Certaines des applications disponibles sont énumérées ci-dessous. Cliquez sur un lien pour accéder aux produits correspondants
GPER Protéines fréquemment utilisés
Produit
Reactivity
Source
Validations
N° du produit
Quantité
Fiche technique
Reactivity Human
Source Wheat germ
N° du produit ABIN1355538
Quantité 2 μg
Reactivity Mouse
Source Escherichia coli (E. coli)
N° du produit ABIN7408396
Quantité 100 μg
Reactivity Mouse
Source Escherichia coli (E. coli)
N° du produit ABIN7408399
Quantité 100 μg
Reactivity Human
Source Escherichia coli (E. coli)
N° du produit ABIN7398791
Quantité 100 μg
Reactivity Mouse
Source Escherichia coli (E. coli)
N° du produit ABIN6122968
Quantité 50 μg
Reactivity Human
Source Escherichia coli (E. coli)
N° du produit ABIN6122972
Quantité 50 μg
Reactivity Human
Source Wheat germ
N° du produit ABIN1330114
Quantité 10 μg
Pseudonymes pour GPER Protéines
G protein-coupled estrogen receptor 1 (GPER1) Protéines
G protein-coupled estrogen receptor 1 (GPER) Protéines
G protein-coupled estrogen receptor 1 (Gper1) Protéines
6330420K13Rik Protéines
CEPR Protéines
Ceprl Protéines
CMKRL2 Protéines
DRY12 Protéines
FEG-1 Protéines
GPCR-Br Protéines
GPCR30 Protéines
GPER Protéines
Gper Protéines
GPR30 Protéines
Gpr30 Protéines
GPR41 Protéines
LERGU Protéines
LERGU2 Protéines
LyGPR Protéines