ITSN1 Protéines
(Intersectin 1 (ITSN1))
The protein encoded by this gene is a cytoplasmic membrane-associated protein that indirectly coordinates endocytic membrane traffic with the actin assembly machinery. In addition, the encoded protein may regulate the formation of clathrin-coated vesicles and could be involved in synaptic vesicle recycling. This protein has been shown to interact with dynamin, CDC42, SNAP23, SNAP25, SPIN90, EPS15, EPN1, EPN2, and STN2. Multiple transcript variants encoding different isoforms have been found for this gene, but the full-length nature of only two of them have been characterized so far. [provided by RefSeq, Jul 2008].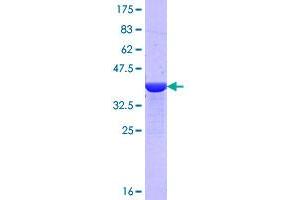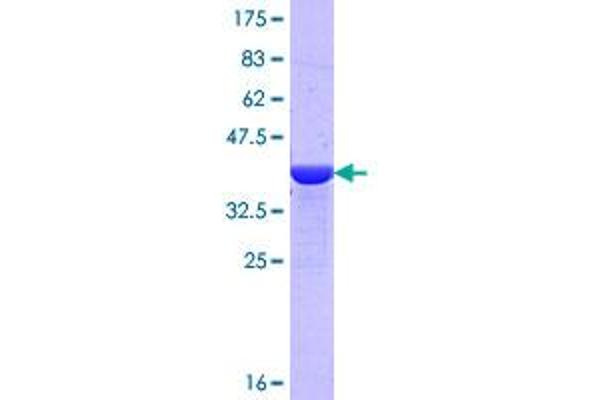 ITSN1 Protein (AA 588-675) (GST tag)

(ABIN1308258)
ITSN1 Origine: Humain Hôte: Wheat germ Recombinant AP, AA, ELISA, WB
ITSN1 Protéines par Origin
Trouvez ITSN1 Protéines pour une variété d'espèces telles que anti-Human ITSN1, anti-Mouse ITSN1, anti-Rat ITSN1. Les espèces listées ci-dessous sont parmi celles disponibles. Cliquez sur un lien pour accéder aux produits correspondants.
ITSN1 Protéines par Source
On trouve ici des ITSN1 Protéines avec un Source spécifique. Les Source mentionnés ici sont quelques-uns de ceux qui sont disponibles. Un clic sur le lien correspondant permet d'accéder aux produits
ITSN1 Protéines par Type Proteine
On trouve ici des ITSN1 Protéines avec un Type Proteine spécifique. Les Type Proteine mentionnés ici sont quelques-uns de ceux qui sont disponibles. Un clic sur le lien correspondant permet d'accéder aux produits
ITSN1 Protéines par Application
Trouver ITSN1 Protéines validé pour une application spécifique telle que WB, Imm, PC, SDS. Certaines des applications disponibles sont énumérées ci-dessous. Cliquez sur un lien pour accéder aux produits correspondants
ITSN1 Protéines fréquemment utilisés
Produit
Reactivity
Source
Validations
N° du produit
Quantité
Fiche technique
Reactivity Human
Source Wheat germ
N° du produit ABIN1308258
Quantité 10 μg
Reactivity Mouse
Source Escherichia coli (E. coli)
N° du produit ABIN7422796
Quantité 100 μg
Reactivity Rat
Source Escherichia coli (E. coli)
N° du produit ABIN7417960
Quantité 100 μg
Pseudonymes pour ITSN1 Protéines
intersectin 1 (SH3 domain protein) (itsn1) Protéines
intersectin 1 (ITSN1) Protéines
intersectin 1 (SH3 domain protein 1A) (Itsn1) Protéines
intersectin 1 (Itsn1) Protéines
intersectin 1 L homeolog (itsn1.L) Protéines
AA517634 Protéines
AA545208 Protéines
AI316805 Protéines
AI839402 Protéines
AI848451 Protéines
Ehsh1 Protéines
Ese1 Protéines
Itsn Protéines
ITSN Protéines
itsn-A Protéines
ITSN1 Protéines
SH3 Protéines
SH3D1A Protéines
Sh3p17 Protéines
SH3P17 Protéines
si:dz173a8.1 Protéines