OSGIN1 Protéines
(Oxidative Stress Induced Growth Inhibitor 1 (OSGIN1))
This gene encodes an oxidative stress response protein that regulates cell death. Expression of the gene is regulated by p53 and is induced by DNA damage. The protein regulates apoptosis by inducing cytochrome c release from mitochondria. It also appears to be a key regulator of both inflammatory and anti-inflammatory molecules. The loss of this protein correlates with uncontrolled cell growth and tumor formation. Naturally occurring read-through transcription exists between this gene and the neighboring upstream malonyl-CoA decarboxylase (MLYCD) gene, but the read-through transcripts are unlikely to produce a protein product. [provided by RefSeq, Aug 2011].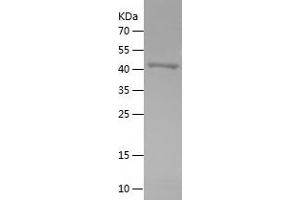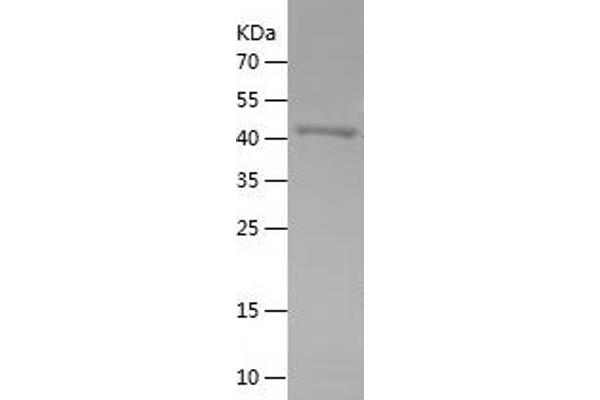 OSGIN1 Protein (AA 212-477) (His-IF2DI Tag)

(ABIN7124286)
OSGIN1 Origine: Humain Hôte: Escherichia coli (E. coli) Recombinant Greater than 95 % by SDS-PAGE gel analyses WB, ELISA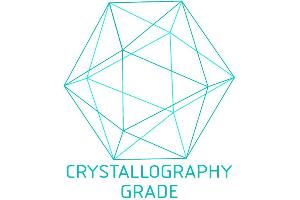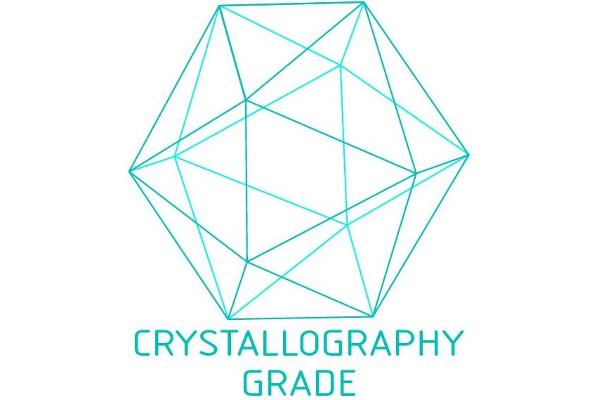 OSGIN1 Protein (AA 1-560) (His tag)

(ABIN3085152)
Crystallography grade OSGIN1 Origine: Humain Hôte: Cellules d'insectes Recombinant >95 % as determined by SDS PAGE, Size Exclusion Chromatography and Western Blot. WB, ELISA, SDS, Crys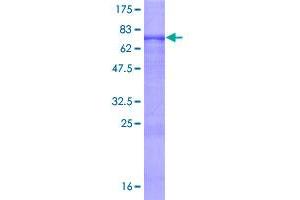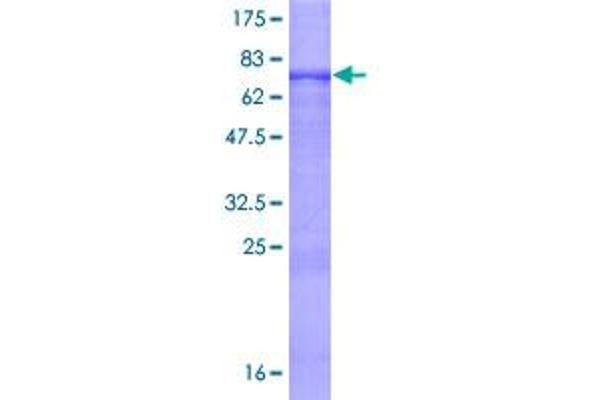 OSGIN1 Protein (AA 1-477) (GST tag)

(ABIN1313709)
OSGIN1 Origine: Humain Hôte: Wheat germ Recombinant WB, ELISA, AP, AA
OSGIN1 Protéines par Grade
On trouve ici des OSGIN1 Protéines avec un Grade spécifique. Les Grade mentionnés ici sont quelques-uns de ceux qui sont disponibles. Un clic sur le lien correspondant permet d'accéder aux produits
OSGIN1 Protéines par Origin
Trouvez OSGIN1 Protéines pour une variété d'espèces telles que anti-Human OSGIN1. Les espèces listées ci-dessous sont parmi celles disponibles. Cliquez sur un lien pour accéder aux produits correspondants.
OSGIN1 Protéines par Source
On trouve ici des OSGIN1 Protéines avec un Source spécifique. Les Source mentionnés ici sont quelques-uns de ceux qui sont disponibles. Un clic sur le lien correspondant permet d'accéder aux produits
OSGIN1 Protéines par Type Proteine
On trouve ici des OSGIN1 Protéines avec un Type Proteine spécifique. Les Type Proteine mentionnés ici sont quelques-uns de ceux qui sont disponibles. Un clic sur le lien correspondant permet d'accéder aux produits
OSGIN1 Protéines par Application
Trouver OSGIN1 Protéines validé pour une application spécifique telle que WB, ELISA, AP, AA. Certaines des applications disponibles sont énumérées ci-dessous. Cliquez sur un lien pour accéder aux produits correspondants
OSGIN1 Protéines fréquemment utilisés
Produit
Reactivity
Source
Validations
N° du produit
Quantité
Fiche technique
Reactivity Human
Source Escherichia coli (E. coli)
N° du produit ABIN7124286
Quantité 50 μg
Reactivity Human
Source Insect Cells
N° du produit ABIN3085152
Quantité 1 mg
Reactivity Human
Source Wheat germ
N° du produit ABIN1313709
Quantité 10 μg
Reactivity Human
Source Wheat germ
N° du produit ABIN1313711
Quantité 10 μg
Reactivity Human
Source HEK-293 Cells
N° du produit ABIN2728069
Quantité 20 μg
Reactivity Human
Source Escherichia coli (E. coli)
N° du produit ABIN7408453
Quantité 100 μg
Pseudonymes pour OSGIN1 Protéines
oxidative stress induced growth inhibitor 1 (OSGIN1) Protéines
oxidative stress induced growth inhibitor 1 (Osgin1) Protéines
1700012B18Rik Protéines
1700012B18RIK Protéines
BDGI Protéines
Okl38 Protéines
OKL38 Protéines