SPOCK1 Kits ELISA
(Sparc/osteonectin, Cwcv and Kazal-Like Domains Proteoglycan (Testican) 1 (SPOCK1))
This gene encodes the protein core of a seminal plasma proteoglycan containing chondroitin- and heparan-sulfate chains. The protein's function is unknown, although similarity to thyropin-type cysteine protease-inhibitors suggests its function may be related to protease inhibition. [provided by RefSeq, Jul 2008].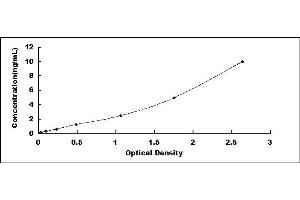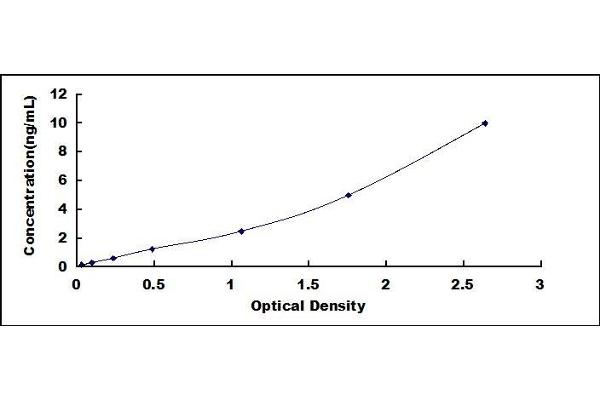 Sparc/osteonectin, Cwcv and Kazal-Like Domains Proteoglycan (Testican) 1 (SPOCK1) ELISA Kit

(ABIN6959654)
SPOCK1 Reactivité: Humain Colorimetric Sandwich ELISA 0.15 ng/mL - 10 ng/mL Plasma, Serum, Tissue Homogenate
SPOCK1 Kits ELISA par Réactivité
Trouvez SPOCK1 Kits ELISA pour une variété d'espèces telles que anti-Human SPOCK1. Les espèces listées ci-dessous sont parmi celles disponibles. Cliquez sur un lien pour accéder aux produits correspondants.
SPOCK1 Kits ELISA par Méthode de détection
On trouve ici des SPOCK1 Kits ELISA avec un Méthode de détection spécifique. Les Méthode de détection mentionnés ici sont quelques-uns de ceux qui sont disponibles. Un clic sur le lien correspondant permet d'accéder aux produits
SPOCK1 Kits ELISA par Analytical Method
On trouve ici des SPOCK1 Kits ELISA avec un Analytical Method spécifique. Les Analytical Method mentionnés ici sont quelques-uns de ceux qui sont disponibles. Un clic sur le lien correspondant permet d'accéder aux produits
SPOCK1 Kits ELISA par Type de méthode
On trouve ici des SPOCK1 Kits ELISA avec un Type de méthode spécifique. Les Type de méthode mentionnés ici sont quelques-uns de ceux qui sont disponibles. Un clic sur le lien correspondant permet d'accéder aux produits
SPOCK1 Kits ELISA par Sample
On trouve ici des SPOCK1 Kits ELISA avec un Sample spécifique. Les Sample mentionnés ici sont quelques-uns de ceux qui sont disponibles. Un clic sur le lien correspondant permet d'accéder aux produits
SPOCK1 Kits ELISA fréquemment utilisés
Pseudonymes pour SPOCK1 Kits ELISA
SPARC/osteonectin, cwcv and kazal like domains proteoglycan 1 (SPOCK1) Kits ELISA
sparc/osteonectin, cwcv and kazal like domains proteoglycan 1 (Spock1) Kits ELISA
sparc/osteonectin, cwcv and kazal-like domains proteoglycan 1 (Spock1) Kits ELISA
SPOCK Kits ELISA
Spock Kits ELISA
TESTICAN Kits ELISA
testican Kits ELISA
TIC1 Kits ELISA
Ticn1 Kits ELISA