ZGPAT Protéines
(Zinc Finger, CCCH-Type with G Patch Domain (ZGPAT))
Transcription repressor that specifically binds the 5'- GGAG[GA]A[GA]A-3' consensus sequence. Represses transcription by recruiting the chromatin multiprotein complex NuRD to target promoters. Negatively regulates expression of EGFR, a gene involved in cell proliferation, survival and migration (By similarity).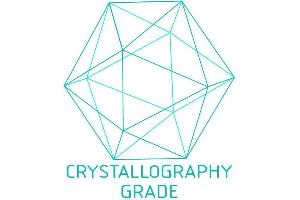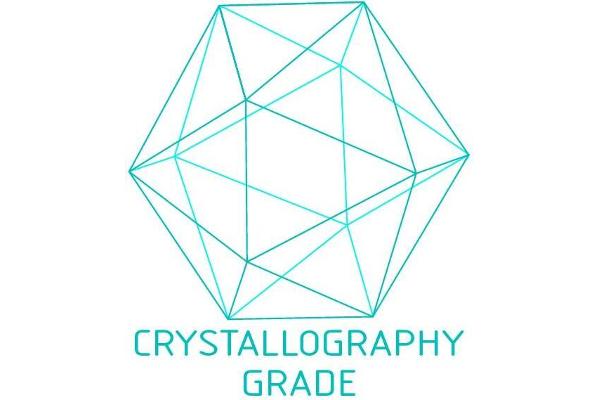 ZGPAT Protein (AA 1-531) (His tag)

(ABIN3096437)
Crystallography grade ZGPAT Origine: Humain Hôte: Cellules d'insectes Recombinant >95 % as determined by SDS PAGE, Size Exclusion Chromatography and Western Blot. SDS, WB, Crys, ELISA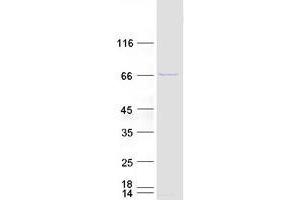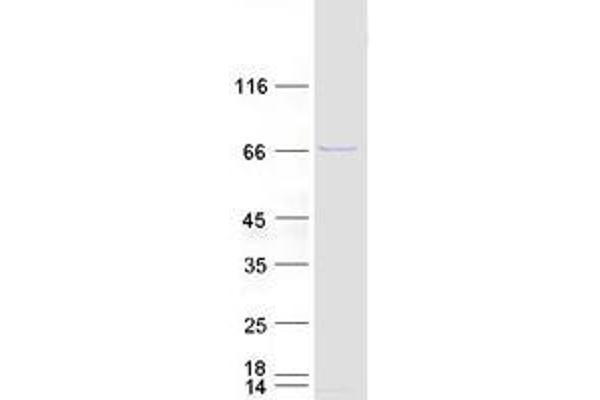 ZGPAT Protein (Transcript Variant 3) (Myc-DYKDDDDK Tag)

(ABIN2735879)
ZGPAT Origine: Humain Hôte: HEK-293 Cells Recombinant > 80 % as determined by SDS-PAGE and Coomassie blue staining AbP, STD
ZGPAT Protéines par Grade
On trouve ici des ZGPAT Protéines avec un Grade spécifique. Les Grade mentionnés ici sont quelques-uns de ceux qui sont disponibles. Un clic sur le lien correspondant permet d'accéder aux produits
ZGPAT Protéines par Origin
Trouvez ZGPAT Protéines pour une variété d'espèces telles que anti-Human ZGPAT. Les espèces listées ci-dessous sont parmi celles disponibles. Cliquez sur un lien pour accéder aux produits correspondants.
ZGPAT Protéines par Source
On trouve ici des ZGPAT Protéines avec un Source spécifique. Les Source mentionnés ici sont quelques-uns de ceux qui sont disponibles. Un clic sur le lien correspondant permet d'accéder aux produits
ZGPAT Protéines par Type Proteine
On trouve ici des ZGPAT Protéines avec un Type Proteine spécifique. Les Type Proteine mentionnés ici sont quelques-uns de ceux qui sont disponibles. Un clic sur le lien correspondant permet d'accéder aux produits
ZGPAT Protéines par Application
Trouver ZGPAT Protéines validé pour une application spécifique telle que AbP, ELISA, SDS, STD. Certaines des applications disponibles sont énumérées ci-dessous. Cliquez sur un lien pour accéder aux produits correspondants
ZGPAT Protéines fréquemment utilisés
Produit
Reactivity
Source
Validations
N° du produit
Quantité
Fiche technique
Reactivity Human
Source Insect Cells
N° du produit ABIN3096437
Quantité 1 mg
Reactivity Human
Source HEK-293 Cells
N° du produit ABIN2735879
Quantité 20 μg
Pseudonymes pour ZGPAT Protéines
zinc finger CCCH-type and G-patch domain containing (ZGPAT) Protéines
zinc finger, CCCH-type with G-patch domain L homeolog (zgpat.L) Protéines
zinc finger, CCCH-type with G-patch domain (zgpat) Protéines
zinc finger, CCCH-type with G patch domain (Zgpat) Protéines
zinc finger CCCH-type and G-patch domain containing (Zgpat) Protéines
zinc finger CCCH-type and G-patch domain containing (zgpat) Protéines
zinc finger, CCCH-type with G patch domain (zgpat) Protéines
1500006I01Rik Protéines
BC021513 Protéines
gpatc6 Protéines
GPATC6 Protéines
gpatch6 Protéines
GPATCH6 Protéines
KIAA1847 Protéines
RGD1310801 Protéines
zc3h9 Protéines
ZC3H9 Protéines
zc3hdc9 Protéines
ZC3HDC9 Protéines
zgc:63730 Protéines
ZIP Protéines