B3GAT3 Kits ELISA
(beta-1,3-Glucuronyltransferase 3 (Glucuronosyltransferase I) (B3GAT3))
The protein encoded by this gene is a member of the glucuronyltransferase gene family, enzymes that exhibit strict acceptor specificity, recognizing nonreducing terminal sugars and their anomeric linkages. This gene product catalyzes the formation of the glycosaminoglycan-protein linkage by way of a glucuronyl transfer reaction in the final step of the biosynthesis of the linkage region of proteoglycans. [provided by RefSeq, Jul 2008].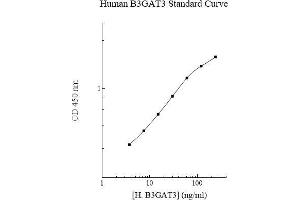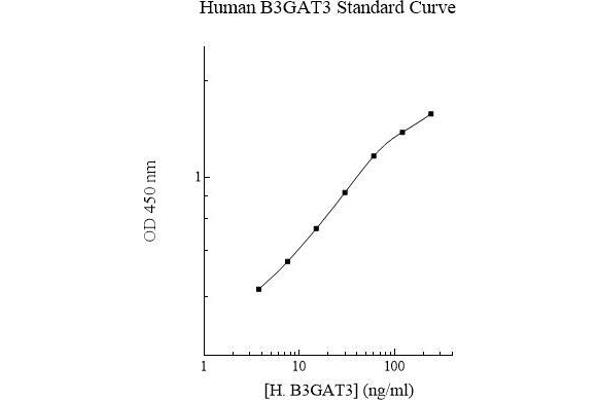 beta-1,3-Glucuronyltransferase 3 (Glucuronosyltransferase I) (B3GAT3) ELISA Kit

(ABIN5564612)
B3GAT3 Reactivité: Humain Colorimetric Sandwich ELISA Cell Culture Cells, Plasma, Serum
B3GAT3 Kits ELISA par Réactivité
Trouvez B3GAT3 Kits ELISA pour une variété d'espèces telles que anti-Human B3GAT3. Les espèces listées ci-dessous sont parmi celles disponibles. Cliquez sur un lien pour accéder aux produits correspondants.
B3GAT3 Kits ELISA par Méthode de détection
On trouve ici des B3GAT3 Kits ELISA avec un Méthode de détection spécifique. Les Méthode de détection mentionnés ici sont quelques-uns de ceux qui sont disponibles. Un clic sur le lien correspondant permet d'accéder aux produits
B3GAT3 Kits ELISA par Analytical Method
On trouve ici des B3GAT3 Kits ELISA avec un Analytical Method spécifique. Les Analytical Method mentionnés ici sont quelques-uns de ceux qui sont disponibles. Un clic sur le lien correspondant permet d'accéder aux produits
B3GAT3 Kits ELISA par Type de méthode
On trouve ici des B3GAT3 Kits ELISA avec un Type de méthode spécifique. Les Type de méthode mentionnés ici sont quelques-uns de ceux qui sont disponibles. Un clic sur le lien correspondant permet d'accéder aux produits
B3GAT3 Kits ELISA par Sample
On trouve ici des B3GAT3 Kits ELISA avec un Sample spécifique. Les Sample mentionnés ici sont quelques-uns de ceux qui sont disponibles. Un clic sur le lien correspondant permet d'accéder aux produits
B3GAT3 Kits ELISA fréquemment utilisés
Pseudonymes pour B3GAT3 Kits ELISA
beta-1,3-glucuronyltransferase 3 (B3GAT3) Kits ELISA
beta-1,3-glucuronyltransferase 3 (glucuronosyltransferase I) (B3gat3) Kits ELISA
beta-1,3-glucuronyltransferase 3 (B3gat3) Kits ELISA
2810405M13Rik Kits ELISA
Glcat-i Kits ELISA
GLCATI Kits ELISA
GlcUAT-I Kits ELISA