Deoxyuridine Triphosphatase Kits ELISA
(Deoxyuridine Triphosphatase (DUT))
This gene encodes an essential enzyme of nucleotide metabolism. The encoded protein forms a ubiquitous, homotetrameric enzyme that hydrolyzes dUTP to dUMP and pyrophosphate. This reaction serves two cellular purposes: providing a precursor (dUMP) for the synthesis of thymine nucleotides needed for DNA replication, and limiting intracellular pools of dUTP. Elevated levels of dUTP lead to increased incorporation of uracil into DNA, which induces extensive excision repair mediated by uracil glycosylase. This repair process, resulting in the removal and reincorporation of dUTP, is self-defeating and leads to DNA fragmentation and cell death. Alternative splicing of this gene leads to different isoforms that localize to either the mitochondrion or nucleus. A related pseudogene is located on chromosome 19. [provided by RefSeq, Jul 2008].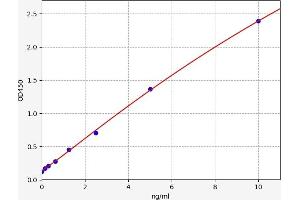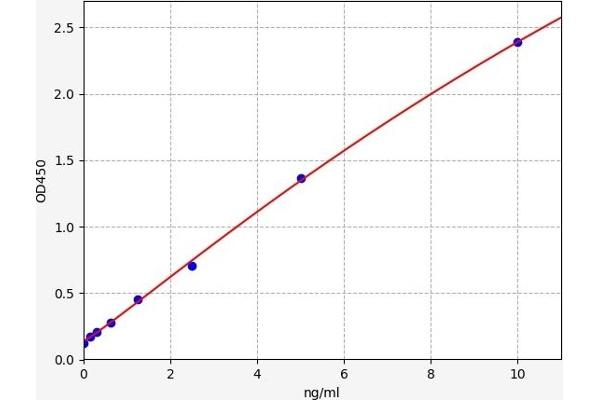 Deoxyuridine Triphosphatase (DUT) Kit ELISA

(ABIN6966332)
DUT Reactivité: Humain Colorimetric Sandwich ELISA 0.156 ng/mL - 10 ng/mL Plasma, Serum, Tissue Homogenate
Deoxyuridine Triphosphatase Kits ELISA par Réactivité
Trouvez Deoxyuridine Triphosphatase Kits ELISA pour une variété d'espèces telles que anti-Human Deoxyuridine Triphosphatase, anti-Rat Deoxyuridine Triphosphatase. Les espèces listées ci-dessous sont parmi celles disponibles. Cliquez sur un lien pour accéder aux produits correspondants.
Deoxyuridine Triphosphatase Kits ELISA par Méthode de détection
On trouve ici des Deoxyuridine Triphosphatase Kits ELISA avec un Méthode de détection spécifique. Les Méthode de détection mentionnés ici sont quelques-uns de ceux qui sont disponibles. Un clic sur le lien correspondant permet d'accéder aux produits
Deoxyuridine Triphosphatase Kits ELISA par Analytical Method
On trouve ici des Deoxyuridine Triphosphatase Kits ELISA avec un Analytical Method spécifique. Les Analytical Method mentionnés ici sont quelques-uns de ceux qui sont disponibles. Un clic sur le lien correspondant permet d'accéder aux produits
Deoxyuridine Triphosphatase Kits ELISA par Type de méthode
On trouve ici des Deoxyuridine Triphosphatase Kits ELISA avec un Type de méthode spécifique. Les Type de méthode mentionnés ici sont quelques-uns de ceux qui sont disponibles. Un clic sur le lien correspondant permet d'accéder aux produits
Deoxyuridine Triphosphatase Kits ELISA par Sample
On trouve ici des Deoxyuridine Triphosphatase Kits ELISA avec un Sample spécifique. Les Sample mentionnés ici sont quelques-uns de ceux qui sont disponibles. Un clic sur le lien correspondant permet d'accéder aux produits
Deoxyuridine Triphosphatase Kits ELISA fréquemment utilisés
Produit
Reactivity
Analytical Method
Validations
N° du produit
Quantité
Fiche technique
Reactivity Human
Analytical Method Quantitative Sandwich ELISA
N° du produit ABIN6966332
Quantité 96 tests
Reactivity Rat
Analytical Method
N° du produit ABIN1129512
Quantité 96 tests
Pseudonymes pour Deoxyuridine Triphosphatase Kits ELISA
deoxyuridine triphosphatase (DUT) Kits ELISA
Deoxyuridine triphosphatase (dUTPase) Kits ELISA
deoxyuridine triphosphatase (P18) Kits ELISA
dUTPase; ORF54; similar to EBV BLLF3, CMV UL72, HSV UL50 (AlHV1gp51) Kits ELISA
deoxyuridine triphosphatase (UL50) Kits ELISA
deoxyuridine triphosphatase (HVT058) Kits ELISA
involved in nucleotide metabolism (UL50) Kits ELISA
deoxyuridine triphosphatase (ORF9) Kits ELISA
deoxyuridine triphosphatase (ORF8) Kits ELISA
tegument protein (U45) Kits ELISA
dUTPase (GAMMAHV.ORF54) Kits ELISA
deoxyuridine triphosphatase (Tc00.1047053509151.130) Kits ELISA
deoxyuridine triphosphatase (Tc00.1047053508175.160) Kits ELISA
deoxyuridine triphosphatase (Tb927.7.5160) Kits ELISA
deoxyuridine triphosphatase L homeolog (dut.L) Kits ELISA
deoxyuridine triphosphatase (Dut) Kits ELISA
5031412I06Rik Kits ELISA
5133400F09Rik Kits ELISA
anon-SAGE:Wang-077 Kits ELISA
BcDNA:LD08534 Kits ELISA
CG4584 Kits ELISA
D2Bwg0749e Kits ELISA
Dmel\\CG4584 Kits ELISA
Dutp Kits ELISA
dUTPase Kits ELISA
dutpase Kits ELISA
LD08534 Kits ELISA
PIP4 Kits ELISA
Tb07.27E10.390 Kits ELISA
UTPase Kits ELISA
Vous êtes ici:
Deoxyuridine Triphosphatase Kits ELISA