LPHN3 Kits ELISA
(Latrophilin 3 (LPHN3))
This gene encodes a member of the latrophilin subfamily of G-protein coupled receptors (GPCR). Latrophilins may function in both cell adhesion and signal transduction. In experiments with non-human species, endogenous proteolytic cleavage within a cysteine-rich GPS (G-protein-coupled-receptor proteolysis site) domain resulted in two subunits (a large extracellular N-terminal cell adhesion subunit and a subunit with substantial similarity to the secretin/calcitonin family of GPCRs) being non-covalently bound at the cell membrane. [provided by RefSeq, Jul 2008].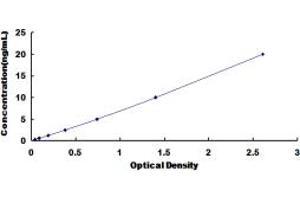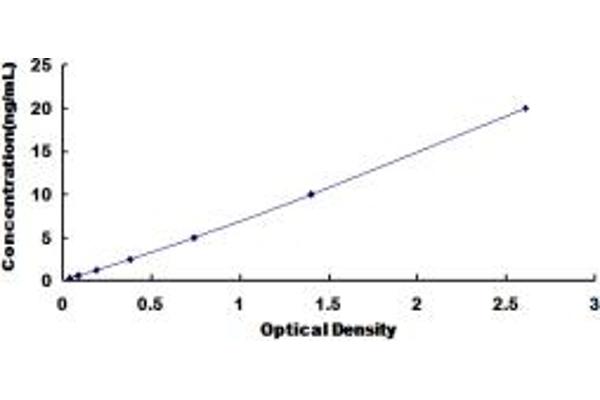 LPHN3 Kit ELISA

(ABIN6957399)
LPHN3 Reactivité: Humain Colorimetric Sandwich ELISA 0.31 ng/mL - 20 ng/mL Cell Lysate, Tissue Homogenate
LPHN3 Kits ELISA par Réactivité
Trouvez LPHN3 Kits ELISA pour une variété d'espèces telles que anti-Human LPHN3. Les espèces listées ci-dessous sont parmi celles disponibles. Cliquez sur un lien pour accéder aux produits correspondants.
LPHN3 Kits ELISA par Méthode de détection
On trouve ici des LPHN3 Kits ELISA avec un Méthode de détection spécifique. Les Méthode de détection mentionnés ici sont quelques-uns de ceux qui sont disponibles. Un clic sur le lien correspondant permet d'accéder aux produits
LPHN3 Kits ELISA par Analytical Method
On trouve ici des LPHN3 Kits ELISA avec un Analytical Method spécifique. Les Analytical Method mentionnés ici sont quelques-uns de ceux qui sont disponibles. Un clic sur le lien correspondant permet d'accéder aux produits
LPHN3 Kits ELISA par Type de méthode
On trouve ici des LPHN3 Kits ELISA avec un Type de méthode spécifique. Les Type de méthode mentionnés ici sont quelques-uns de ceux qui sont disponibles. Un clic sur le lien correspondant permet d'accéder aux produits
LPHN3 Kits ELISA par Sample
On trouve ici des LPHN3 Kits ELISA avec un Sample spécifique. Les Sample mentionnés ici sont quelques-uns de ceux qui sont disponibles. Un clic sur le lien correspondant permet d'accéder aux produits
LPHN3 Kits ELISA fréquemment utilisés
Produit
Reactivity
Analytical Method
Validations
N° du produit
Quantité
Fiche technique
Reactivity Human
Analytical Method Quantitative Sandwich ELISA
N° du produit ABIN6957399
Quantité 96 tests
Pseudonymes pour LPHN3 Kits ELISA
adhesion G protein-coupled receptor L3 (ADGRL3) Kits ELISA
adhesion G protein-coupled receptor L3 (LOC100554073) Kits ELISA
adhesion G protein-coupled receptor L3 (Adgrl3) Kits ELISA
5430402I23Rik Kits ELISA
CIRL-3 Kits ELISA
CIRL3 Kits ELISA
Cirl3 Kits ELISA
D130075K09Rik Kits ELISA
Gm1379 Kits ELISA
LEC3 Kits ELISA
Lec3 Kits ELISA
LPHH3 Kits ELISA
LPHN3 Kits ELISA
mKIAA0768 Kits ELISA