LPPR1 Kits ELISA
(Lipid Phosphate Phosphatase-Related Protein Type 1 (LPPR1))
This gene encodes a member of the plasticity-related gene (PRG) family. Members of the PRG family mediate lipid phosphate phosphatase activity in neurons and are known to be involved in neuronal plasticity. The protein encoded by this gene does not perform its function through enzymatic phospholipid degradation. This gene is strongly expressed in brain. It shows dynamic expression regulation during brain development and neuronal excitation. Alternatively spliced transcript variants encoding the same protein have been observed. [provided by RefSeq, Jul 2008].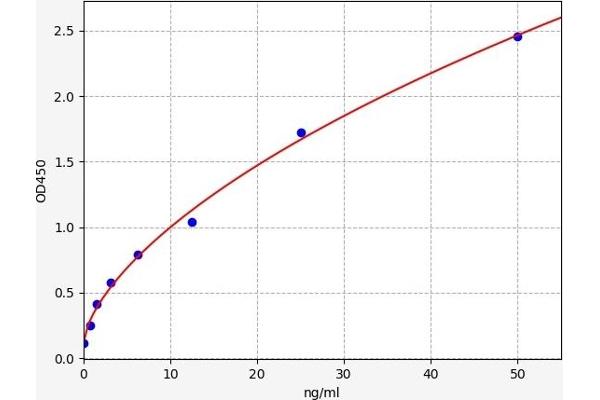 LPPR1 Kit ELISA

(ABIN6968316)
LPPR1 Reactivité: Rat Colorimetric Sandwich ELISA 0.781 ng/mL - 50 ng/mL Plasma, Serum, Tissue Homogenate
LPPR1 Kits ELISA par Réactivité
Trouvez LPPR1 Kits ELISA pour une variété d'espèces telles que anti-Human LPPR1, anti-Mouse LPPR1, anti-Rat LPPR1. Les espèces listées ci-dessous sont parmi celles disponibles. Cliquez sur un lien pour accéder aux produits correspondants.
LPPR1 Kits ELISA par Méthode de détection
On trouve ici des LPPR1 Kits ELISA avec un Méthode de détection spécifique. Les Méthode de détection mentionnés ici sont quelques-uns de ceux qui sont disponibles. Un clic sur le lien correspondant permet d'accéder aux produits
LPPR1 Kits ELISA par Analytical Method
On trouve ici des LPPR1 Kits ELISA avec un Analytical Method spécifique. Les Analytical Method mentionnés ici sont quelques-uns de ceux qui sont disponibles. Un clic sur le lien correspondant permet d'accéder aux produits
LPPR1 Kits ELISA par Type de méthode
On trouve ici des LPPR1 Kits ELISA avec un Type de méthode spécifique. Les Type de méthode mentionnés ici sont quelques-uns de ceux qui sont disponibles. Un clic sur le lien correspondant permet d'accéder aux produits
LPPR1 Kits ELISA par Sample
On trouve ici des LPPR1 Kits ELISA avec un Sample spécifique. Les Sample mentionnés ici sont quelques-uns de ceux qui sont disponibles. Un clic sur le lien correspondant permet d'accéder aux produits
LPPR1 Kits ELISA fréquemment utilisés
Produit
Reactivity
Analytical Method
Validations
N° du produit
Quantité
Fiche technique
Reactivity Rat
Analytical Method Quantitative Sandwich ELISA
N° du produit ABIN6968316
Quantité 96 tests
Reactivity Human
Analytical Method Quantitative Sandwich ELISA
N° du produit ABIN6230282
Quantité 96 tests
Reactivity Mouse
Analytical Method Quantitative Sandwich ELISA
N° du produit ABIN6230283
Quantité 96 tests
Pseudonymes pour LPPR1 Kits ELISA
phospholipid phosphatase related 1 (PLPPR1) Kits ELISA
phospholipid phosphatase related 1 (Plppr1) Kits ELISA
Lppr1 Kits ELISA
mKIAA4247 Kits ELISA
PRG-3 Kits ELISA
Prg-3 Kits ELISA