SERF1A Protéines
(Small EDRK-Rich Factor 1A (Telomeric) (SERF1A))
This gene is part of a 500 kb inverted duplication on chromosome 5q13. This duplicated region contains at least four genes and repetitive elements which make it prone to rearrangements and deletions. The repetitiveness and complexity of the sequence have also caused difficulty in determining the organization of this genomic region. The duplication region includes both a telomeric and a centromeric copy of this gene. Deletions of this gene, the telomeric copy, often accompany deletions of the neighboring SMN1 gene in spinal muscular atrophy (SMA) patients, and so it is thought that this gene may be a modifier of the SMA phenotype. The function of this protein is not known\; however, it bears low-level homology with the RNA-binding domain of matrin-cyclophilin, a protein which colocalizes with small nuclear ribonucleoproteins (snRNPs) and the SMN1 gene product. Alternatively spliced transcripts have been documented but it is unclear whether alternative splicing occurs for both the centromeric and telomeric copies of the gene. [provided by RefSeq, Jul 2008].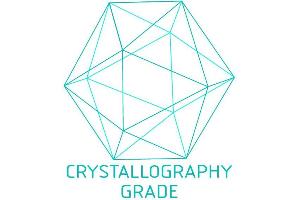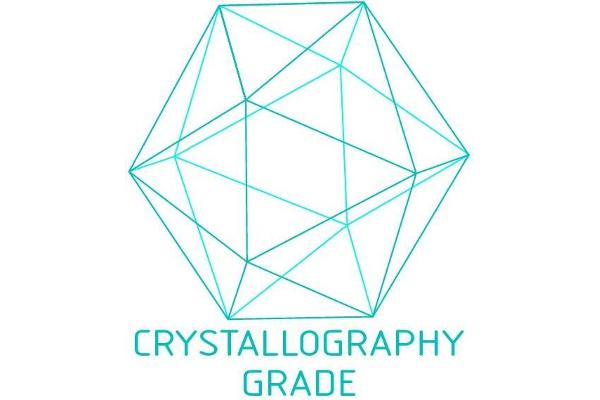 SERF1A Protein (AA 1-62) (His tag)

(ABIN3132255)
Crystallography grade SERF1A Origine: Souris Hôte: Escherichia coli (E. coli) Recombinant >95 % as determined by SDS PAGE, Size Exclusion Chromatography and Western Blot. ELISA, WB, Crys, SDS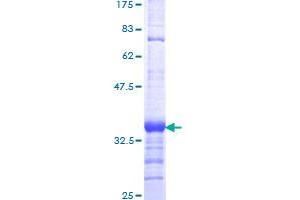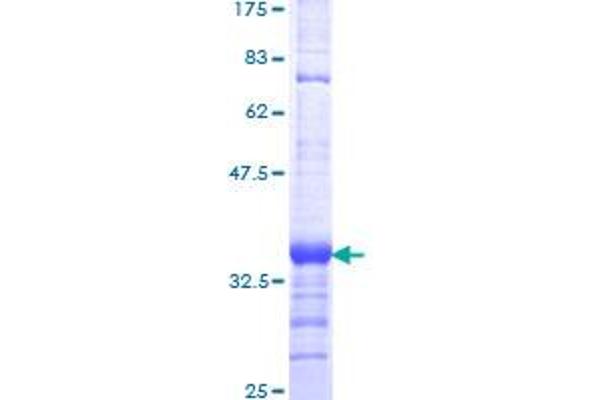 SERF1A Protein (AA 1-82) (GST tag)

(ABIN1319577)
SERF1A Origine: Humain Hôte: Wheat germ Recombinant ELISA, WB, AP, AA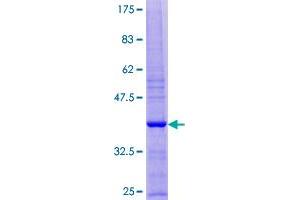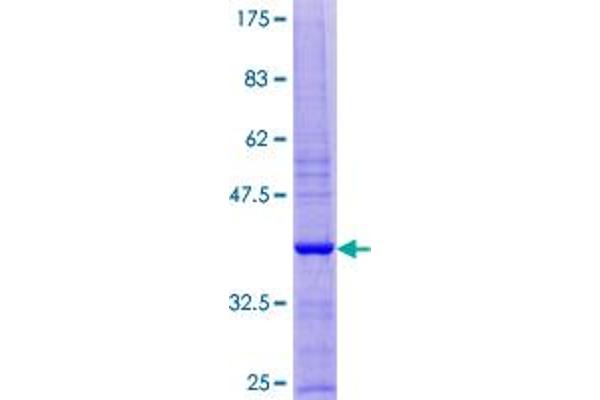 SERF1A Protein (AA 1-110) (GST tag)

(ABIN1319575)
SERF1A Origine: Humain Hôte: Wheat germ Recombinant ELISA, WB, AP, AA
SERF1A Protéines par Grade
On trouve ici des SERF1A Protéines avec un Grade spécifique. Les Grade mentionnés ici sont quelques-uns de ceux qui sont disponibles. Un clic sur le lien correspondant permet d'accéder aux produits
SERF1A Protéines par Origin
Trouvez SERF1A Protéines pour une variété d'espèces telles que anti-Human SERF1A, anti-Cow SERF1A, anti-Mouse SERF1A. Les espèces listées ci-dessous sont parmi celles disponibles. Cliquez sur un lien pour accéder aux produits correspondants.
SERF1A Protéines par Source
On trouve ici des SERF1A Protéines avec un Source spécifique. Les Source mentionnés ici sont quelques-uns de ceux qui sont disponibles. Un clic sur le lien correspondant permet d'accéder aux produits
SERF1A Protéines par Type Proteine
On trouve ici des SERF1A Protéines avec un Type Proteine spécifique. Les Type Proteine mentionnés ici sont quelques-uns de ceux qui sont disponibles. Un clic sur le lien correspondant permet d'accéder aux produits
SERF1A Protéines par Application
Trouver SERF1A Protéines validé pour une application spécifique telle que ELISA, WB, AP, AA. Certaines des applications disponibles sont énumérées ci-dessous. Cliquez sur un lien pour accéder aux produits correspondants
SERF1A Protéines fréquemment utilisés
Produit
Reactivity
Source
Validations
N° du produit
Quantité
Fiche technique
Reactivity Mouse
Source Escherichia coli (E. coli)
N° du produit ABIN3132255
Quantité 1 mg
Reactivity Human
Source Wheat germ
N° du produit ABIN1319577
Quantité 10 μg
Reactivity Human
Source Wheat germ
N° du produit ABIN1319575
Quantité 10 μg
Reactivity Human
Source HEK-293 Cells
N° du produit ABIN2731710
Quantité 20 μg
Reactivity Cow
Source Yeast
N° du produit ABIN1626465
Quantité 1 mg
Pseudonymes pour SERF1A Protéines
small EDRK-rich factor 1A (SERF1A) Protéines
small EDRK-rich factor 1 (Serf1) Protéines
small EDRK-rich factor 1A (telomeric) (SERF1A) Protéines
4F5 Protéines
FAM2A Protéines
H4F5 Protéines
m4F5 Protéines
Msmac1 Protéines
SERF1 Protéines
SERF1B Protéines
SMAM1 Protéines