TDP1 Kits ELISA
(Tyrosyl-DNA Phosphodiesterase 1 (TDP1))
The protein encoded by this gene is involved in repairing stalled topoisomerase I-DNA complexes by catalyzing the hydrolysis of the phosphodiester bond between the tyrosine residue of topoisomerase I and the 3-prime phosphate of DNA. This protein may also remove glycolate from single-stranded DNA containing 3-prime phosphoglycolate, suggesting a role in repair of free-radical mediated DNA double-strand breaks. This gene is a member of the phospholipase D family and contains two PLD phosphodiesterase domains. Mutations in this gene are associated with the disease spinocerebellar ataxia with axonal neuropathy (SCAN1). While several transcript variants may exist for this gene, the full-length natures of only two have been described to date. These two represent the major variants of this gene and encode the same isoform. [provided by RefSeq, Jul 2008].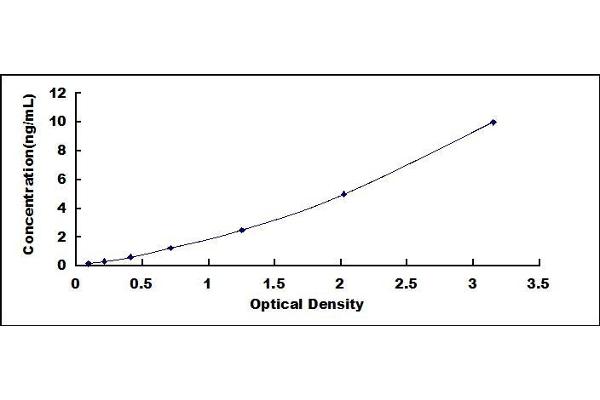 Tyrosyl-DNA Phosphodiesterase 1 (TDP1) ELISA Kit

(ABIN6960333)
TDP1 Reactivité: Humain Colorimetric Sandwich ELISA 0.15 ng/mL - 10 ng/mL Cell Culture Supernatant, Cell Lysate, Plasma, Serum, Tissue Homogenate
TDP1 Kits ELISA par Réactivité
Trouvez TDP1 Kits ELISA pour une variété d'espèces telles que anti-Human TDP1. Les espèces listées ci-dessous sont parmi celles disponibles. Cliquez sur un lien pour accéder aux produits correspondants.
TDP1 Kits ELISA par Méthode de détection
On trouve ici des TDP1 Kits ELISA avec un Méthode de détection spécifique. Les Méthode de détection mentionnés ici sont quelques-uns de ceux qui sont disponibles. Un clic sur le lien correspondant permet d'accéder aux produits
TDP1 Kits ELISA par Analytical Method
On trouve ici des TDP1 Kits ELISA avec un Analytical Method spécifique. Les Analytical Method mentionnés ici sont quelques-uns de ceux qui sont disponibles. Un clic sur le lien correspondant permet d'accéder aux produits
TDP1 Kits ELISA par Type de méthode
On trouve ici des TDP1 Kits ELISA avec un Type de méthode spécifique. Les Type de méthode mentionnés ici sont quelques-uns de ceux qui sont disponibles. Un clic sur le lien correspondant permet d'accéder aux produits
TDP1 Kits ELISA par Sample
On trouve ici des TDP1 Kits ELISA avec un Sample spécifique. Les Sample mentionnés ici sont quelques-uns de ceux qui sont disponibles. Un clic sur le lien correspondant permet d'accéder aux produits
TDP1 Kits ELISA fréquemment utilisés
Pseudonymes pour TDP1 Kits ELISA
tyrosyl-DNA phosphodiesterase 1 (TDP1) Kits ELISA
tyrosyl-DNA Phosphodiesterase (Tdp1) (Tc00.1047053511191.10) Kits ELISA
tyrosyl-DNA phosphodiesterase 1 (Tdp1) Kits ELISA
tyrosyl-DNA phosphodiesterase 1 L homeolog (tdp1.L) Kits ELISA
tyrosyl-DNA phosphodiesterase 1 (tdp1) Kits ELISA
tyrosyl-DNA phosphodiesterase-like protein (TDP1) Kits ELISA
tyrosyl-DNA phosphodiesterase 1 (PTRG_11198) Kits ELISA
tyrosyl-DNA phosphodiesterase 1 (MCYG_02121) Kits ELISA
tyrosyl-DNA phosphodiesterase 1 (MGYG_03035) Kits ELISA
2810481F14Rik Kits ELISA
4921509N21Rik Kits ELISA
AI838772 Kits ELISA
AW493413 Kits ELISA
E430034L06Rik Kits ELISA
F8M21.60 Kits ELISA
F8M21_60 Kits ELISA
MGC83708 Kits ELISA
MLZ-501 Kits ELISA
SCAN1 Kits ELISA
tdp1 Kits ELISA
TDP1 Kits ELISA
tyrosyl-DNA phosphodiesterase 1 Kits ELISA