AEBP1 Kits ELISA
(AE Binding Protein 1 (AEBP1))
The adipocyte enhancer binding protein 1 is a transcriptional repressor with carboxypeptidase (CP) activity. This protein binds to a regulatory sequence, adipocyte enhancer 1 (AE-1), located in the proximal promoter region of the adipose P2 (aP2) gene, which encodes the adipocyte fatty-acid binding protein. It is characterized as a member of the regulatory B-like CP family. This protein seems to be activated by a novel mechanism, whereby the direct binding of DNA enhances its protease activity. Adipocyte-enhancer binding protein 1 may play a role in differentiated vascular smooth muscle cells. [provided by RefSeq, Jul 2008].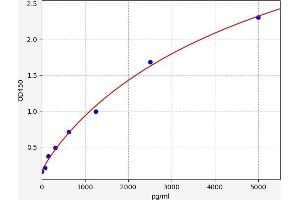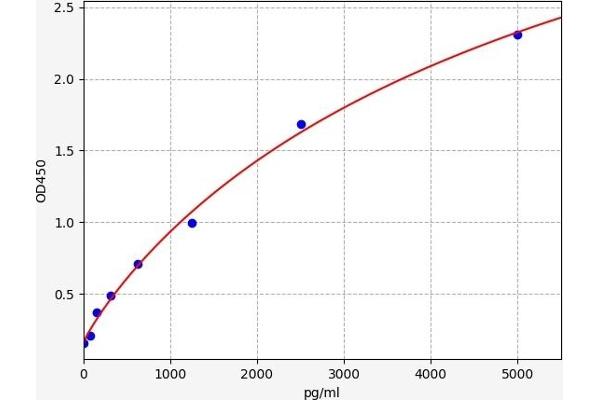 AEBP1 Kit ELISA

(ABIN6964674)
AEBP1 Reactivité: Souris Colorimetric Sandwich ELISA 78.125 pg/mL - 5000 pg/mL Plasma, Serum, Tissue Homogenate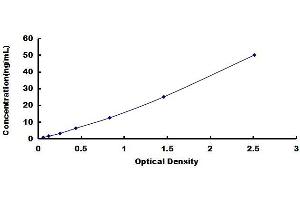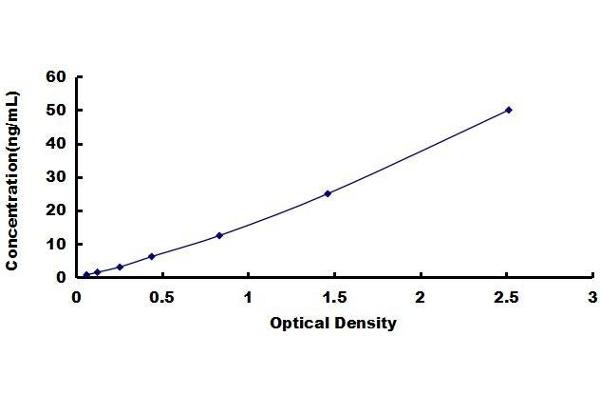 AEBP1 Kit ELISA

(ABIN6953556)
AEBP1 Reactivité: Humain Colorimetric Sandwich ELISA 0.78 ng/mL - 50 ng/mL Cell Lysate, Tissue Homogenate
AEBP1 Kits ELISA par Réactivité
Trouvez AEBP1 Kits ELISA pour une variété d'espèces telles que anti-Human AEBP1, anti-Mouse AEBP1, anti-Rat AEBP1. Les espèces listées ci-dessous sont parmi celles disponibles. Cliquez sur un lien pour accéder aux produits correspondants.
AEBP1 Kits ELISA par Méthode de détection
On trouve ici des AEBP1 Kits ELISA avec un Méthode de détection spécifique. Les Méthode de détection mentionnés ici sont quelques-uns de ceux qui sont disponibles. Un clic sur le lien correspondant permet d'accéder aux produits
AEBP1 Kits ELISA par Analytical Method
On trouve ici des AEBP1 Kits ELISA avec un Analytical Method spécifique. Les Analytical Method mentionnés ici sont quelques-uns de ceux qui sont disponibles. Un clic sur le lien correspondant permet d'accéder aux produits
AEBP1 Kits ELISA par Type de méthode
On trouve ici des AEBP1 Kits ELISA avec un Type de méthode spécifique. Les Type de méthode mentionnés ici sont quelques-uns de ceux qui sont disponibles. Un clic sur le lien correspondant permet d'accéder aux produits
AEBP1 Kits ELISA par Sample
On trouve ici des AEBP1 Kits ELISA avec un Sample spécifique. Les Sample mentionnés ici sont quelques-uns de ceux qui sont disponibles. Un clic sur le lien correspondant permet d'accéder aux produits
AEBP1 Kits ELISA fréquemment utilisés
Produit
Reactivity
Analytical Method
Validations
N° du produit
Quantité
Fiche technique
Reactivity Mouse
Analytical Method Quantitative Sandwich ELISA
N° du produit ABIN6964674
Quantité 96 tests
Reactivity Human
Analytical Method Quantitative Sandwich ELISA
N° du produit ABIN6953556
Quantité 96 tests
Reactivity Rat
Analytical Method Quantitative Sandwich ELISA
N° du produit ABIN6201115
Quantité 96 tests
Pseudonymes pour AEBP1 Kits ELISA
AE binding protein 1 (Closa_4071) Kits ELISA
AE binding protein 1 (AEBP1) Kits ELISA
AE binding protein 1 (Aebp1) Kits ELISA
ACLP Kits ELISA