AFAP Kits ELISA
(Actin Filament Associated Protein 1 (AFAP1))
The protein encoded by this gene is a Src binding partner. It may represent a potential modulator of actin filament integrity in response to cellular signals, and may function as an adaptor protein by linking Src family members and/or other signaling proteins to actin filaments. Multiple transcript variants encoding different isoforms have been found for this gene. [provided by RefSeq, Aug 2008].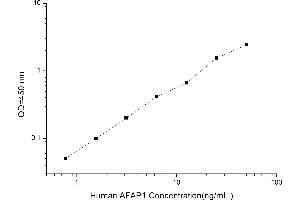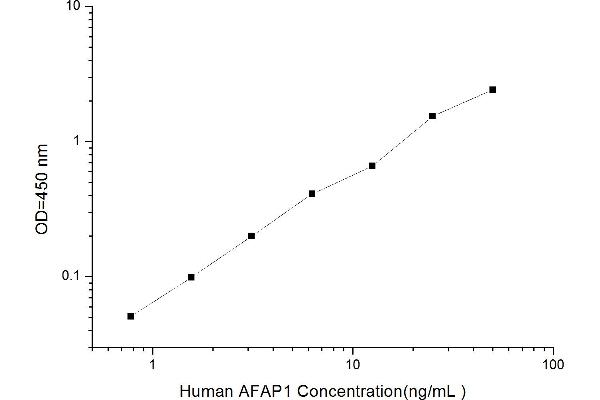 AFAP Kit ELISA

(ABIN1113245)
AFAP1 Reactivité: Humain Colorimetric Sandwich ELISA 0.78 ng/mL - 50 ng/mL Plasma, Serum
AFAP Kits ELISA par Réactivité
Trouvez AFAP Kits ELISA pour une variété d'espèces telles que anti-Human AFAP, anti-Chicken AFAP, anti-Cow AFAP. Les espèces listées ci-dessous sont parmi celles disponibles. Cliquez sur un lien pour accéder aux produits correspondants.
AFAP Kits ELISA par Méthode de détection
On trouve ici des AFAP Kits ELISA avec un Méthode de détection spécifique. Les Méthode de détection mentionnés ici sont quelques-uns de ceux qui sont disponibles. Un clic sur le lien correspondant permet d'accéder aux produits
AFAP Kits ELISA par Analytical Method
On trouve ici des AFAP Kits ELISA avec un Analytical Method spécifique. Les Analytical Method mentionnés ici sont quelques-uns de ceux qui sont disponibles. Un clic sur le lien correspondant permet d'accéder aux produits
AFAP Kits ELISA par Type de méthode
On trouve ici des AFAP Kits ELISA avec un Type de méthode spécifique. Les Type de méthode mentionnés ici sont quelques-uns de ceux qui sont disponibles. Un clic sur le lien correspondant permet d'accéder aux produits
AFAP Kits ELISA par Sample
On trouve ici des AFAP Kits ELISA avec un Sample spécifique. Les Sample mentionnés ici sont quelques-uns de ceux qui sont disponibles. Un clic sur le lien correspondant permet d'accéder aux produits
AFAP Kits ELISA fréquemment utilisés
Produit
Reactivity
Analytical Method
Validations
N° du produit
Quantité
Fiche technique
Reactivity Human
Analytical Method Quantitative Sandwich ELISA
N° du produit ABIN1113245
Quantité 96 tests
Reactivity Pig
Analytical Method Quantitative
N° du produit ABIN778065
Quantité 96 tests
Reactivity Sheep
Analytical Method Quantitative
N° du produit ABIN1049832
Quantité 96 tests
Reactivity Monkey
Analytical Method Quantitative Competition ELISA
N° du produit ABIN1049831
Quantité 96 tests
Reactivity Chicken
Analytical Method Quantitative
N° du produit ABIN1049830
Quantité 96 tests
Reactivity Cow
Analytical Method Quantitative
N° du produit ABIN988546
Quantité 96 tests
Reactivity Dog
Analytical Method Quantitative Competition ELISA
N° du produit ABIN988545
Quantité 96 tests
Reactivity Goat
Analytical Method Quantitative
N° du produit ABIN988544
Quantité 96 tests
Reactivity Human
Analytical Method Quantitative Competition ELISA
N° du produit ABIN512837
Quantité 96 tests
Reactivity Mouse
Analytical Method Quantitative Competition ELISA
N° du produit ABIN772749
Quantité 96 tests
Reactivity Rat
Analytical Method Quantitative Competition ELISA
N° du produit ABIN771428
Quantité 96 tests
Reactivity Rabbit
Analytical Method Quantitative Competition ELISA
N° du produit ABIN774166
Quantité 96 tests
Reactivity Guinea Pig
Analytical Method Quantitative Competition ELISA
N° du produit ABIN776114
Quantité 96 tests
Pseudonymes pour AFAP Kits ELISA
actin filament associated protein 1 (AFAP1) Kits ELISA
actin filament associated protein 1 (afap1) Kits ELISA
actin filament associated protein 1 (Afap1) Kits ELISA
2600003E23Rik Kits ELISA
9630044L16Rik Kits ELISA
afap Kits ELISA
AFAP Kits ELISA
Afap Kits ELISA
afap-110 Kits ELISA
AFAP-110 Kits ELISA
AFAP110 Kits ELISA
AI848729 Kits ELISA
mKIAA3018 Kits ELISA