COL8A1 Kits ELISA
(Collagen, Type VIII, alpha 1 (COL8A1))
This gene encodes one of the two alpha chains of type VIII collagen. The gene product is a short chain collagen and a major component of the basement membrane of the corneal endothelium. The type VIII collagen fibril can be either a homo- or a heterotrimer. Alternatively spliced transcript variants encoding the same protein have been observed. [provided by RefSeq, Dec 2011].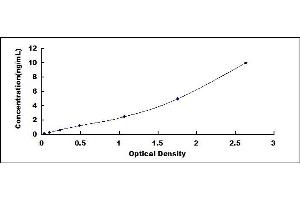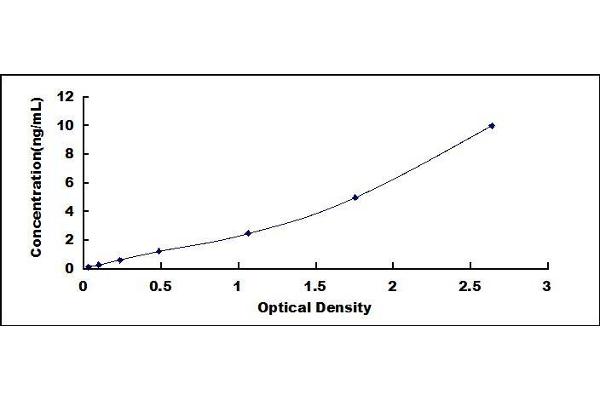 Collagen, Type VIII, alpha 1 (COL8A1) ELISA Kit

(ABIN6730964)
COL8A1 Reactivité: Humain Colorimetric Sandwich ELISA 0.15 ng/mL - 10 ng/mL Plasma, Serum, Tissue Homogenate
COL8A1 Kits ELISA par Réactivité
Trouvez COL8A1 Kits ELISA pour une variété d'espèces telles que anti-Human COL8A1, anti-Chicken COL8A1, anti-Cow COL8A1. Les espèces listées ci-dessous sont parmi celles disponibles. Cliquez sur un lien pour accéder aux produits correspondants.
COL8A1 Kits ELISA par Méthode de détection
On trouve ici des COL8A1 Kits ELISA avec un Méthode de détection spécifique. Les Méthode de détection mentionnés ici sont quelques-uns de ceux qui sont disponibles. Un clic sur le lien correspondant permet d'accéder aux produits
COL8A1 Kits ELISA par Analytical Method
On trouve ici des COL8A1 Kits ELISA avec un Analytical Method spécifique. Les Analytical Method mentionnés ici sont quelques-uns de ceux qui sont disponibles. Un clic sur le lien correspondant permet d'accéder aux produits
COL8A1 Kits ELISA par Type de méthode
On trouve ici des COL8A1 Kits ELISA avec un Type de méthode spécifique. Les Type de méthode mentionnés ici sont quelques-uns de ceux qui sont disponibles. Un clic sur le lien correspondant permet d'accéder aux produits
COL8A1 Kits ELISA par Sample
On trouve ici des COL8A1 Kits ELISA avec un Sample spécifique. Les Sample mentionnés ici sont quelques-uns de ceux qui sont disponibles. Un clic sur le lien correspondant permet d'accéder aux produits
COL8A1 Kits ELISA fréquemment utilisés
Produit
Reactivity
Analytical Method
Validations
N° du produit
Quantité
Fiche technique
Reactivity Rat
Analytical Method Quantitative Sandwich ELISA
N° du produit ABIN626795
Quantité 96 tests
Reactivity Pig
Analytical Method Quantitative Competition ELISA
N° du produit ABIN778351
Quantité 96 tests
Reactivity Rabbit
Analytical Method Quantitative Sandwich ELISA
N° du produit ABIN774434
Quantité 96 tests
Reactivity Guinea Pig
Analytical Method Quantitative Sandwich ELISA
N° du produit ABIN776387
Quantité 96 tests
Reactivity Goat
Analytical Method Quantitative Competition ELISA
N° du produit ABIN990332
Quantité 96 tests
Reactivity Dog
Analytical Method Quantitative Sandwich ELISA
N° du produit ABIN990333
Quantité 96 tests
Reactivity Cow
Analytical Method Quantitative Competition ELISA
N° du produit ABIN990334
Quantité 96 tests
Reactivity Monkey
Analytical Method Quantitative Sandwich ELISA
N° du produit ABIN1052277
Quantité 96 tests
Reactivity Chicken
Analytical Method Quantitative Competition ELISA
N° du produit ABIN1052276
Quantité 96 tests
Reactivity Sheep
Analytical Method Quantitative Competition ELISA
N° du produit ABIN1052278
Quantité 96 tests
Pseudonymes pour COL8A1 Kits ELISA
collagen type VIII alpha 1 chain (COL8A1) Kits ELISA
collagen, type VIII, alpha 1 S homeolog (col8a1.S) Kits ELISA
collagen, type VIII, alpha 1 (Col8a1) Kits ELISA
collagen type VIII alpha 1 chain (Col8a1) Kits ELISA
C3orf7 Kits ELISA
Col8a-1 Kits ELISA
COL8A1 Kits ELISA