DBN1 Kits ELISA
(Drebrin 1 (DBN1))
The protein encoded by this gene is a cytoplasmic actin-binding protein thought to play a role in the process of neuronal growth. It is a member of the drebrin family of proteins that are developmentally regulated in the brain. A decrease in the amount of this protein in the brain has been implicated as a possible contributing factor in the pathogenesis of memory disturbance in Alzheimer's disease. At least two alternative splice variants encoding different protein isoforms have been described for this gene. [provided by RefSeq, Jul 2008].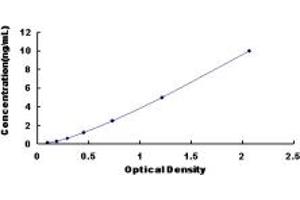 DBN1 Kit ELISA

(ABIN6955457)
DBN1 Reactivité: Humain Colorimetric Sandwich ELISA 0.15 ng/mL - 10 ng/mL Tissue Homogenate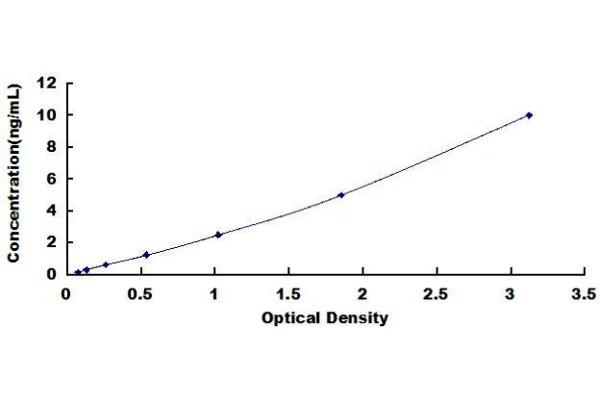 DBN1 Kit ELISA

(ABIN5608558)
DBN1 Reactivité: Rat Colorimetric Sandwich ELISA 0.156 ng/mL - 10 ng/mL Tissue Homogenate
DBN1 Kits ELISA par Réactivité
Trouvez DBN1 Kits ELISA pour une variété d'espèces telles que anti-Human DBN1, anti-Mouse DBN1, anti-Chicken DBN1. Les espèces listées ci-dessous sont parmi celles disponibles. Cliquez sur un lien pour accéder aux produits correspondants.
DBN1 Kits ELISA par Méthode de détection
On trouve ici des DBN1 Kits ELISA avec un Méthode de détection spécifique. Les Méthode de détection mentionnés ici sont quelques-uns de ceux qui sont disponibles. Un clic sur le lien correspondant permet d'accéder aux produits
DBN1 Kits ELISA par Analytical Method
On trouve ici des DBN1 Kits ELISA avec un Analytical Method spécifique. Les Analytical Method mentionnés ici sont quelques-uns de ceux qui sont disponibles. Un clic sur le lien correspondant permet d'accéder aux produits
DBN1 Kits ELISA par Type de méthode
On trouve ici des DBN1 Kits ELISA avec un Type de méthode spécifique. Les Type de méthode mentionnés ici sont quelques-uns de ceux qui sont disponibles. Un clic sur le lien correspondant permet d'accéder aux produits
DBN1 Kits ELISA par Sample
On trouve ici des DBN1 Kits ELISA avec un Sample spécifique. Les Sample mentionnés ici sont quelques-uns de ceux qui sont disponibles. Un clic sur le lien correspondant permet d'accéder aux produits
DBN1 Kits ELISA fréquemment utilisés
Produit
Reactivity
Analytical Method
Validations
N° du produit
Quantité
Fiche technique
Reactivity Human
Analytical Method Quantitative Sandwich ELISA
N° du produit ABIN6955457
Quantité 96 tests
Reactivity Rat
Analytical Method Quantitative Sandwich ELISA
N° du produit ABIN5608558
Quantité 96 tests
Reactivity Mouse
Analytical Method Sandwich ELISA
N° du produit ABIN425627
Quantité 96 tests
Reactivity Human
Analytical Method Quantitative Sandwich ELISA
N° du produit ABIN5690868
Quantité 96 tests
Reactivity Mouse
Analytical Method Quantitative Sandwich ELISA
N° du produit ABIN5518603
Quantité 96 tests
Reactivity Human
Analytical Method Semi-Quantitative Sandwich ELISA
N° du produit ABIN6385319
Quantité 96 tests
Reactivity Chicken
Analytical Method
N° du produit ABIN1130687
Quantité 96 tests
Pseudonymes pour DBN1 Kits ELISA
drebrin 1 (DBN1) Kits ELISA
drebrin 1 (Dbn1) Kits ELISA
drebrin 1 S homeolog (dbn1.S) Kits ELISA
drebrin 1 (dbn1) Kits ELISA
D0S117E Kits ELISA
DBN1 Kits ELISA
LOC733967 Kits ELISA