DPEP3 Kits ELISA
(Dipeptidase 3 (DPEP3))
This gene encodes a membrane-bound glycoprotein from the family of dipeptidases involved in hydrolytic metabolism of various dipeptides, including penem and carbapenem beta-lactam antibiotics. This gene is located on chromosome 16 in a cluster with another member of this family. Alternatively spliced transcript variants that encode different isoforms have been found for this gene. [provided by RefSeq, Jul 2008].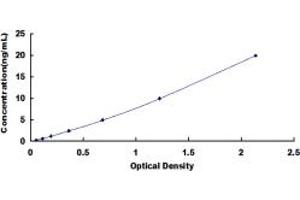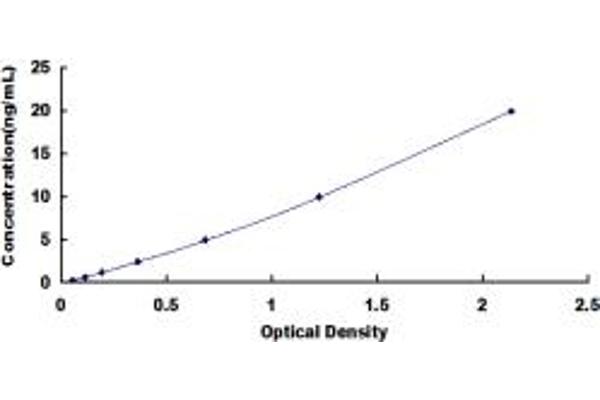 DPEP3 Kit ELISA

(ABIN6955401)
DPEP3 Reactivité: Humain Colorimetric Sandwich ELISA 0.31 ng/mL - 20 ng/mL Cell Culture Supernatant, Cell Lysate, Plasma, Serum, Tissue Homogenate
DPEP3 Kits ELISA par Réactivité
Trouvez DPEP3 Kits ELISA pour une variété d'espèces telles que anti-Human DPEP3. Les espèces listées ci-dessous sont parmi celles disponibles. Cliquez sur un lien pour accéder aux produits correspondants.
DPEP3 Kits ELISA par Méthode de détection
On trouve ici des DPEP3 Kits ELISA avec un Méthode de détection spécifique. Les Méthode de détection mentionnés ici sont quelques-uns de ceux qui sont disponibles. Un clic sur le lien correspondant permet d'accéder aux produits
DPEP3 Kits ELISA par Analytical Method
On trouve ici des DPEP3 Kits ELISA avec un Analytical Method spécifique. Les Analytical Method mentionnés ici sont quelques-uns de ceux qui sont disponibles. Un clic sur le lien correspondant permet d'accéder aux produits
DPEP3 Kits ELISA par Type de méthode
On trouve ici des DPEP3 Kits ELISA avec un Type de méthode spécifique. Les Type de méthode mentionnés ici sont quelques-uns de ceux qui sont disponibles. Un clic sur le lien correspondant permet d'accéder aux produits
DPEP3 Kits ELISA par Sample
On trouve ici des DPEP3 Kits ELISA avec un Sample spécifique. Les Sample mentionnés ici sont quelques-uns de ceux qui sont disponibles. Un clic sur le lien correspondant permet d'accéder aux produits
DPEP3 Kits ELISA fréquemment utilisés
Produit
Reactivity
Analytical Method
Validations
N° du produit
Quantité
Fiche technique
Reactivity Human
Analytical Method Quantitative Sandwich ELISA
N° du produit ABIN6955401
Quantité 96 tests
Pseudonymes pour DPEP3 Kits ELISA
dipeptidase 3 (DPEP3) Kits ELISA
dipeptidase 3 (LOC489748) Kits ELISA
Dipeptidase 3 (Dip-3) Kits ELISA
dipeptidase 3 (Dpep3) Kits ELISA
1700018F16Rik Kits ELISA
AI507039 Kits ELISA
DIP-3 Kits ELISA
MBD-3 Kits ELISA
MBD3 Kits ELISA
MLZ-136 Kits ELISA