DPP3 Kits ELISA
(Dipeptidyl-Peptidase 3 (DPP3))
This gene encodes a protein that is a member of the M49 family of metallopeptidases. This cytoplasmic protein binds a single zinc ion with its zinc-binding motif (HELLGH) and has post-proline dipeptidyl aminopeptidase activity, cleaving Xaa-Pro dipeptides from the N-termini of proteins. Increased activity of this protein is associated with endometrial and ovarian cancers. Alternatively spliced transcript variants have been found for this gene. [provided by RefSeq, Feb 2012].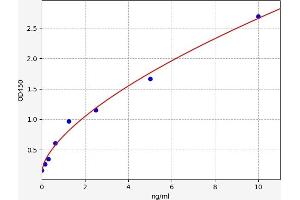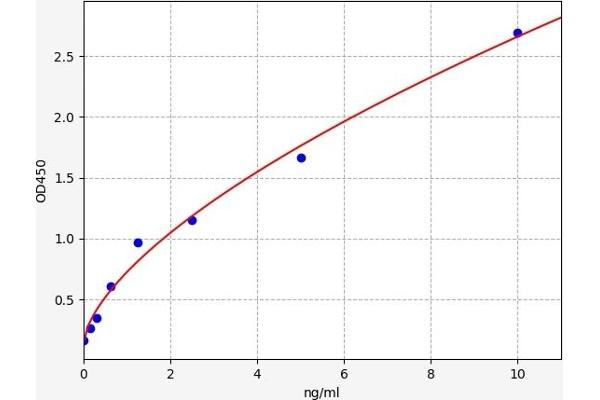 DPP3 Kit ELISA

(ABIN6966378)
DPP3 Reactivité: Humain Colorimetric Sandwich ELISA 0.156 ng/mL - 10 ng/mL Plasma, Serum, Tissue Homogenate
DPP3 Kits ELISA par Réactivité
Trouvez DPP3 Kits ELISA pour une variété d'espèces telles que anti-Human DPP3, anti-Mouse DPP3, anti-Rat DPP3. Les espèces listées ci-dessous sont parmi celles disponibles. Cliquez sur un lien pour accéder aux produits correspondants.
DPP3 Kits ELISA par Méthode de détection
On trouve ici des DPP3 Kits ELISA avec un Méthode de détection spécifique. Les Méthode de détection mentionnés ici sont quelques-uns de ceux qui sont disponibles. Un clic sur le lien correspondant permet d'accéder aux produits
DPP3 Kits ELISA par Analytical Method
On trouve ici des DPP3 Kits ELISA avec un Analytical Method spécifique. Les Analytical Method mentionnés ici sont quelques-uns de ceux qui sont disponibles. Un clic sur le lien correspondant permet d'accéder aux produits
DPP3 Kits ELISA par Type de méthode
On trouve ici des DPP3 Kits ELISA avec un Type de méthode spécifique. Les Type de méthode mentionnés ici sont quelques-uns de ceux qui sont disponibles. Un clic sur le lien correspondant permet d'accéder aux produits
DPP3 Kits ELISA par Sample
On trouve ici des DPP3 Kits ELISA avec un Sample spécifique. Les Sample mentionnés ici sont quelques-uns de ceux qui sont disponibles. Un clic sur le lien correspondant permet d'accéder aux produits
DPP3 Kits ELISA fréquemment utilisés
Produit
Reactivity
Analytical Method
Validations
N° du produit
Quantité
Fiche technique
Reactivity Human
Analytical Method Quantitative Sandwich ELISA
N° du produit ABIN6966378
Quantité 96 tests
Reactivity Rat
Analytical Method
N° du produit ABIN1129808
Quantité 96 tests
Reactivity Mouse
Analytical Method
N° du produit ABIN1129807
Quantité 96 tests
Pseudonymes pour DPP3 Kits ELISA
dipeptidyl peptidase 3 (DPP3) Kits ELISA
dipeptidylpeptidase 3 (Dpp3) Kits ELISA
dipeptidyl-peptidase 3 S homeolog (dpp3.S) Kits ELISA
dipeptidyl-peptidase 3 L homeolog (dpp3.L) Kits ELISA
dipeptidyl-peptidase 3 (CpipJ_CPIJ005356) Kits ELISA
dipeptidyl-peptidase 3 (PTRG_00518) Kits ELISA
dipeptidyl-peptidase 3 (MCYG_01338) Kits ELISA
dipeptidyl-peptidase 3 (MGYG_01882) Kits ELISA
dipeptidyl peptidase 3 (dpp3) Kits ELISA
Dipeptidyl aminopeptidase III (DppIII) Kits ELISA
dipeptidyl peptidase 3 (Dpp3) Kits ELISA
dipeptidyl-peptidase 3 (dpp3) Kits ELISA
4930533O14Rik Kits ELISA
C86324 Kits ELISA
CG7415 Kits ELISA
DKFZp469J1915 Kits ELISA
Dmel\\CG7415 Kits ELISA
DPP Kits ELISA
dpp3 Kits ELISA
DPPIII Kits ELISA
dppiii Kits ELISA
DPP III Kits ELISA
MGC68828 Kits ELISA
MGC79125 Kits ELISA
wu:fb64b04 Kits ELISA
zgc:86791 Kits ELISA