DPP6 Kits ELISA
(Dipeptidyl-Peptidase 6 (DPP6))
This gene encodes a single-pass type II membrane protein that is a member of the S9B family in clan SC of the serine proteases. This protein has no detectable protease activity, most likely due to the absence of the conserved serine residue normally present in the catalytic domain of serine proteases. However, it does bind specific voltage-gated potassium channels and alters their expression and biophysical properties. Alternate transcriptional splice variants, encoding different isoforms, have been characterized. [provided by RefSeq, Jul 2008].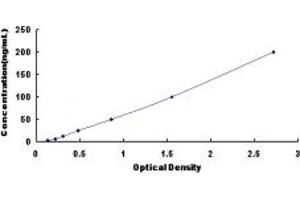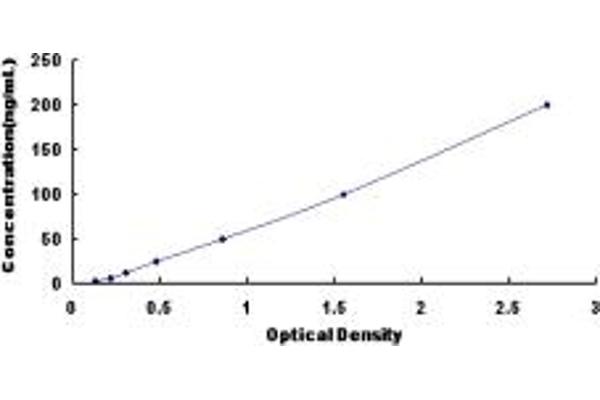 DPP6 Kit ELISA

(ABIN6955402)
DPP6 Reactivité: Humain Colorimetric Sandwich ELISA 3.12 ng/mL - 200 ng/mL Plasma, Serum, Tissue Homogenate
DPP6 Kits ELISA par Réactivité
Trouvez DPP6 Kits ELISA pour une variété d'espèces telles que anti-Cow DPP6, anti-Human DPP6, anti-Mouse DPP6. Les espèces listées ci-dessous sont parmi celles disponibles. Cliquez sur un lien pour accéder aux produits correspondants.
DPP6 Kits ELISA par Méthode de détection
On trouve ici des DPP6 Kits ELISA avec un Méthode de détection spécifique. Les Méthode de détection mentionnés ici sont quelques-uns de ceux qui sont disponibles. Un clic sur le lien correspondant permet d'accéder aux produits
DPP6 Kits ELISA par Analytical Method
On trouve ici des DPP6 Kits ELISA avec un Analytical Method spécifique. Les Analytical Method mentionnés ici sont quelques-uns de ceux qui sont disponibles. Un clic sur le lien correspondant permet d'accéder aux produits
DPP6 Kits ELISA par Type de méthode
On trouve ici des DPP6 Kits ELISA avec un Type de méthode spécifique. Les Type de méthode mentionnés ici sont quelques-uns de ceux qui sont disponibles. Un clic sur le lien correspondant permet d'accéder aux produits
DPP6 Kits ELISA par Sample
On trouve ici des DPP6 Kits ELISA avec un Sample spécifique. Les Sample mentionnés ici sont quelques-uns de ceux qui sont disponibles. Un clic sur le lien correspondant permet d'accéder aux produits
DPP6 Kits ELISA fréquemment utilisés
Produit
Reactivity
Analytical Method
Validations
N° du produit
Quantité
Fiche technique
Reactivity Human
Analytical Method Quantitative Sandwich ELISA
N° du produit ABIN6955402
Quantité 96 tests
Reactivity Rat
Analytical Method
N° du produit ABIN1129798
Quantité 96 tests
Reactivity Mouse
Analytical Method
N° du produit ABIN1129797
Quantité 96 tests
Reactivity Cow
Analytical Method
N° du produit ABIN1129795
Quantité 96 tests
Pseudonymes pour DPP6 Kits ELISA
dipeptidyl peptidase like 6 (DPP6) Kits ELISA
dipeptidyl-peptidase 6 (dpp6) Kits ELISA
dipeptidyl-peptidase 6 (BCAN_A2221) Kits ELISA
dipeptidyl-peptidase 6 (BSUIS_A2016) Kits ELISA
dipeptidyl-peptidase 6 (Bsph_2289) Kits ELISA
dipeptidyl-peptidase 6 (BMEA_A2239) Kits ELISA
dipeptidyl-peptidase 6b (dpp6b) Kits ELISA
dipeptidylpeptidase 6 (Dpp6) Kits ELISA
dipeptidyl peptidase like 6 (Dpp6) Kits ELISA
B930011P16Rik Kits ELISA
D5Buc3 Kits ELISA
D5Buc4 Kits ELISA
D5Buc5 Kits ELISA
Dpp-6 Kits ELISA
dpp6 Kits ELISA
DPP VI Kits ELISA
dppx Kits ELISA
DPPX Kits ELISA
Gm1377 Kits ELISA
In(5)6H-p Kits ELISA
Peplb Kits ELISA
Rw Kits ELISA
si:ch211-198f16.1 Kits ELISA
VF2 Kits ELISA