LRWD1 Kits ELISA
(Leucine-Rich Repeat and WD Repeat-Containing Protein 1 (LRWD1))
Associated component of the origin recognition complex (ORC) required to recruit and stabilize the ORC complex to chromatin. Probably required for the association of ORC on chromatin during G1 to establish pre-replication complex (preRC) and to heterochromatic sites in post-replicated cells (By similarity).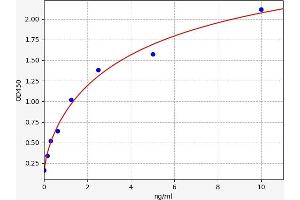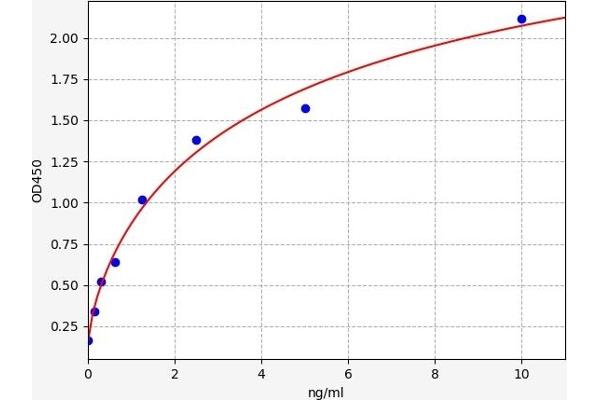 LRWD1 Kit ELISA

(ABIN6968265)
LRWD1 Reactivité: Humain Colorimetric Sandwich ELISA 0.156 ng/mL - 10 ng/mL Plasma, Serum, Tissue Homogenate
LRWD1 Kits ELISA par Réactivité
Trouvez LRWD1 Kits ELISA pour une variété d'espèces telles que anti-Human LRWD1, anti-Mouse LRWD1. Les espèces listées ci-dessous sont parmi celles disponibles. Cliquez sur un lien pour accéder aux produits correspondants.
LRWD1 Kits ELISA par Méthode de détection
On trouve ici des LRWD1 Kits ELISA avec un Méthode de détection spécifique. Les Méthode de détection mentionnés ici sont quelques-uns de ceux qui sont disponibles. Un clic sur le lien correspondant permet d'accéder aux produits
LRWD1 Kits ELISA par Analytical Method
On trouve ici des LRWD1 Kits ELISA avec un Analytical Method spécifique. Les Analytical Method mentionnés ici sont quelques-uns de ceux qui sont disponibles. Un clic sur le lien correspondant permet d'accéder aux produits
LRWD1 Kits ELISA par Type de méthode
On trouve ici des LRWD1 Kits ELISA avec un Type de méthode spécifique. Les Type de méthode mentionnés ici sont quelques-uns de ceux qui sont disponibles. Un clic sur le lien correspondant permet d'accéder aux produits
LRWD1 Kits ELISA par Sample
On trouve ici des LRWD1 Kits ELISA avec un Sample spécifique. Les Sample mentionnés ici sont quelques-uns de ceux qui sont disponibles. Un clic sur le lien correspondant permet d'accéder aux produits
LRWD1 Kits ELISA fréquemment utilisés
Produit
Reactivity
Analytical Method
Validations
N° du produit
Quantité
Fiche technique
Reactivity Human
Analytical Method Quantitative Sandwich ELISA
N° du produit ABIN6968265
Quantité 96 tests
Reactivity Mouse
Analytical Method
N° du produit ABIN1140287
Quantité 96 tests
Pseudonymes pour LRWD1 Kits ELISA
leucine rich repeats and WD repeat domain containing 1 (LRWD1) Kits ELISA
leucine-rich repeats and WD repeat domain containing 1 (Lrwd1) Kits ELISA
leucine-rich repeats and WD repeat domain containing 1 (lrwd1) Kits ELISA
microRNA 5090 (MIR5090) Kits ELISA
leucine-rich repeats and WD repeat domain containing 1 L homeolog (lrwd1.L) Kits ELISA
1200011O22Rik Kits ELISA
AU042569 Kits ELISA
AW548074 Kits ELISA
CENP-33 Kits ELISA
ORCA Kits ELISA
Orca Kits ELISA
si:dkey-261j4.9 Kits ELISA
wu:fb78b03 Kits ELISA
wu:ft31b04 Kits ELISA