LY6G6F Kits ELISA
(Lymphocyte Antigen 6 Complex, Locus G6F (LY6G6F))
The human G6f protein is a type I transmembrane protein belonging to the immunoglobin (Ig) superfamily, which is comprised of cell-surface proteins involved in the immune system and cellular recognition (de Vet et al., 2003 [PubMed 12852788]).[supplied by OMIM, Mar 2008].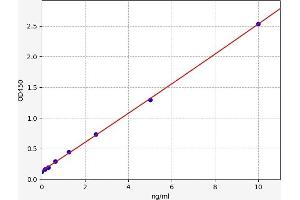 LY6G6F Kit ELISA

(ABIN6968378)
LY6G6F Reactivité: Humain Colorimetric Sandwich ELISA 0.156 ng/mL - 10 ng/mL Plasma, Serum, Tissue Homogenate
LY6G6F Kits ELISA par Réactivité
Trouvez LY6G6F Kits ELISA pour une variété d'espèces telles que anti-Cow LY6G6F, anti-Human LY6G6F, anti-Rat LY6G6F. Les espèces listées ci-dessous sont parmi celles disponibles. Cliquez sur un lien pour accéder aux produits correspondants.
LY6G6F Kits ELISA par Méthode de détection
On trouve ici des LY6G6F Kits ELISA avec un Méthode de détection spécifique. Les Méthode de détection mentionnés ici sont quelques-uns de ceux qui sont disponibles. Un clic sur le lien correspondant permet d'accéder aux produits
LY6G6F Kits ELISA par Analytical Method
On trouve ici des LY6G6F Kits ELISA avec un Analytical Method spécifique. Les Analytical Method mentionnés ici sont quelques-uns de ceux qui sont disponibles. Un clic sur le lien correspondant permet d'accéder aux produits
LY6G6F Kits ELISA par Type de méthode
On trouve ici des LY6G6F Kits ELISA avec un Type de méthode spécifique. Les Type de méthode mentionnés ici sont quelques-uns de ceux qui sont disponibles. Un clic sur le lien correspondant permet d'accéder aux produits
LY6G6F Kits ELISA par Sample
On trouve ici des LY6G6F Kits ELISA avec un Sample spécifique. Les Sample mentionnés ici sont quelques-uns de ceux qui sont disponibles. Un clic sur le lien correspondant permet d'accéder aux produits
LY6G6F Kits ELISA fréquemment utilisés
Produit
Reactivity
Analytical Method
Validations
N° du produit
Quantité
Fiche technique
Reactivity Human
Analytical Method Quantitative Sandwich ELISA
N° du produit ABIN6968378
Quantité 96 tests
Reactivity Rat
Analytical Method
N° du produit ABIN1141069
Quantité 96 tests
Reactivity Cow
Analytical Method
N° du produit ABIN1141068
Quantité 96 tests
Pseudonymes pour LY6G6F Kits ELISA
lymphocyte antigen 6 family member G6F (LY6G6F) Kits ELISA
lymphocyte antigen 6 family member G6F (Ly6g6f) Kits ELISA
lymphocyte antigen 6 complex, locus G6F (Ly6g6f) Kits ELISA
C6orf21 Kits ELISA
C6ORF21 Kits ELISA
CJ068215 Kits ELISA
G6f Kits ELISA
LY6G6D Kits ELISA
NG32 Kits ELISA