PLCz1 Kits ELISA
(Phospholipase C zeta 1 (PLCz1))
The protein encoded by this gene is a member of the phosphoinositide-specific phospholipase C family. Members in this family, classified into six isotypes that are tissue- and organ-specific, hydrolyze phosphatidylinositol 4,5-bisphosphate just before the phosphate group to yield diacylglycerol and inositol 1,4,5-trisphosphate. This protein localizes to the acrosome in spermatozoa and elicits Ca(2+) oscillations and egg activation during fertilization that leads to early embryonic development. Alternative splicing results in multiple transcript variants. [provided by RefSeq, Aug 2012].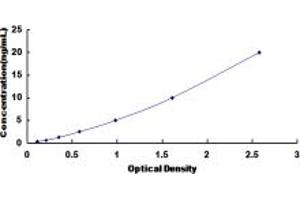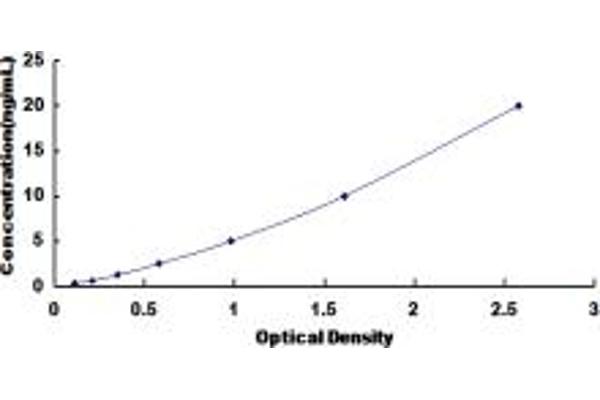 PLCz1 Kit ELISA

(ABIN6958574)
PLCz1 Reactivité: Humain Colorimetric Sandwich ELISA 0.31 ng/mL - 20 ng/mL Tissue Homogenate
PLCz1 Kits ELISA par Réactivité
Trouvez PLCz1 Kits ELISA pour une variété d'espèces telles que anti-Human PLCz1. Les espèces listées ci-dessous sont parmi celles disponibles. Cliquez sur un lien pour accéder aux produits correspondants.
PLCz1 Kits ELISA par Méthode de détection
On trouve ici des PLCz1 Kits ELISA avec un Méthode de détection spécifique. Les Méthode de détection mentionnés ici sont quelques-uns de ceux qui sont disponibles. Un clic sur le lien correspondant permet d'accéder aux produits
PLCz1 Kits ELISA par Analytical Method
On trouve ici des PLCz1 Kits ELISA avec un Analytical Method spécifique. Les Analytical Method mentionnés ici sont quelques-uns de ceux qui sont disponibles. Un clic sur le lien correspondant permet d'accéder aux produits
PLCz1 Kits ELISA par Type de méthode
On trouve ici des PLCz1 Kits ELISA avec un Type de méthode spécifique. Les Type de méthode mentionnés ici sont quelques-uns de ceux qui sont disponibles. Un clic sur le lien correspondant permet d'accéder aux produits
PLCz1 Kits ELISA par Sample
On trouve ici des PLCz1 Kits ELISA avec un Sample spécifique. Les Sample mentionnés ici sont quelques-uns de ceux qui sont disponibles. Un clic sur le lien correspondant permet d'accéder aux produits
PLCz1 Kits ELISA fréquemment utilisés
Produit
Reactivity
Analytical Method
Validations
N° du produit
Quantité
Fiche technique
Reactivity Human
Analytical Method Quantitative Sandwich ELISA
N° du produit ABIN6958574
Quantité 96 tests
Pseudonymes pour PLCz1 Kits ELISA
phospholipase C zeta 1 (PLCZ1) Kits ELISA
phospholipase C, zeta 1 (Plcz1) Kits ELISA
1700041H07Rik Kits ELISA
NYD-SP27 Kits ELISA
PLC-zeta-1 Kits ELISA
PLCZ Kits ELISA
PLCZ1 Kits ELISA
PLCzeta Kits ELISA