PLK2 Kits ELISA
(Polo-Like Kinase 2 (PLK2))
The protein encoded by this gene is a member of the polo family of serine/threonine protein kinases that have a role in normal cell division. This gene is most abundantly expressed in testis, spleen and fetal tissues, and its expression is inducible by serum, suggesting that it may also play an important role in cells undergoing rapid cell division. Alternatively spliced transcript variants encoding different isoforms have been found for this gene. [provided by RefSeq, Nov 2011].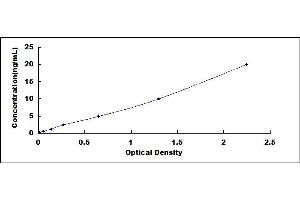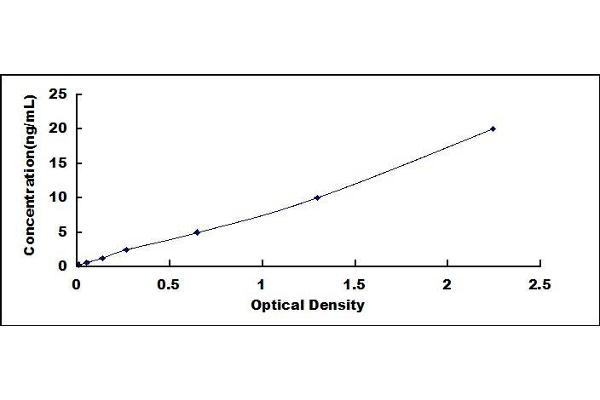 PLK2 Kit ELISA

(ABIN6958677)
PLK2 Reactivité: Rat Colorimetric Sandwich ELISA 0.31 ng/mL - 20 ng/mL Cell Lysate, Tissue Homogenate
PLK2 Kits ELISA par Réactivité
Trouvez PLK2 Kits ELISA pour une variété d'espèces telles que anti-Human PLK2, anti-Mouse PLK2, anti-Rat PLK2. Les espèces listées ci-dessous sont parmi celles disponibles. Cliquez sur un lien pour accéder aux produits correspondants.
PLK2 Kits ELISA par Méthode de détection
On trouve ici des PLK2 Kits ELISA avec un Méthode de détection spécifique. Les Méthode de détection mentionnés ici sont quelques-uns de ceux qui sont disponibles. Un clic sur le lien correspondant permet d'accéder aux produits
PLK2 Kits ELISA par Analytical Method
On trouve ici des PLK2 Kits ELISA avec un Analytical Method spécifique. Les Analytical Method mentionnés ici sont quelques-uns de ceux qui sont disponibles. Un clic sur le lien correspondant permet d'accéder aux produits
PLK2 Kits ELISA par Type de méthode
On trouve ici des PLK2 Kits ELISA avec un Type de méthode spécifique. Les Type de méthode mentionnés ici sont quelques-uns de ceux qui sont disponibles. Un clic sur le lien correspondant permet d'accéder aux produits
PLK2 Kits ELISA par Sample
On trouve ici des PLK2 Kits ELISA avec un Sample spécifique. Les Sample mentionnés ici sont quelques-uns de ceux qui sont disponibles. Un clic sur le lien correspondant permet d'accéder aux produits
PLK2 Kits ELISA fréquemment utilisés
Produit
Reactivity
Analytical Method
Validations
N° du produit
Quantité
Fiche technique
Reactivity Rat
Analytical Method Quantitative Sandwich ELISA
N° du produit ABIN6958677
Quantité 96 tests
Reactivity Human
Analytical Method Quantitative Sandwich ELISA
N° du produit ABIN6233435
Quantité 96 tests
Reactivity Mouse
Analytical Method Quantitative Sandwich ELISA
N° du produit ABIN6233436
Quantité 96 tests
Pseudonymes pour PLK2 Kits ELISA
polo like kinase 2 (PLK2) Kits ELISA
polo-like kinase 2 (Plk2) Kits ELISA
polo like kinase 2 (Plk2) Kits ELISA
polo-like kinase 2 L homeolog (plk2.L) Kits ELISA
polo-like kinase 2b (Drosophila) (plk2b) Kits ELISA
polo-like kinase 2 (plk2) Kits ELISA
polo like kinase 2 (plk2) Kits ELISA
Serine/threonine-protein kinase plk-2 (plk-2) Kits ELISA
hPlk2 Kits ELISA
hSNK Kits ELISA
MGC53990 Kits ELISA
PLK2 Kits ELISA
plk2 Kits ELISA
Plx2 Kits ELISA
SNK Kits ELISA
Snk Kits ELISA
zgc:165644 Kits ELISA