RAB37 Kits ELISA
(RAB37, Member RAS Oncogene Family (RAB37))
Rab proteins are low molecular mass GTPases that are critical regulators of vesicle trafficking. For additional background information on Rab proteins, see MIM 179508.[supplied by OMIM, Apr 2006].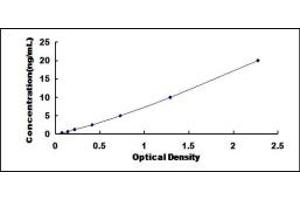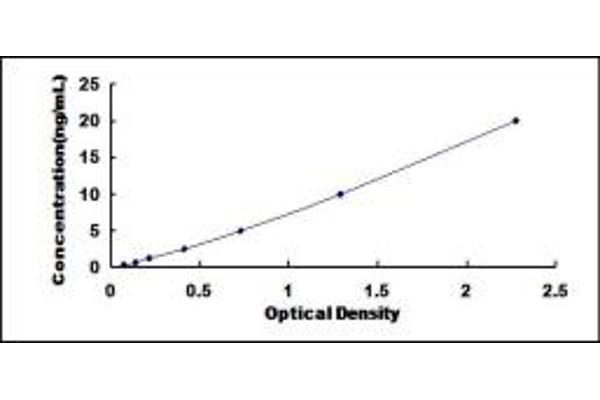 RAB37 Kit ELISA

(ABIN6959028)
RAB37 Reactivité: Humain Colorimetric Sandwich ELISA 0.31 ng/mL - 20 ng/mL Tissue Homogenate
RAB37 Kits ELISA par Réactivité
Trouvez RAB37 Kits ELISA pour une variété d'espèces telles que anti-Human RAB37, anti-Mouse RAB37. Les espèces listées ci-dessous sont parmi celles disponibles. Cliquez sur un lien pour accéder aux produits correspondants.
RAB37 Kits ELISA par Méthode de détection
On trouve ici des RAB37 Kits ELISA avec un Méthode de détection spécifique. Les Méthode de détection mentionnés ici sont quelques-uns de ceux qui sont disponibles. Un clic sur le lien correspondant permet d'accéder aux produits
RAB37 Kits ELISA par Analytical Method
On trouve ici des RAB37 Kits ELISA avec un Analytical Method spécifique. Les Analytical Method mentionnés ici sont quelques-uns de ceux qui sont disponibles. Un clic sur le lien correspondant permet d'accéder aux produits
RAB37 Kits ELISA par Type de méthode
On trouve ici des RAB37 Kits ELISA avec un Type de méthode spécifique. Les Type de méthode mentionnés ici sont quelques-uns de ceux qui sont disponibles. Un clic sur le lien correspondant permet d'accéder aux produits
RAB37 Kits ELISA par Sample
On trouve ici des RAB37 Kits ELISA avec un Sample spécifique. Les Sample mentionnés ici sont quelques-uns de ceux qui sont disponibles. Un clic sur le lien correspondant permet d'accéder aux produits
RAB37 Kits ELISA fréquemment utilisés
Produit
Reactivity
Analytical Method
Validations
N° du produit
Quantité
Fiche technique
Reactivity Human
Analytical Method Quantitative Sandwich ELISA
N° du produit ABIN6959028
Quantité 96 tests
Reactivity Mouse
Analytical Method
N° du produit ABIN1154714
Quantité 96 tests
Pseudonymes pour RAB37 Kits ELISA
RAB37, member RAS oncogene family (RAB37) Kits ELISA
RAB37, member RAS oncogene family (Rab37) Kits ELISA
B230331O03Rik Kits ELISA
B230354I04Rik Kits ELISA
RAB37 Kits ELISA