RAB8A Kits ELISA
(RAB8A, Member RAS Oncogene Family (RAB8A))
The protein encoded by this gene is a member of the RAS superfamily which are small GTP/GDP-binding proteins with an average size of 200 amino acids. The RAS-related proteins of the RAB/YPT family may play a role in the transport of proteins from the endoplasmic reticulum to the Golgi and the plasma membrane. This protein shares 97%, 96%, and 51% similarity with the dog RAB8, mouse MEL, and mouse YPT1 proteins, respectively and contains the 4 GTP/GDP-binding sites that are present in all the RAS proteins. The putative effector-binding site of this protein is similar to that of the RAB/YPT proteins. However, this protein contains a C-terminal CAAX motif that is characteristic of many RAS superfamily members but which is not found in YPT1 and the majority of RAB proteins. Although this gene was isolated as a transforming gene from a melanoma cell line, no linkage between MEL and malignant melanoma has been demonstrable. This oncogene is located 800 kb distal to MY09B on chromosome 19p13.1. [provided by RefSeq, Jul 2008].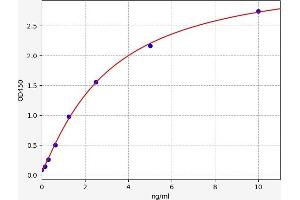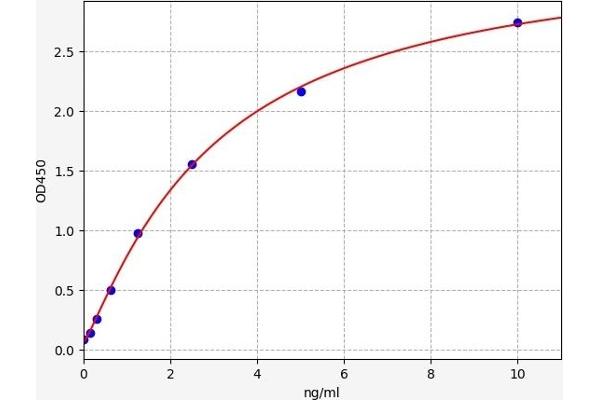 RAB8A Kit ELISA

(ABIN6969818)
RAB8A Reactivité: Humain Colorimetric Sandwich ELISA 0.156 ng/mL - 10 ng/mL Plasma, Serum, Tissue Homogenate
RAB8A Kits ELISA par Réactivité
Trouvez RAB8A Kits ELISA pour une variété d'espèces telles que anti-Chicken RAB8A, anti-Cow RAB8A, anti-Dog RAB8A. Les espèces listées ci-dessous sont parmi celles disponibles. Cliquez sur un lien pour accéder aux produits correspondants.
RAB8A Kits ELISA par Méthode de détection
On trouve ici des RAB8A Kits ELISA avec un Méthode de détection spécifique. Les Méthode de détection mentionnés ici sont quelques-uns de ceux qui sont disponibles. Un clic sur le lien correspondant permet d'accéder aux produits
RAB8A Kits ELISA par Analytical Method
On trouve ici des RAB8A Kits ELISA avec un Analytical Method spécifique. Les Analytical Method mentionnés ici sont quelques-uns de ceux qui sont disponibles. Un clic sur le lien correspondant permet d'accéder aux produits
RAB8A Kits ELISA par Type de méthode
On trouve ici des RAB8A Kits ELISA avec un Type de méthode spécifique. Les Type de méthode mentionnés ici sont quelques-uns de ceux qui sont disponibles. Un clic sur le lien correspondant permet d'accéder aux produits
RAB8A Kits ELISA par Sample
On trouve ici des RAB8A Kits ELISA avec un Sample spécifique. Les Sample mentionnés ici sont quelques-uns de ceux qui sont disponibles. Un clic sur le lien correspondant permet d'accéder aux produits
RAB8A Kits ELISA fréquemment utilisés
Produit
Reactivity
Analytical Method
Validations
N° du produit
Quantité
Fiche technique
Reactivity Human
Analytical Method Quantitative Sandwich ELISA
N° du produit ABIN6969818
Quantité 96 tests
Reactivity Rat
Analytical Method
N° du produit ABIN1154795
Quantité 96 tests
Reactivity Mouse
Analytical Method
N° du produit ABIN1154794
Quantité 96 tests
Reactivity Cow
Analytical Method
N° du produit ABIN1154790
Quantité 96 tests
Reactivity Chicken
Analytical Method
N° du produit ABIN1154792
Quantité 96 tests
Reactivity Dog
Analytical Method
N° du produit ABIN1154791
Quantité 96 tests
Pseudonymes pour RAB8A Kits ELISA
rab8A protein (rab8A) Kits ELISA
Rab GTPase (rab8A) Kits ELISA
RAB8A, member RAS oncogene family (RAB8A) Kits ELISA
RAB8A, member RAS oncogene family (rab8a) Kits ELISA
RAB8A, member RAS oncogene family S homeolog (rab8a.S) Kits ELISA
RAB8A, member RAS oncogene family (Rab8a) Kits ELISA
AA409338 Kits ELISA
c-mel Kits ELISA
DDBDRAFT_0206521 Kits ELISA
DDBDRAFT_0214885 Kits ELISA
DDB_0206521 Kits ELISA
DDB_0214885 Kits ELISA
HSH2D Kits ELISA
mel Kits ELISA
MEL Kits ELISA
Mel Kits ELISA
rab8 Kits ELISA
RAB8 Kits ELISA
Rab8 Kits ELISA
rab8A Kits ELISA
zgc:162699 Kits ELISA