RAB8B Kits ELISA
(RAB8B, Member RAS Oncogene Family (RAB8B))
RAB proteins, like RAB8B, are low molecular mass monomeric GTPases that localize on the cytoplasmic surfaces of distinct membrane-bound organelles. RAB proteins function in intracellular vesicle transport by aiding in the docking and/or fusion of vesicles with their target membranes (summary by Chen et al., 1997 [PubMed 9030196]).[supplied by OMIM, Nov 2010].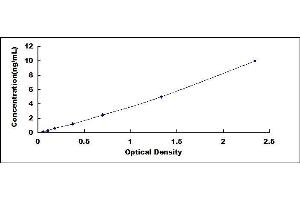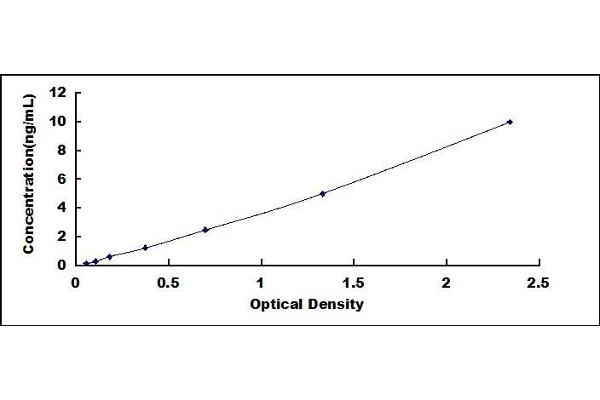 RAB8B Kit ELISA

(ABIN6959033)
RAB8B Reactivité: Humain Colorimetric Sandwich ELISA 0.15 ng/mL - 10 ng/mL Cell Lysate, Tissue Homogenate
RAB8B Kits ELISA par Réactivité
Trouvez RAB8B Kits ELISA pour une variété d'espèces telles que anti-Human RAB8B. Les espèces listées ci-dessous sont parmi celles disponibles. Cliquez sur un lien pour accéder aux produits correspondants.
RAB8B Kits ELISA par Méthode de détection
On trouve ici des RAB8B Kits ELISA avec un Méthode de détection spécifique. Les Méthode de détection mentionnés ici sont quelques-uns de ceux qui sont disponibles. Un clic sur le lien correspondant permet d'accéder aux produits
RAB8B Kits ELISA par Analytical Method
On trouve ici des RAB8B Kits ELISA avec un Analytical Method spécifique. Les Analytical Method mentionnés ici sont quelques-uns de ceux qui sont disponibles. Un clic sur le lien correspondant permet d'accéder aux produits
RAB8B Kits ELISA par Type de méthode
On trouve ici des RAB8B Kits ELISA avec un Type de méthode spécifique. Les Type de méthode mentionnés ici sont quelques-uns de ceux qui sont disponibles. Un clic sur le lien correspondant permet d'accéder aux produits
RAB8B Kits ELISA par Sample
On trouve ici des RAB8B Kits ELISA avec un Sample spécifique. Les Sample mentionnés ici sont quelques-uns de ceux qui sont disponibles. Un clic sur le lien correspondant permet d'accéder aux produits
RAB8B Kits ELISA fréquemment utilisés
Produit
Reactivity
Analytical Method
Validations
N° du produit
Quantité
Fiche technique
Reactivity Human
Analytical Method Quantitative Sandwich ELISA
N° du produit ABIN6959033
Quantité 96 tests
Reactivity Human
Analytical Method Quantitative Sandwich ELISA
N° du produit ABIN5706926
Quantité 96 tests
Pseudonymes pour RAB8B Kits ELISA
RAB8B, member RAS oncogene family (RAB8B) Kits ELISA
RAB8B, member RAS oncogene family (Rab8b) Kits ELISA
5930437D16 Kits ELISA
D330025I23Rik Kits ELISA