RUNX3 Kits ELISA
(Runt-Related Transcription Factor 3 (RUNX3))
This gene encodes a member of the runt domain-containing family of transcription factors. A heterodimer of this protein and a beta subunit forms a complex that binds to the core DNA sequence 5'-PYGPYGGT-3' found in a number of enhancers and promoters, and can either activate or suppress transcription. It also interacts with other transcription factors. It functions as a tumor suppressor, and the gene is frequently deleted or transcriptionally silenced in cancer. Multiple transcript variants encoding different isoforms have been found for this gene. [provided by RefSeq, Jul 2008].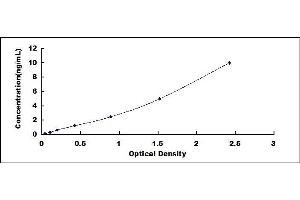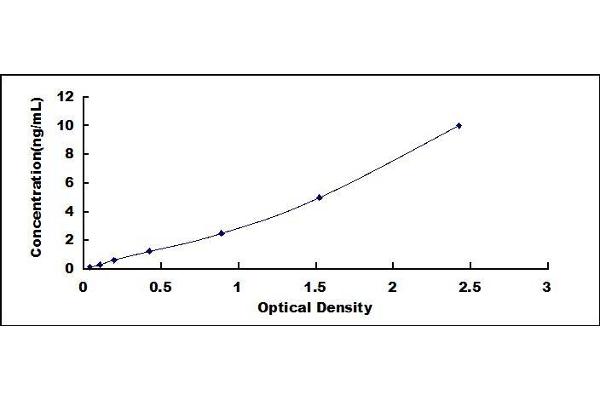 Runt-Related Transcription Factor 3 (RUNX3) ELISA Kit

(ABIN6959208)
RUNX3 Reactivité: Humain Colorimetric Sandwich ELISA 0.15 ng/mL - 10 ng/mL Cell Lysate, Tissue Homogenate
RUNX3 Kits ELISA par Réactivité
Trouvez RUNX3 Kits ELISA pour une variété d'espèces telles que anti-Human RUNX3, anti-Mouse RUNX3, anti-Rat RUNX3. Les espèces listées ci-dessous sont parmi celles disponibles. Cliquez sur un lien pour accéder aux produits correspondants.
RUNX3 Kits ELISA par Méthode de détection
On trouve ici des RUNX3 Kits ELISA avec un Méthode de détection spécifique. Les Méthode de détection mentionnés ici sont quelques-uns de ceux qui sont disponibles. Un clic sur le lien correspondant permet d'accéder aux produits
RUNX3 Kits ELISA par Analytical Method
On trouve ici des RUNX3 Kits ELISA avec un Analytical Method spécifique. Les Analytical Method mentionnés ici sont quelques-uns de ceux qui sont disponibles. Un clic sur le lien correspondant permet d'accéder aux produits
RUNX3 Kits ELISA par Type de méthode
On trouve ici des RUNX3 Kits ELISA avec un Type de méthode spécifique. Les Type de méthode mentionnés ici sont quelques-uns de ceux qui sont disponibles. Un clic sur le lien correspondant permet d'accéder aux produits
RUNX3 Kits ELISA par Sample
On trouve ici des RUNX3 Kits ELISA avec un Sample spécifique. Les Sample mentionnés ici sont quelques-uns de ceux qui sont disponibles. Un clic sur le lien correspondant permet d'accéder aux produits
RUNX3 Kits ELISA fréquemment utilisés
Pseudonymes pour RUNX3 Kits ELISA
runt-related transcription factor 3 (runx3) Kits ELISA
runt-related transcription factor 3 (RUNX3) Kits ELISA
runt related transcription factor 3 (RUNX3) Kits ELISA
runt related transcription factor 3 (runx3) Kits ELISA
runt related transcription factor 3 L homeolog (runx3.L) Kits ELISA
runt related transcription factor 3 (Runx3) Kits ELISA
runt-related transcription factor 3 (Runx3) Kits ELISA
aml2 Kits ELISA
AML2 Kits ELISA
CBFA3 Kits ELISA
cbfa3 Kits ELISA
Cbfa3 Kits ELISA
frrunx3 Kits ELISA
Pebp2a3 Kits ELISA
pebp2ac Kits ELISA
PEBP2aC Kits ELISA
RUNX3 Kits ELISA
runx3 Kits ELISA
runxb Kits ELISA