SSH1 Kits ELISA
(Slingshot Homolog 1 (SSH1))
The protein encoded by this gene belongs to the slingshot homolog (SSH) family of phosphatases, which regulate actin filament dynamics. The SSH proteins dephosphorylate and activate the actin binding/depolymerizing factor cofilin, which subsequently binds to actin filaments and stimulates their disassembly. Cofilin is inactivated by kinases such as LIM domain kinase-1 (LIMK1), which may also be dephosphorylated and inactivated by SSH proteins. The SSH family thus appears to play a role in actin dynamics by reactivating cofilin proteins. Alternatively spliced transcript variants encoding different isoforms have been described for this gene. [provided by RefSeq, Aug 2011].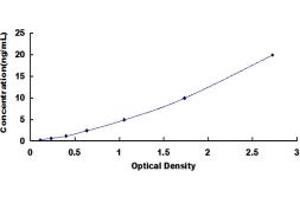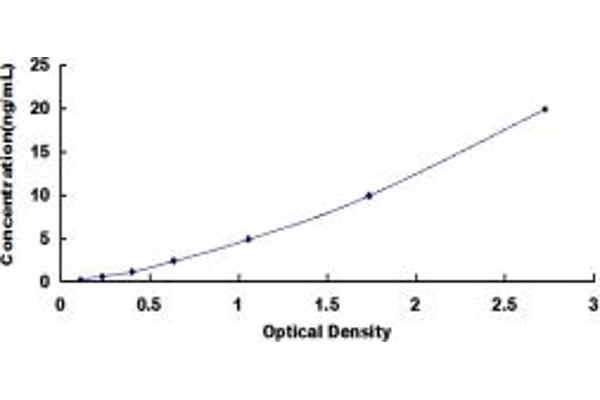 Slingshot Homolog 1 (SSH1) ELISA Kit

(ABIN6959504)
SSH1 Reactivité: Humain Colorimetric Sandwich ELISA 0.31 ng/mL - 20 ng/mL Cell Lysate, Tissue Homogenate
SSH1 Kits ELISA par Réactivité
Trouvez SSH1 Kits ELISA pour une variété d'espèces telles que anti-Human SSH1. Les espèces listées ci-dessous sont parmi celles disponibles. Cliquez sur un lien pour accéder aux produits correspondants.
SSH1 Kits ELISA par Méthode de détection
On trouve ici des SSH1 Kits ELISA avec un Méthode de détection spécifique. Les Méthode de détection mentionnés ici sont quelques-uns de ceux qui sont disponibles. Un clic sur le lien correspondant permet d'accéder aux produits
SSH1 Kits ELISA par Analytical Method
On trouve ici des SSH1 Kits ELISA avec un Analytical Method spécifique. Les Analytical Method mentionnés ici sont quelques-uns de ceux qui sont disponibles. Un clic sur le lien correspondant permet d'accéder aux produits
SSH1 Kits ELISA par Type de méthode
On trouve ici des SSH1 Kits ELISA avec un Type de méthode spécifique. Les Type de méthode mentionnés ici sont quelques-uns de ceux qui sont disponibles. Un clic sur le lien correspondant permet d'accéder aux produits
SSH1 Kits ELISA par Sample
On trouve ici des SSH1 Kits ELISA avec un Sample spécifique. Les Sample mentionnés ici sont quelques-uns de ceux qui sont disponibles. Un clic sur le lien correspondant permet d'accéder aux produits
SSH1 Kits ELISA fréquemment utilisés
Pseudonymes pour SSH1 Kits ELISA
slingshot homolog 1 (Drosophila) (Ssh1) Kits ELISA
slingshot protein phosphatase 1 (SSH1) Kits ELISA
AW551225 Kits ELISA
Gm1394 Kits ELISA
Gm1395 Kits ELISA
mSSH-1L Kits ELISA
SSH-1 Kits ELISA
SSH1L Kits ELISA