SRSF3 Kits ELISA
(serine/arginine-Rich Splicing Factor 3 (SRSF3))
The protein encoded by this gene is a member of the serine/arginine (SR)-rich family of pre-mRNA splicing factors, which constitute part of the spliceosome. Each of these factors contains an RNA recognition motif (RRM) for binding RNA and an RS domain for binding other proteins. The RS domain is rich in serine and arginine residues and facilitates interaction between different SR splicing factors. In addition to being critical for mRNA splicing, the SR proteins have also been shown to be involved in mRNA export from the nucleus and in translation. Two transcript variants, one protein-coding and the other non-coding, have been found for this gene. [provided by RefSeq, Sep 2010].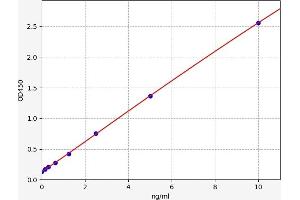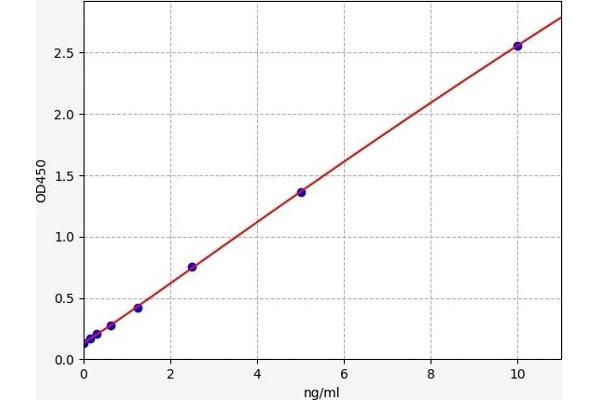 SRSF3 Kit ELISA

(ABIN6970116)
SRSF3 Reactivité: Humain Colorimetric Sandwich ELISA 0.156 ng/mL - 10 ng/mL Plasma, Serum, Tissue Homogenate
SRSF3 Kits ELISA par Réactivité
Trouvez SRSF3 Kits ELISA pour une variété d'espèces telles que anti-Cow SRSF3, anti-Human SRSF3, anti-Mouse SRSF3. Les espèces listées ci-dessous sont parmi celles disponibles. Cliquez sur un lien pour accéder aux produits correspondants.
SRSF3 Kits ELISA par Méthode de détection
On trouve ici des SRSF3 Kits ELISA avec un Méthode de détection spécifique. Les Méthode de détection mentionnés ici sont quelques-uns de ceux qui sont disponibles. Un clic sur le lien correspondant permet d'accéder aux produits
SRSF3 Kits ELISA par Analytical Method
On trouve ici des SRSF3 Kits ELISA avec un Analytical Method spécifique. Les Analytical Method mentionnés ici sont quelques-uns de ceux qui sont disponibles. Un clic sur le lien correspondant permet d'accéder aux produits
SRSF3 Kits ELISA par Type de méthode
On trouve ici des SRSF3 Kits ELISA avec un Type de méthode spécifique. Les Type de méthode mentionnés ici sont quelques-uns de ceux qui sont disponibles. Un clic sur le lien correspondant permet d'accéder aux produits
SRSF3 Kits ELISA par Sample
On trouve ici des SRSF3 Kits ELISA avec un Sample spécifique. Les Sample mentionnés ici sont quelques-uns de ceux qui sont disponibles. Un clic sur le lien correspondant permet d'accéder aux produits
SRSF3 Kits ELISA fréquemment utilisés
Produit
Reactivity
Analytical Method
Validations
N° du produit
Quantité
Fiche technique
Reactivity Human
Analytical Method Quantitative Sandwich ELISA
N° du produit ABIN6970116
Quantité 96 tests
Reactivity Cow
Analytical Method
N° du produit ABIN1157109
Quantité 96 tests
Reactivity Mouse
Analytical Method
N° du produit ABIN1157111
Quantité 96 tests
Pseudonymes pour SRSF3 Kits ELISA
serine and arginine rich splicing factor 3 (SRSF3) Kits ELISA
serine/arginine-rich splicing factor 3 (Srsf3) Kits ELISA
serine/arginine-rich splicing factor 3 S homeolog (srsf3.S) Kits ELISA
serine and arginine rich splicing factor 3 (Srsf3) Kits ELISA
serine/arginine-rich splicing factor 3a (srsf3a) Kits ELISA
AL024116 Kits ELISA
SFRS3 Kits ELISA
Sfrs3 Kits ELISA
sfrs3 Kits ELISA
si:zc263a23.9 Kits ELISA
SRp20 Kits ELISA
srp20 Kits ELISA
SRP20 Kits ELISA
X16 Kits ELISA
zgc:86626 Kits ELISA