Utrophin Protéines
(Utrophin (UTRN))
This gene shares both structural and functional similarities with the dystrophin gene. It contains an actin-binding N-terminus, a triple coiled-coil repeat central region, and a C-terminus that consists of protein-protein interaction motifs which interact with dystroglycan protein components. The protein encoded by this gene is located at the neuromuscular synapse and myotendinous junctions, where it participates in post-synaptic membrane maintenance and acetylcholine receptor clustering. Mouse studies suggest that this gene may serve as a functional substitute for the dystrophin gene and therefore, may serve as a potential therapeutic alternative to muscular dystrophy which is caused by mutations in the dystrophin gene. Alternative splicing of the utrophin gene has been described\; however, the full-length nature of these variants has not yet been determined. [provided by RefSeq, Jul 2008].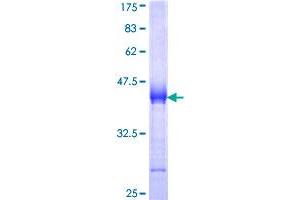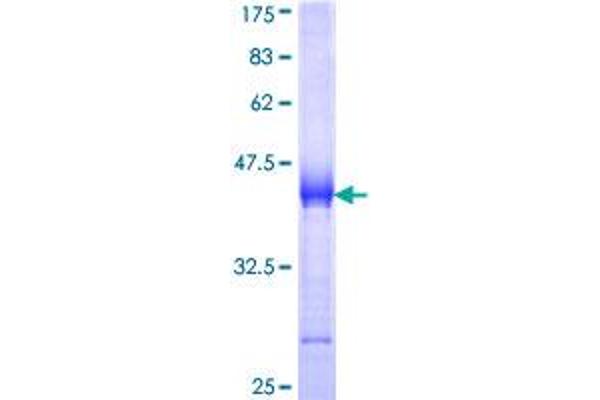 Utrophin Protein (UTRN) (AA 3328-3433) (GST tag)

(ABIN1324869)
UTRN Origine: Humain Hôte: Wheat germ Recombinant AA, AP, ELISA, WB
Utrophin Protéines par Origin
Trouvez Utrophin Protéines pour une variété d'espèces telles que anti-Human Utrophin, anti-Mouse Utrophin. Les espèces listées ci-dessous sont parmi celles disponibles. Cliquez sur un lien pour accéder aux produits correspondants.
Utrophin Protéines par Source
On trouve ici des Utrophin Protéines avec un Source spécifique. Les Source mentionnés ici sont quelques-uns de ceux qui sont disponibles. Un clic sur le lien correspondant permet d'accéder aux produits
Utrophin Protéines par Type Proteine
On trouve ici des Utrophin Protéines avec un Type Proteine spécifique. Les Type Proteine mentionnés ici sont quelques-uns de ceux qui sont disponibles. Un clic sur le lien correspondant permet d'accéder aux produits
Utrophin Protéines par Application
Trouver Utrophin Protéines validé pour une application spécifique telle que WB, SDS, Imm, PC. Certaines des applications disponibles sont énumérées ci-dessous. Cliquez sur un lien pour accéder aux produits correspondants
Utrophin Protéines fréquemment utilisés
Produit
Reactivity
Source
Validations
N° du produit
Quantité
Fiche technique
Reactivity Human
Source Wheat germ
N° du produit ABIN1324869
Quantité 10 μg
Reactivity Human
Source Escherichia coli (E. coli)
N° du produit ABIN7417648
Quantité 100 μg
Reactivity Mouse
Source Escherichia coli (E. coli)
N° du produit ABIN7408324
Quantité 100 μg
Reactivity Mouse
Source Escherichia coli (E. coli)
N° du produit ABIN6383457
Quantité 1 mg
Pseudonymes pour Utrophin Protéines
utrophin L homeolog (utrn.L) Protéines
utrophin (UTRN) Protéines
utrophin (LOAG_03796) Protéines
utrophin (utrn) Protéines
utrophin (LOC100551145) Protéines
utrophin (Utrn) Protéines
AA589569 Protéines
DKFZp469A0710 Protéines
dmdl Protéines
DMDL Protéines
Dmdl Protéines
drp Protéines
DRP Protéines
drp1 Protéines
DRP1 Protéines