CAMKK2 Kits ELISA
(Calcium/calmodulin-Dependent Protein Kinase Kinase 2, beta (CAMKK2))
The product of this gene belongs to the Serine/Threonine protein kinase family, and to the Ca(2+)/calmodulin-dependent protein kinase subfamily. The major isoform of this gene plays a role in the calcium/calmodulin-dependent (CaM) kinase cascade by phosphorylating the downstream kinases CaMK1 and CaMK4. Protein products of this gene also phosphorylate AMP-activated protein kinase (AMPK). This gene has its strongest expression in the brain and influences signalling cascades involved with learning and memory, neuronal differentiation and migration, neurite outgrowth, and synapse formation. Alternative splicing results in multiple transcript variants encoding distinct isoforms. The identified isoforms differ in their ability to undergo autophosphorylation and to phosphorylate downstream kinases. [provided by RefSeq, Jul 2012].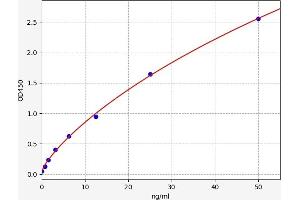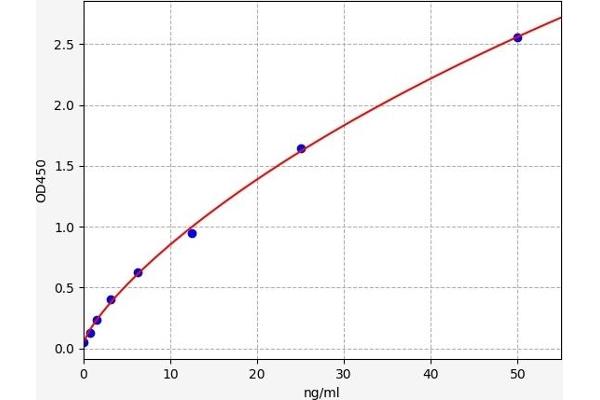 CAMKK2 Kit ELISA

(ABIN6965332)
CAMKK2 Reactivité: Humain Colorimetric Sandwich ELISA 0.781 ng/mL - 50 ng/mL Plasma, Serum, Tissue Homogenate
CAMKK2 Kits ELISA par Réactivité
Trouvez CAMKK2 Kits ELISA pour une variété d'espèces telles que anti-Human CAMKK2, anti-Mouse CAMKK2, anti-Rat CAMKK2. Les espèces listées ci-dessous sont parmi celles disponibles. Cliquez sur un lien pour accéder aux produits correspondants.
CAMKK2 Kits ELISA par Méthode de détection
On trouve ici des CAMKK2 Kits ELISA avec un Méthode de détection spécifique. Les Méthode de détection mentionnés ici sont quelques-uns de ceux qui sont disponibles. Un clic sur le lien correspondant permet d'accéder aux produits
CAMKK2 Kits ELISA par Analytical Method
On trouve ici des CAMKK2 Kits ELISA avec un Analytical Method spécifique. Les Analytical Method mentionnés ici sont quelques-uns de ceux qui sont disponibles. Un clic sur le lien correspondant permet d'accéder aux produits
CAMKK2 Kits ELISA par Type de méthode
On trouve ici des CAMKK2 Kits ELISA avec un Type de méthode spécifique. Les Type de méthode mentionnés ici sont quelques-uns de ceux qui sont disponibles. Un clic sur le lien correspondant permet d'accéder aux produits
CAMKK2 Kits ELISA par Sample
On trouve ici des CAMKK2 Kits ELISA avec un Sample spécifique. Les Sample mentionnés ici sont quelques-uns de ceux qui sont disponibles. Un clic sur le lien correspondant permet d'accéder aux produits
CAMKK2 Kits ELISA fréquemment utilisés
Produit
Reactivity
Analytical Method
Validations
N° du produit
Quantité
Fiche technique
Reactivity Human
Analytical Method Quantitative Sandwich ELISA
N° du produit ABIN6965332
Quantité 96 tests
Reactivity Human
Analytical Method Quantitative Sandwich ELISA
N° du produit ABIN6954286
Quantité 96 tests
Reactivity Mouse
Analytical Method Quantitative Sandwich ELISA
N° du produit ABIN5593540
Quantité 96 tests
Reactivity Rat
Analytical Method
N° du produit ABIN1124885
Quantité 96 tests
Pseudonymes pour CAMKK2 Kits ELISA
calcium/calmodulin dependent protein kinase kinase 2 (CAMKK2) Kits ELISA
calcium/calmodulin-dependent protein kinase kinase 2, beta (Camkk2) Kits ELISA
calcium/calmodulin-dependent protein kinase (CaM kinase) II beta 1 (camk2b1) Kits ELISA
calcium/calmodulin dependent protein kinase II beta (CAMK2B) Kits ELISA
calcium/calmodulin-dependent protein kinase kinase 2, beta (camkk2) Kits ELISA
calcium/calmodulin-dependent protein kinase kinase 2 (Camkk2) Kits ELISA
calcium/calmodulin dependent protein kinase kinase 2 (Camkk2) Kits ELISA
6330570N16Rik Kits ELISA
AW061083 Kits ELISA
camk2b Kits ELISA
CAMKK Kits ELISA
CAMKK2 Kits ELISA
CAMKKB Kits ELISA
fj90d04 Kits ELISA
mKIAA0787 Kits ELISA
si:dkey-174n20.2 Kits ELISA
wu:fj90d04 Kits ELISA