NFkB Protéines
(Nuclear Factor kappa B (NFkB))
This gene encodes a 105 kD protein which can undergo cotranslational processing by the 26S proteasome to produce a 50 kD protein. The 105 kD protein is a Rel protein-specific transcription inhibitor and the 50 kD protein is a DNA binding subunit of the NF-kappa-B (NFKB) protein complex. NFKB is a transcription regulator that is activated by various intra- and extra-cellular stimuli such as cytokines, oxidant-free radicals, ultraviolet irradiation, and bacterial or viral products. Activated NFKB translocates into the nucleus and stimulates the expression of genes involved in a wide variety of biological functions. Inappropriate activation of NFKB has been associated with a number of inflammatory diseases while persistent inhibition of NFKB leads to inappropriate immune cell development or delayed cell growth. Two transcript variants encoding different isoforms have been found for this gene. [provided by RefSeq, Sep 2009].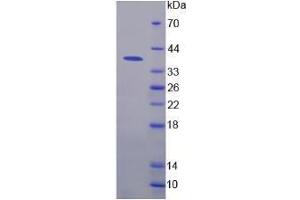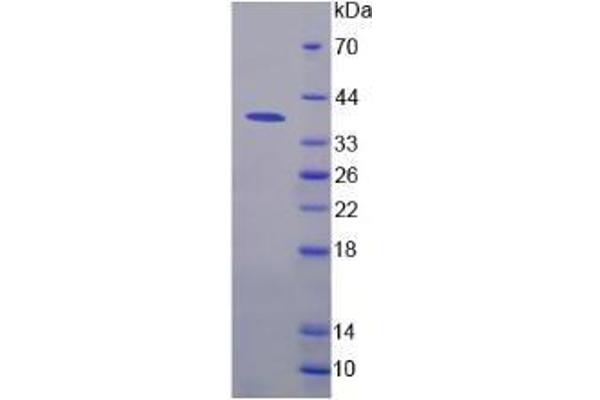 NFkB Protéine

(ABIN3010983)
NFkB Origine: Humain Hôte: Escherichia coli (E. coli) Recombinant > 95 % ELISA, IP, SDS, WB
NFkB Protéines par Origin
Trouvez NFkB Protéines pour une variété d'espèces telles que anti-Human NFkB, anti-Chicken NFkB, anti-Cow NFkB. Les espèces listées ci-dessous sont parmi celles disponibles. Cliquez sur un lien pour accéder aux produits correspondants.
NFkB Protéines par Source
On trouve ici des NFkB Protéines avec un Source spécifique. Les Source mentionnés ici sont quelques-uns de ceux qui sont disponibles. Un clic sur le lien correspondant permet d'accéder aux produits
NFkB Protéines par Type Proteine
On trouve ici des NFkB Protéines avec un Type Proteine spécifique. Les Type Proteine mentionnés ici sont quelques-uns de ceux qui sont disponibles. Un clic sur le lien correspondant permet d'accéder aux produits
NFkB Protéines par Application
Trouver NFkB Protéines validé pour une application spécifique telle que SDS, WB, Imm, PC. Certaines des applications disponibles sont énumérées ci-dessous. Cliquez sur un lien pour accéder aux produits correspondants
NFkB Protéines fréquemment utilisés
Produit
Reactivity
Source
Validations
N° du produit
Quantité
Fiche technique
Reactivity Human
Source Escherichia coli (E. coli)
N° du produit ABIN3010983
Quantité 100 μg
Reactivity Human
Source Escherichia coli (E. coli)
N° du produit ABIN7394927
Quantité 100 μg
Reactivity Human
Source Escherichia coli (E. coli)
N° du produit ABIN7415128
Quantité 100 μg
Reactivity Human
Source Escherichia coli (E. coli)
N° du produit ABIN7421872
Quantité 100 μg
Reactivity Mouse
Source Escherichia coli (E. coli)
N° du produit ABIN7394930
Quantité 100 μg
Reactivity Cow
Source Escherichia coli (E. coli)
N° du produit ABIN7422778
Quantité 100 μg
Reactivity Rat
Source Escherichia coli (E. coli)
N° du produit ABIN7394933
Quantité 100 μg
Reactivity Chicken
Source Escherichia coli (E. coli)
N° du produit ABIN7394924
Quantité 100 μg
Pseudonymes pour NFkB Protéines
nuclear factor kappa B subunit 1 (NFKB1) Protéines
nuclear factor kappa B subunit 1 (Nfkb1) Protéines
nuclear factor of kappa light polypeptide gene enhancer in B cells 1, p105 (Nfkb1) Protéines
EBP-1 Protéines
KBF1 Protéines
NF-kappa-B Protéines
NF-kappaB Protéines
NF-kappaB1 Protéines
NF-kB Protéines
NF-kB1 Protéines
NF-KB1 Protéines
NFkappaB Protéines
NFKB-p50 Protéines
NFKB-p105 Protéines
p50 Protéines
p50/p105 Protéines
p105 Protéines