POMGNT1 Kits ELISA
(Protein O-Linked Mannose Beta1,2-N-Acetylglucosaminyltransferase (POMGNT1))
The protein encoded by this gene is a type II transmembrane protein that resides in the golgi. It participates in O-mannosyl glycosylation, and is specific for alpha linked terminal mannose. Mutations in this gene are associated with muscle-eye-brain (MEB) disease. Alternatively spliced transcript variants have been found for this gene.[provided by RefSeq, Oct 2008].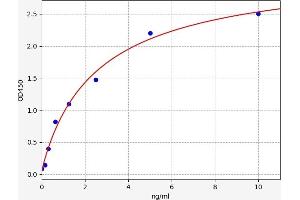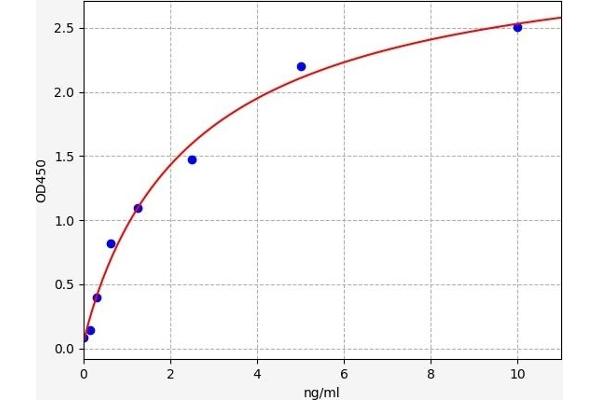 POMGNT1 Kit ELISA

(ABIN6969731)
POMGNT1 Reactivité: Humain Colorimetric Sandwich ELISA 0.156 ng/mL - 10 ng/mL Plasma, Serum, Tissue Homogenate
POMGNT1 Kits ELISA par Réactivité
Trouvez POMGNT1 Kits ELISA pour une variété d'espèces telles que anti-Cow POMGNT1, anti-Human POMGNT1, anti-Mouse POMGNT1. Les espèces listées ci-dessous sont parmi celles disponibles. Cliquez sur un lien pour accéder aux produits correspondants.
POMGNT1 Kits ELISA par Méthode de détection
On trouve ici des POMGNT1 Kits ELISA avec un Méthode de détection spécifique. Les Méthode de détection mentionnés ici sont quelques-uns de ceux qui sont disponibles. Un clic sur le lien correspondant permet d'accéder aux produits
POMGNT1 Kits ELISA par Analytical Method
On trouve ici des POMGNT1 Kits ELISA avec un Analytical Method spécifique. Les Analytical Method mentionnés ici sont quelques-uns de ceux qui sont disponibles. Un clic sur le lien correspondant permet d'accéder aux produits
POMGNT1 Kits ELISA par Type de méthode
On trouve ici des POMGNT1 Kits ELISA avec un Type de méthode spécifique. Les Type de méthode mentionnés ici sont quelques-uns de ceux qui sont disponibles. Un clic sur le lien correspondant permet d'accéder aux produits
POMGNT1 Kits ELISA par Sample
On trouve ici des POMGNT1 Kits ELISA avec un Sample spécifique. Les Sample mentionnés ici sont quelques-uns de ceux qui sont disponibles. Un clic sur le lien correspondant permet d'accéder aux produits
POMGNT1 Kits ELISA fréquemment utilisés
Produit
Reactivity
Analytical Method
Validations
N° du produit
Quantité
Fiche technique
Reactivity Human
Analytical Method Quantitative Sandwich ELISA
N° du produit ABIN6969731
Quantité 96 tests
Reactivity Rat
Analytical Method
N° du produit ABIN585219
Quantité 96 tests
Reactivity Mouse
Analytical Method
N° du produit ABIN585218
Quantité 96 tests
Reactivity Cow
Analytical Method
N° du produit ABIN1152065
Quantité 96 tests
Pseudonymes pour POMGNT1 Kits ELISA
protein O-linked mannose N-acetylglucosaminyltransferase 1 (beta 1,2-) (POMGNT1) Kits ELISA
protein O-linked mannose N-acetylglucosaminyltransferase 1 (beta 1,2-) S homeolog (pomgnt1.S) Kits ELISA
protein O-linked mannose N-acetylglucosaminyltransferase 1 (beta 1,2-) (pomgnt1) Kits ELISA
protein O-linked mannose beta 1,2-N-acetylglucosaminyltransferase (Pomgnt1) Kits ELISA
protein O-linked mannose N-acetylglucosaminyltransferase 1 (beta 1,2-) (Pomgnt1) Kits ELISA
0610016I07Rik Kits ELISA
4930467B06Rik Kits ELISA
gnT-I.2 Kits ELISA
GNTI.2 Kits ELISA
GnT I.2 Kits ELISA
im:7151461 Kits ELISA
LGMD2O Kits ELISA
MDDGA3 Kits ELISA
MDDGB3 Kits ELISA
MDDGC3 Kits ELISA
MEB Kits ELISA
MGAT1.2 Kits ELISA
POMGNT1 Kits ELISA
zgc:158130 Kits ELISA