PPM1D Kits ELISA
(Protein Phosphatase, Mg2+/Mn2+ Dependent, 1D (PPM1D))
The protein encoded by this gene is a member of the PP2C family of Ser/Thr protein phosphatases. PP2C family members are known to be negative regulators of cell stress response pathways. The expression of this gene is induced in a p53-dependent manner in response to various environmental stresses. While being induced by tumor suppressor protein TP53/p53, this phosphatase negatively regulates the activity of p38 MAP kinase, MAPK/p38, through which it reduces the phosphorylation of p53, and in turn suppresses p53-mediated transcription and apoptosis. This phosphatase thus mediates a feedback regulation of p38-p53 signaling that contributes to growth inhibition and the suppression of stress induced apoptosis. This gene is located in a chromosomal region known to be amplified in breast cancer. The amplification of this gene has been detected in both breast cancer cell line and primary breast tumors, which suggests a role of this gene in cancer development. [provided by RefSeq, Jul 2008].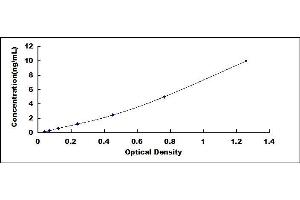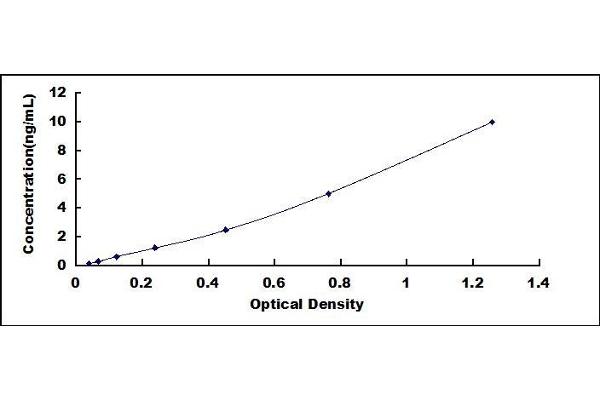 PPM1D Kit ELISA

(ABIN6958950)
PPM1D Reactivité: Humain Colorimetric Sandwich ELISA 0.15 ng/mL - 10 ng/mL Cell Lysate, Tissue Homogenate
PPM1D Kit ELISA

(ABIN6951705)
PPM1D Reactivité: Humain Colorimetric Sandwich ELISA Cell Culture Supernatant, Cell Samples, Plasma, Serum, Tissue Lysate
PPM1D Kits ELISA par Réactivité
Trouvez PPM1D Kits ELISA pour une variété d'espèces telles que anti-Human PPM1D. Les espèces listées ci-dessous sont parmi celles disponibles. Cliquez sur un lien pour accéder aux produits correspondants.
PPM1D Kits ELISA par Méthode de détection
On trouve ici des PPM1D Kits ELISA avec un Méthode de détection spécifique. Les Méthode de détection mentionnés ici sont quelques-uns de ceux qui sont disponibles. Un clic sur le lien correspondant permet d'accéder aux produits
PPM1D Kits ELISA par Analytical Method
On trouve ici des PPM1D Kits ELISA avec un Analytical Method spécifique. Les Analytical Method mentionnés ici sont quelques-uns de ceux qui sont disponibles. Un clic sur le lien correspondant permet d'accéder aux produits
PPM1D Kits ELISA par Type de méthode
On trouve ici des PPM1D Kits ELISA avec un Type de méthode spécifique. Les Type de méthode mentionnés ici sont quelques-uns de ceux qui sont disponibles. Un clic sur le lien correspondant permet d'accéder aux produits
PPM1D Kits ELISA par Sample
On trouve ici des PPM1D Kits ELISA avec un Sample spécifique. Les Sample mentionnés ici sont quelques-uns de ceux qui sont disponibles. Un clic sur le lien correspondant permet d'accéder aux produits
PPM1D Kits ELISA fréquemment utilisés
Produit
Reactivity
Analytical Method
Validations
N° du produit
Quantité
Fiche technique
Reactivity Human
Analytical Method Quantitative Sandwich ELISA
N° du produit ABIN6958950
Quantité 96 tests
Reactivity Human
Analytical Method Quantitative Sandwich ELISA
N° du produit ABIN6951705
Quantité 96 tests
Pseudonymes pour PPM1D Kits ELISA
protein phosphatase, Mg2+/Mn2+ dependent 1D (PPM1D) Kits ELISA
protein phosphatase 1D magnesium-dependent, delta isoform (Ppm1d) Kits ELISA
protein phosphatase, Mg2+/Mn2+ dependent, 1D (Ppm1d) Kits ELISA
protein phosphatase, Mg2+/Mn2+ dependent 1D L homeolog (ppm1d.L) Kits ELISA
protein phosphatase, Mg2+/Mn2+ dependent, 1Da (ppm1da) Kits ELISA
AV338790 Kits ELISA
PP2C-DELTA Kits ELISA
ppm1d Kits ELISA
WIP1 Kits ELISA
Wip1 Kits ELISA
wu:fj44c08 Kits ELISA
zgc:55836 Kits ELISA
zgc:77316 Kits ELISA