PPP1CA Kits ELISA
(Protein Phosphatase 1, Catalytic Subunit, alpha Isoform (PPP1CA))
The protein encoded by this gene is one of the three catalytic subunits of protein phosphatase 1 (PP1). PP1 is a serine/threonine specific protein phosphatase known to be involved in the regulation of a variety of cellular processes, such as cell division, glycogen metabolism, muscle contractility, protein synthesis, and HIV-1 viral transcription. Increased PP1 activity has been observed in the end stage of heart failure. Studies in both human and mice suggest that PP1 is an important regulator of cardiac function. Mouse studies also suggest that PP1 functions as a suppressor of learning and memory. Three alternatively spliced transcript variants encoding different isoforms have been found for this gene. [provided by RefSeq, Jul 2008].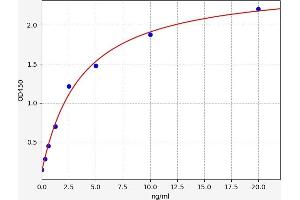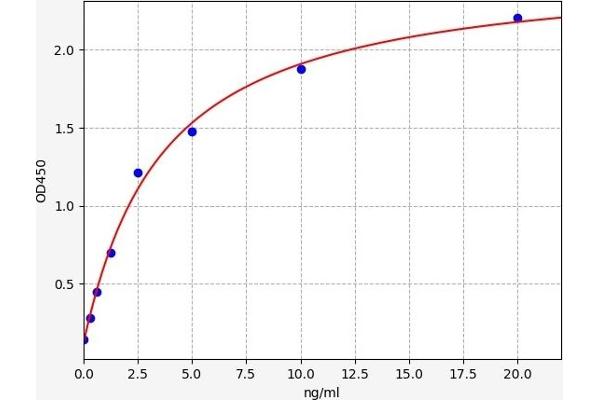 PPP1CA Kit ELISA

(ABIN6969734)
PPP1CA Reactivité: Humain Colorimetric Sandwich ELISA 0.313 ng/mL - 20 ng/mL Plasma, Serum, Tissue Homogenate
PPP1CA Kits ELISA par Réactivité
Trouvez PPP1CA Kits ELISA pour une variété d'espèces telles que anti-Cow PPP1CA, anti-Dog PPP1CA, anti-Human PPP1CA. Les espèces listées ci-dessous sont parmi celles disponibles. Cliquez sur un lien pour accéder aux produits correspondants.
PPP1CA Kits ELISA par Méthode de détection
On trouve ici des PPP1CA Kits ELISA avec un Méthode de détection spécifique. Les Méthode de détection mentionnés ici sont quelques-uns de ceux qui sont disponibles. Un clic sur le lien correspondant permet d'accéder aux produits
PPP1CA Kits ELISA par Analytical Method
On trouve ici des PPP1CA Kits ELISA avec un Analytical Method spécifique. Les Analytical Method mentionnés ici sont quelques-uns de ceux qui sont disponibles. Un clic sur le lien correspondant permet d'accéder aux produits
PPP1CA Kits ELISA par Type de méthode
On trouve ici des PPP1CA Kits ELISA avec un Type de méthode spécifique. Les Type de méthode mentionnés ici sont quelques-uns de ceux qui sont disponibles. Un clic sur le lien correspondant permet d'accéder aux produits
PPP1CA Kits ELISA par Sample
On trouve ici des PPP1CA Kits ELISA avec un Sample spécifique. Les Sample mentionnés ici sont quelques-uns de ceux qui sont disponibles. Un clic sur le lien correspondant permet d'accéder aux produits
PPP1CA Kits ELISA fréquemment utilisés
Produit
Reactivity
Analytical Method
Validations
N° du produit
Quantité
Fiche technique
Reactivity Human
Analytical Method Quantitative Sandwich ELISA
N° du produit ABIN6969734
Quantité 96 tests
Reactivity Mouse
Analytical Method Quantitative Sandwich ELISA
N° du produit ABIN6206787
Quantité 96 tests
Reactivity Rat
Analytical Method Quantitative Sandwich ELISA
N° du produit ABIN6206788
Quantité 96 tests
Reactivity Cow
Analytical Method
N° du produit ABIN1157567
Quantité 96 tests
Reactivity Dog
Analytical Method
N° du produit ABIN1157568
Quantité 96 tests
Pseudonymes pour PPP1CA Kits ELISA
protein phosphatase 1 catalytic subunit alpha (PPP1CA) Kits ELISA
protein phosphatase 1, catalytic subunit, alpha isoform (Ppp1ca) Kits ELISA
protein phosphatase 1 catalytic subunit alpha (Ppp1ca) Kits ELISA
protein phosphatase 1, catalytic subunit, alpha isozyme L homeolog (ppp1ca.L) Kits ELISA
protein phosphatase 1, catalytic subunit, alpha isozyme (ppp1ca) Kits ELISA
protein phosphatase 1, catalytic subunit, alpha isozyme a (ppp1caa) Kits ELISA
dism2 Kits ELISA
PP-1A Kits ELISA
PP1A Kits ELISA
PP1alpha Kits ELISA
PPP1A Kits ELISA
ppp1a Kits ELISA
Ppp1c Kits ELISA
wu:fc04c08 Kits ELISA
wu:fc09b07 Kits ELISA
wu:fc30g11 Kits ELISA
wu:fe05h08 Kits ELISA
zgc:85729 Kits ELISA