SCGB1D2 Kits ELISA
(Secretoglobin, Family 1D, Member 2 (SCGB1D2))
The protein encoded by this gene is a member of the lipophilin subfamily, part of the uteroglobin superfamily, and is an ortholog of prostatein, the major secretory glycoprotein of the rat ventral prostate gland. Lipophilin gene products are widely expressed in normal tissues, especially in endocrine-responsive organs. Assuming that human lipophilins are the functional counterparts of prostatein, they may be transcriptionally regulated by steroid hormones, with the ability to bind androgens, other steroids and possibly bind and concentrate estramustine, a chemotherapeutic agent widely used for prostate cancer. Although the gene has been reported to be on chromosome 10, this sequence appears to be from a cluster of genes on chromosome 11 that includes mammaglobin 2. [provided by RefSeq, Jul 2008].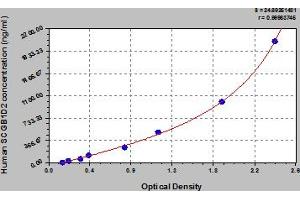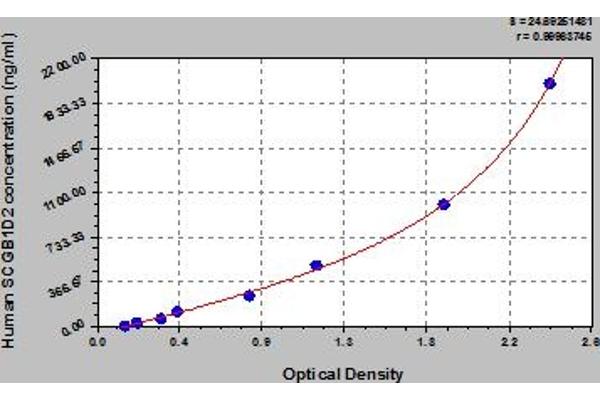 Secretoglobin, Family 1D, Member 2 (SCGB1D2) ELISA Kit

(ABIN6975339)
SCGB1D2 Reactivité: Humain Colorimetric Sandwich ELISA 31.25 ng/mL - 2000 ng/mL Plasma, Serum, Tissue Homogenate
SCGB1D2 Kits ELISA par Réactivité
Trouvez SCGB1D2 Kits ELISA pour une variété d'espèces telles que anti-Human SCGB1D2. Les espèces listées ci-dessous sont parmi celles disponibles. Cliquez sur un lien pour accéder aux produits correspondants.
SCGB1D2 Kits ELISA par Méthode de détection
On trouve ici des SCGB1D2 Kits ELISA avec un Méthode de détection spécifique. Les Méthode de détection mentionnés ici sont quelques-uns de ceux qui sont disponibles. Un clic sur le lien correspondant permet d'accéder aux produits
SCGB1D2 Kits ELISA par Analytical Method
On trouve ici des SCGB1D2 Kits ELISA avec un Analytical Method spécifique. Les Analytical Method mentionnés ici sont quelques-uns de ceux qui sont disponibles. Un clic sur le lien correspondant permet d'accéder aux produits
SCGB1D2 Kits ELISA par Type de méthode
On trouve ici des SCGB1D2 Kits ELISA avec un Type de méthode spécifique. Les Type de méthode mentionnés ici sont quelques-uns de ceux qui sont disponibles. Un clic sur le lien correspondant permet d'accéder aux produits
SCGB1D2 Kits ELISA par Sample
On trouve ici des SCGB1D2 Kits ELISA avec un Sample spécifique. Les Sample mentionnés ici sont quelques-uns de ceux qui sont disponibles. Un clic sur le lien correspondant permet d'accéder aux produits
SCGB1D2 Kits ELISA fréquemment utilisés
Pseudonymes pour SCGB1D2 Kits ELISA
secretoglobin family 1D member 2 (SCGB1D2) Kits ELISA
secretoglobin, family 1D, member 2 (Scgb1d2) Kits ELISA
LIPB Kits ELISA
LPHB Kits ELISA
LPNB Kits ELISA
Pbpc1bs Kits ELISA
Psbpc1 Kits ELISA