TAF1 Protéines
(TAF1 RNA Polymerase II, TATA Box Binding Protein (TBP)-Associated Factor (TAF1))
Initiation of transcription by RNA polymerase II requires the activities of more than 70 polypeptides. The protein that coordinates these activities is the basal transcription factor TFIID, which binds to the core promoter to position the polymerase properly, serves as the scaffold for assembly of the remainder of the transcription complex, and acts as a channel for regulatory signals. TFIID is composed of the TATA-binding protein (TBP) and a group of evolutionarily conserved proteins known as TBP-associated factors or TAFs. TAFs may participate in basal transcription, serve as coactivators, function in promoter recognition or modify general transcription factors (GTFs) to facilitate complex assembly and transcription initiation. This gene encodes the largest subunit of TFIID. This subunit binds to core promoter sequences encompassing the transcription start site. It also binds to activators and other transcriptional regulators, and these interactions affect the rate of transcription initiation. This subunit contains two independent protein kinase domains at the N and C-terminals, but also possesses acetyltransferase activity and can act as a ubiquitin-activating/conjugating enzyme. This gene is part of a complex transcriptional unit (TAF1/DYT3), wherein some products share exons with TAF1 as well as additional exons downstream.[provided by RefSeq, Aug 2009].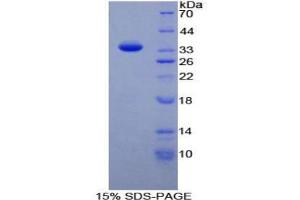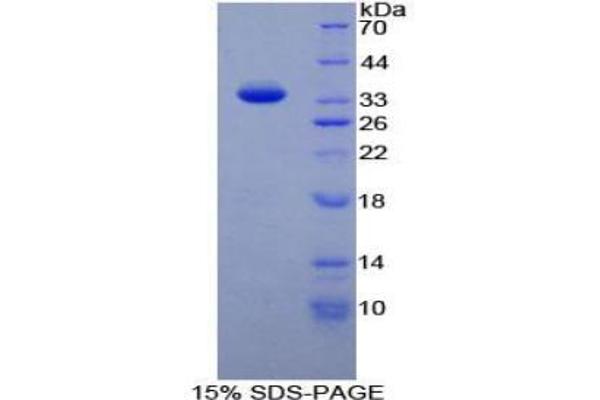 TAF1 Protéine

(ABIN3011805)
TAF1 Origine: Humain Hôte: Escherichia coli (E. coli) Recombinant > 95 % WB, SDS, ELISA, IP
TAF1 Protéines par Origin
Trouvez TAF1 Protéines pour une variété d'espèces telles que anti-Human TAF1. Les espèces listées ci-dessous sont parmi celles disponibles. Cliquez sur un lien pour accéder aux produits correspondants.
TAF1 Protéines par Source
On trouve ici des TAF1 Protéines avec un Source spécifique. Les Source mentionnés ici sont quelques-uns de ceux qui sont disponibles. Un clic sur le lien correspondant permet d'accéder aux produits
TAF1 Protéines par Type Proteine
On trouve ici des TAF1 Protéines avec un Type Proteine spécifique. Les Type Proteine mentionnés ici sont quelques-uns de ceux qui sont disponibles. Un clic sur le lien correspondant permet d'accéder aux produits
TAF1 Protéines par Application
Trouver TAF1 Protéines validé pour une application spécifique telle que WB, SDS, ELISA, Imm. Certaines des applications disponibles sont énumérées ci-dessous. Cliquez sur un lien pour accéder aux produits correspondants
TAF1 Protéines fréquemment utilisés
Produit
Reactivity
Source
Validations
N° du produit
Quantité
Fiche technique
Reactivity Human
Source Escherichia coli (E. coli)
N° du produit ABIN3011805
Quantité 100 μg
Reactivity Human
Source Escherichia coli (E. coli)
N° du produit ABIN7406095
Quantité 100 μg
Reactivity Human
Source Baculovirus infected Insect Cells, Insect cells (Sf9)
N° du produit ABIN6700600
Quantité 50 μg
Pseudonymes pour TAF1 Protéines
TATA-box binding protein associated factor 1 (Taf1) Protéines
TATA-box binding protein associated factor 1 (TAF1) Protéines
250kDa Protéines
AU015687 Protéines
B430306D02Rik Protéines
BA2R Protéines
Ccg-1 Protéines
Ccg1 Protéines
CCG1 Protéines
CCGS Protéines
DYT3 Protéines
DYT3/TAF1 Protéines
KAT4 Protéines
N-TAF1 Protéines
NSCL2 Protéines
OF Protéines
P250 Protéines
Taf2a Protéines
TAF2A Protéines
TAFII250 Protéines
XDP Protéines