Tensin 1 Protéines
(Tensin 1 (TNS1))
The protein encoded by this gene localizes to focal adhesions, regions of the plasma membrane where the cell attaches to the extracellular matrix. This protein crosslinks actin filaments and contains a Src homology 2 (SH2) domain, which is often found in molecules involved in signal transduction. This protein is a substrate of calpain II. A second transcript from this gene has been described, but its full length nature has not been determined. [provided by RefSeq, Jul 2008].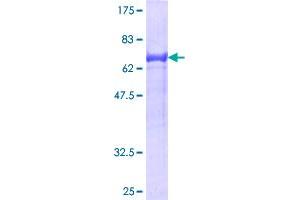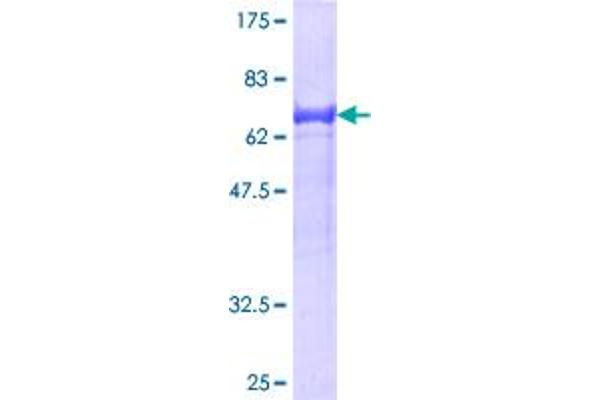 Tensin 1 Protein (TNS1) (AA 1-385) (GST tag)

(ABIN1323308)
TNS1 Origine: Humain Hôte: Wheat germ Recombinant AP, AA, ELISA, WB
Tensin 1 Protéines par Origin
Trouvez Tensin 1 Protéines pour une variété d'espèces telles que anti-Human Tensin 1. Les espèces listées ci-dessous sont parmi celles disponibles. Cliquez sur un lien pour accéder aux produits correspondants.
Tensin 1 Protéines par Source
On trouve ici des Tensin 1 Protéines avec un Source spécifique. Les Source mentionnés ici sont quelques-uns de ceux qui sont disponibles. Un clic sur le lien correspondant permet d'accéder aux produits
Tensin 1 Protéines par Type Proteine
On trouve ici des Tensin 1 Protéines avec un Type Proteine spécifique. Les Type Proteine mentionnés ici sont quelques-uns de ceux qui sont disponibles. Un clic sur le lien correspondant permet d'accéder aux produits
Tensin 1 Protéines par Application
Trouver Tensin 1 Protéines validé pour une application spécifique telle que WB, AP, AA, ELISA. Certaines des applications disponibles sont énumérées ci-dessous. Cliquez sur un lien pour accéder aux produits correspondants
Tensin 1 Protéines fréquemment utilisés
Produit
Reactivity
Source
Validations
N° du produit
Quantité
Fiche technique
Reactivity Human
Source Wheat germ
N° du produit ABIN1323308
Quantité 10 μg
Reactivity Human
Source Escherichia coli (E. coli)
N° du produit ABIN7419004
Quantité 100 μg
Pseudonymes pour Tensin 1 Protéines
tensin 1 (TNS1) Protéines
tensin 1 (Tns1) Protéines
tensin 1 (tns1) Protéines
tensin-1 (LOC100458862) Protéines
1110018I21Rik Protéines
1200014E20Rik Protéines
AI648117 Protéines
E030018G17Rik Protéines
E030037J05Rik Protéines
MST091 Protéines
mst091 Protéines
MST122 Protéines
MST127 Protéines
MSTP122 Protéines
MSTP127 Protéines
MXRA6 Protéines
mxra6 Protéines
tensin Protéines
TNS Protéines
Tns Protéines
tns Protéines
TNS1 Protéines