CA14 Kits ELISA
(Carbonic Anhydrase XIV (CA14))
Carbonic anhydrases (CAs) are a large family of zinc metalloenzymes that catalyze the reversible hydration of carbon dioxide. They participate in a variety of biological processes, including respiration, calcification, acid-base balance, bone resorption, and the formation of aqueous humor, cerebrospinal fluid, saliva, and gastric acid. They show extensive diversity in tissue distribution and in their subcellular localization. CA XIV is predicted to be a type I membrane protein and shares highest sequence similarity with the other transmembrane CA isoform, CA XII\; however, they have different patterns of tissue-specific expression and thus may play different physiologic roles. [provided by RefSeq, Jul 2008].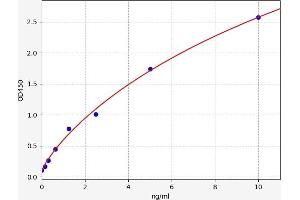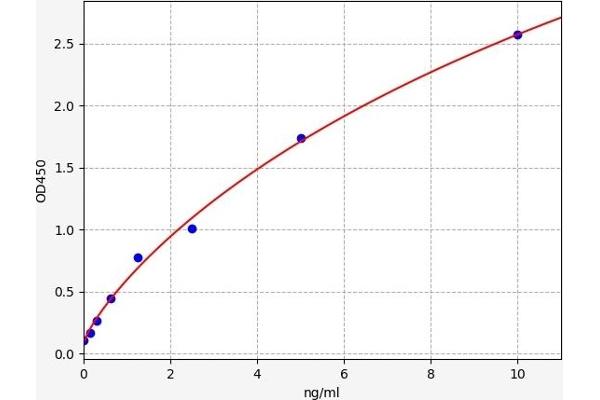 Carbonic Anhydrase XIV (CA14) ELISA Kit

(ABIN6965399)
CA14 Reactivité: Humain Colorimetric Sandwich ELISA 0.156 ng/mL - 10 ng/mL Plasma, Serum, Tissue Homogenate
CA14 Kits ELISA par Réactivité
Trouvez CA14 Kits ELISA pour une variété d'espèces telles que anti-Human CA14, anti-Mouse CA14. Les espèces listées ci-dessous sont parmi celles disponibles. Cliquez sur un lien pour accéder aux produits correspondants.
CA14 Kits ELISA par Méthode de détection
On trouve ici des CA14 Kits ELISA avec un Méthode de détection spécifique. Les Méthode de détection mentionnés ici sont quelques-uns de ceux qui sont disponibles. Un clic sur le lien correspondant permet d'accéder aux produits
CA14 Kits ELISA par Analytical Method
On trouve ici des CA14 Kits ELISA avec un Analytical Method spécifique. Les Analytical Method mentionnés ici sont quelques-uns de ceux qui sont disponibles. Un clic sur le lien correspondant permet d'accéder aux produits
CA14 Kits ELISA par Type de méthode
On trouve ici des CA14 Kits ELISA avec un Type de méthode spécifique. Les Type de méthode mentionnés ici sont quelques-uns de ceux qui sont disponibles. Un clic sur le lien correspondant permet d'accéder aux produits
CA14 Kits ELISA par Sample
On trouve ici des CA14 Kits ELISA avec un Sample spécifique. Les Sample mentionnés ici sont quelques-uns de ceux qui sont disponibles. Un clic sur le lien correspondant permet d'accéder aux produits
CA14 Kits ELISA fréquemment utilisés
Produit
Reactivity
Analytical Method
Validations
N° du produit
Quantité
Fiche technique
Reactivity Human
Analytical Method Semi-Quantitative Sandwich ELISA
N° du produit ABIN6385803
Quantité 96 tests
Pseudonymes pour CA14 Kits ELISA
carbonic anhydrase XIV (CA14) Kits ELISA
carbonic anhydrase 14 (CA14) Kits ELISA
carbonic anhydrase XIV (ca14) Kits ELISA
carbonic anhydrase 14 (ca14) Kits ELISA
carbonic anhydrase 14 (Car14) Kits ELISA
AW536446 Kits ELISA
Ca14 Kits ELISA
CAXiV Kits ELISA
zgc:123188 Kits ELISA