CDKN2C Kits ELISA
(Cyclin-Dependent Kinase Inhibitor 2C (p18, Inhibits CDK4) (CDKN2C))
The protein encoded by this gene is a member of the INK4 family of cyclin-dependent kinase inhibitors. This protein has been shown to interact with CDK4 or CDK6, and prevent the activation of the CDK kinases, thus function as a cell growth regulator that controls cell cycle G1 progression. Ectopic expression of this gene was shown to suppress the growth of human cells in a manner that appears to correlate with the presence of a wild-type RB1 function. Studies in the knockout mice suggested the roles of this gene in regulating spermatogenesis, as well as in suppressing tumorigenesis. Two alternatively spliced transcript variants of this gene, which encode an identical protein, have been reported. [provided by RefSeq, Jul 2008].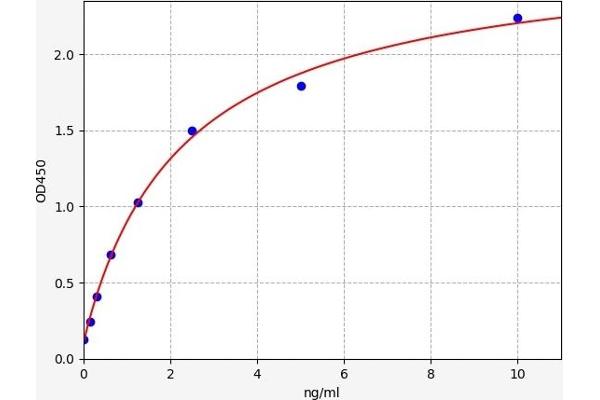 CDKN2C Kit ELISA

(ABIN6966181)
CDKN2C Reactivité: Humain Colorimetric Sandwich ELISA 0.156 ng/mL - 10 ng/mL Plasma, Serum, Tissue Homogenate
CDKN2C Kits ELISA par Réactivité
Trouvez CDKN2C Kits ELISA pour une variété d'espèces telles que anti-Human CDKN2C, anti-Mouse CDKN2C. Les espèces listées ci-dessous sont parmi celles disponibles. Cliquez sur un lien pour accéder aux produits correspondants.
CDKN2C Kits ELISA par Méthode de détection
On trouve ici des CDKN2C Kits ELISA avec un Méthode de détection spécifique. Les Méthode de détection mentionnés ici sont quelques-uns de ceux qui sont disponibles. Un clic sur le lien correspondant permet d'accéder aux produits
CDKN2C Kits ELISA par Analytical Method
On trouve ici des CDKN2C Kits ELISA avec un Analytical Method spécifique. Les Analytical Method mentionnés ici sont quelques-uns de ceux qui sont disponibles. Un clic sur le lien correspondant permet d'accéder aux produits
CDKN2C Kits ELISA par Type de méthode
On trouve ici des CDKN2C Kits ELISA avec un Type de méthode spécifique. Les Type de méthode mentionnés ici sont quelques-uns de ceux qui sont disponibles. Un clic sur le lien correspondant permet d'accéder aux produits
CDKN2C Kits ELISA par Sample
On trouve ici des CDKN2C Kits ELISA avec un Sample spécifique. Les Sample mentionnés ici sont quelques-uns de ceux qui sont disponibles. Un clic sur le lien correspondant permet d'accéder aux produits
CDKN2C Kits ELISA fréquemment utilisés
Produit
Reactivity
Analytical Method
Validations
N° du produit
Quantité
Fiche technique
Reactivity Human
Analytical Method Quantitative Sandwich ELISA
N° du produit ABIN6966181
Quantité 96 tests
Reactivity Mouse
Analytical Method
N° du produit ABIN585376
Quantité 96 tests
Pseudonymes pour CDKN2C Kits ELISA
cyclin dependent kinase inhibitor 2C (CDKN2C) Kits ELISA
cyclin-dependent kinase inhibitor 2C (cdkn2c) Kits ELISA
cyclin-dependent kinase inhibitor 2C (p18, inhibits CDK4) (Cdkn2c) Kits ELISA
cyclin-dependent kinase inhibitor 2C (Cdkn2c) Kits ELISA
C77269 Kits ELISA
CDKN2C Kits ELISA
ink4c Kits ELISA
INK4C Kits ELISA
INK4c Kits ELISA
INK4d Kits ELISA
p18 Kits ELISA
p18-ink4c Kits ELISA
p18-INK4C Kits ELISA
p18INK4c Kits ELISA