CFHR3 Protéines
(Complement Factor H-Related 3 (CFHR3))
The protein encoded by this gene is a secreted protein, which belongs to the complement factor H-related protein family. It binds to heparin, and may be involved in complement regulation. Mutations in this gene are associated with decreased risk of age-related macular degeneration, and with an increased risk of atypical hemolytic-uremic syndrome. Alternatively spliced transcript variants encoding different isoforms have been found for this gene. [provided by RefSeq, Oct 2011].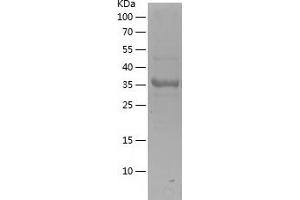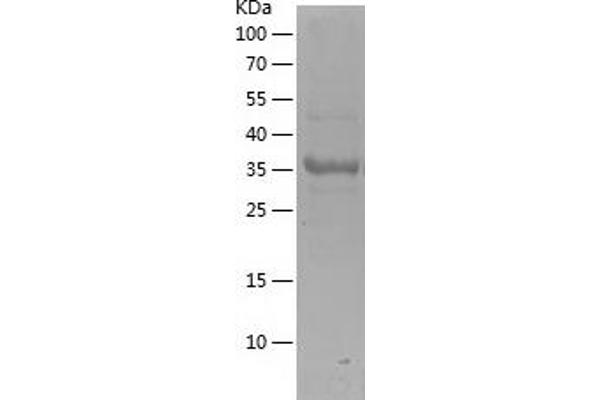 CFHR3 Protein (AA 206-330) (IF2DI tag)

(ABIN7122474)
CFHR3 Origine: Humain Hôte: Escherichia coli (E. coli) Recombinant Greater than 95 % by SDS-PAGE gel analyses ELISA, WB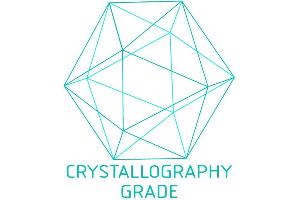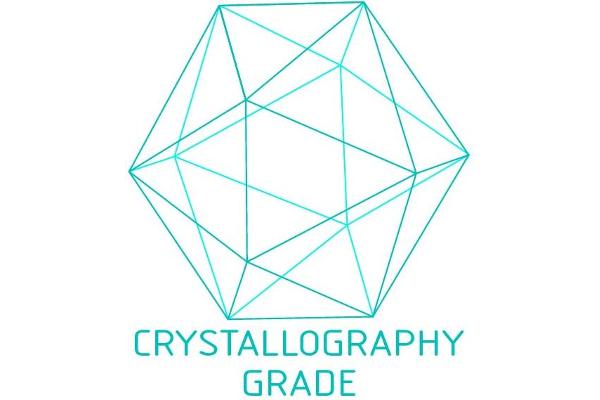 CFHR3 Protein (AA 19-330) (His tag)

(ABIN3080103)
Crystallography grade CFHR3 Origine: Humain Hôte: Cellules d'insectes Recombinant >95 % as determined by SDS PAGE, Size Exclusion Chromatography and Western Blot. Crys, ELISA, SDS, WB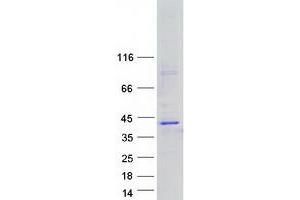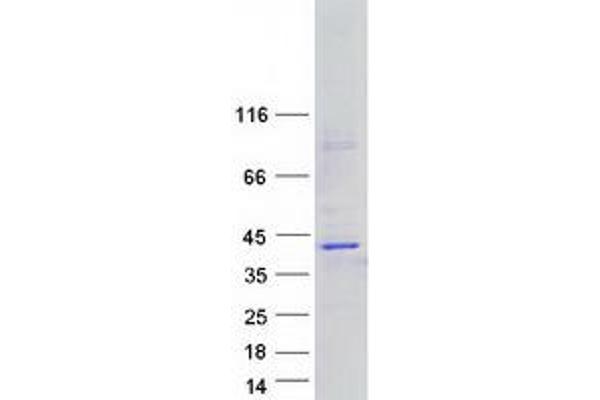 CFHR3 Protein (Transcript Variant 2) (Myc-DYKDDDDK Tag)

(ABIN2712459)
CFHR3 Origine: Humain Hôte: HEK-293 Cells Recombinant > 80 % as determined by SDS-PAGE and Coomassie blue staining AbP, STD
CFHR3 Protéines par Grade
On trouve ici des CFHR3 Protéines avec un Grade spécifique. Les Grade mentionnés ici sont quelques-uns de ceux qui sont disponibles. Un clic sur le lien correspondant permet d'accéder aux produits
CFHR3 Protéines par Origin
Trouvez CFHR3 Protéines pour une variété d'espèces telles que anti-Human CFHR3. Les espèces listées ci-dessous sont parmi celles disponibles. Cliquez sur un lien pour accéder aux produits correspondants.
CFHR3 Protéines par Source
On trouve ici des CFHR3 Protéines avec un Source spécifique. Les Source mentionnés ici sont quelques-uns de ceux qui sont disponibles. Un clic sur le lien correspondant permet d'accéder aux produits
CFHR3 Protéines par Type Proteine
On trouve ici des CFHR3 Protéines avec un Type Proteine spécifique. Les Type Proteine mentionnés ici sont quelques-uns de ceux qui sont disponibles. Un clic sur le lien correspondant permet d'accéder aux produits
CFHR3 Protéines par Application
Trouver CFHR3 Protéines validé pour une application spécifique telle que WB, SDS, ELISA, Imm. Certaines des applications disponibles sont énumérées ci-dessous. Cliquez sur un lien pour accéder aux produits correspondants
CFHR3 Protéines fréquemment utilisés
Produit
Reactivity
Source
Validations
N° du produit
Quantité
Fiche technique
Reactivity Human
Source Escherichia coli (E. coli)
N° du produit ABIN7122474
Quantité 50 μg
Reactivity Human
Source Insect Cells
N° du produit ABIN3080103
Quantité 1 mg
Reactivity Human
Source HEK-293 Cells
N° du produit ABIN2712459
Quantité 20 μg
Reactivity Human
Source Escherichia coli (E. coli)
N° du produit ABIN7386047
Quantité 100 μg
Reactivity Human
Source Escherichia coli (E. coli)
N° du produit ABIN7424848
Quantité 100 μg
Reactivity Human
Source Human Cells
N° du produit ABIN7314334
Quantité 50 μg
Pseudonymes pour CFHR3 Protéines
complement factor H-related 3 (Cfhr3) Protéines
complement factor H related 3 (CFHR3) Protéines
CFHL3 Protéines
DOWN16 Protéines
EG624286 Protéines
FHR-3 Protéines
FHR3 Protéines
HLF4 Protéines