CSRP1 Kits ELISA
(Cysteine and Glycine-Rich Protein 1 (CSRP1))
This gene encodes a member of the cysteine-rich protein (CSRP) family. This gene family includes a group of LIM domain proteins, which may be involved in regulatory processes important for development and cellular differentiation. The LIM/double zinc-finger motif found in this gene product occurs in proteins with critical functions in gene regulation, cell growth, and somatic differentiation. Alternatively spliced transcript variants have been described. [provided by RefSeq, Aug 2010].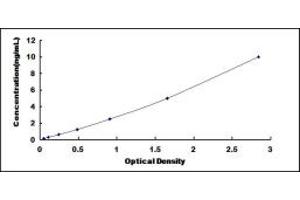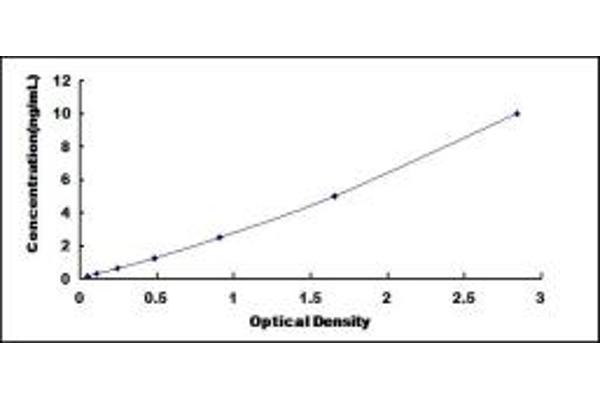 CSRP1 Kit ELISA

(ABIN6955191)
CSRP1 Reactivité: Humain Colorimetric Sandwich ELISA 0.15 ng/mL - 10 ng/mL Tissue Homogenate
CSRP1 Kit ELISA

(ABIN6730468)
CSRP1 Reactivité: Souris Colorimetric Sandwich ELISA Cell Culture Supernatant, Cell Samples, Plasma, Serum, Tissue Lysate
CSRP1 Kits ELISA par Réactivité
Trouvez CSRP1 Kits ELISA pour une variété d'espèces telles que anti-Human CSRP1, anti-Mouse CSRP1, anti-Rat CSRP1. Les espèces listées ci-dessous sont parmi celles disponibles. Cliquez sur un lien pour accéder aux produits correspondants.
CSRP1 Kits ELISA par Méthode de détection
On trouve ici des CSRP1 Kits ELISA avec un Méthode de détection spécifique. Les Méthode de détection mentionnés ici sont quelques-uns de ceux qui sont disponibles. Un clic sur le lien correspondant permet d'accéder aux produits
CSRP1 Kits ELISA par Analytical Method
On trouve ici des CSRP1 Kits ELISA avec un Analytical Method spécifique. Les Analytical Method mentionnés ici sont quelques-uns de ceux qui sont disponibles. Un clic sur le lien correspondant permet d'accéder aux produits
CSRP1 Kits ELISA par Type de méthode
On trouve ici des CSRP1 Kits ELISA avec un Type de méthode spécifique. Les Type de méthode mentionnés ici sont quelques-uns de ceux qui sont disponibles. Un clic sur le lien correspondant permet d'accéder aux produits
CSRP1 Kits ELISA par Sample
On trouve ici des CSRP1 Kits ELISA avec un Sample spécifique. Les Sample mentionnés ici sont quelques-uns de ceux qui sont disponibles. Un clic sur le lien correspondant permet d'accéder aux produits
CSRP1 Kits ELISA fréquemment utilisés
Produit
Reactivity
Analytical Method
Validations
N° du produit
Quantité
Fiche technique
Reactivity Human
Analytical Method Quantitative Sandwich ELISA
N° du produit ABIN6955191
Quantité 96 tests
Reactivity Human, Mouse, Rat
Analytical Method Qualitative Cell ELISA
N° du produit ABIN5648171
Quantité 96 tests
Reactivity Mouse
Analytical Method Quantitative Sandwich ELISA
N° du produit ABIN6730468
Quantité 96 tests
Pseudonymes pour CSRP1 Kits ELISA
cysteine and glycine rich protein 1 (CSRP1) Kits ELISA
cysteine and glycine-rich protein 1 (Csrp1) Kits ELISA
cysteine and glycine-rich protein 1a (csrp1a) Kits ELISA
cysteine and glycine rich protein 1 L homeolog (csrp1.L) Kits ELISA
cysteine and glycine rich protein 1 (csrp1) Kits ELISA
cysteine and glycine-rich protein 1b (csrp1b) Kits ELISA
Cysteine and glycine-rich protein 1 (csrp1) Kits ELISA
cysteine and glycine-rich protein 1 (LOC100304834) Kits ELISA
cysteine and glycine-rich protein 1 (Tsp_01053) Kits ELISA
cysteine and glycine rich protein 1 (Csrp1) Kits ELISA
AA408841 Kits ELISA
AA959891 Kits ELISA
AW545626 Kits ELISA
cb796 Kits ELISA
CRP Kits ELISA
CRP1 Kits ELISA
CSRP Kits ELISA
Csrp Kits ELISA
csrp1 Kits ELISA
CSRP1 Kits ELISA
CYRP Kits ELISA
D1S181E Kits ELISA
MGC85577 Kits ELISA
MGC89932 Kits ELISA
zgc:77332 Kits ELISA
zgc:158737 Kits ELISA