DEFA5 Protéines
(Defensin, alpha 5, Paneth Cell-Specific (DEFA5))
Defensins are a family of microbicidal and cytotoxic peptides thought to be involved in host defense. They are abundant in the granules of neutrophils and also found in the epithelia of mucosal surfaces such as those of the intestine, respiratory tract, urinary tract, and vagina. Members of the defensin family are highly similar in protein sequence and distinguished by a conserved cysteine motif. Several of the alpha defensin genes appear to be clustered on chromosome 8. The protein encoded by this gene, defensin, alpha 5, is highly expressed in the secretory granules of Paneth cells of the ileum. [provided by RefSeq, Jul 2008].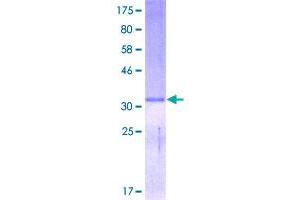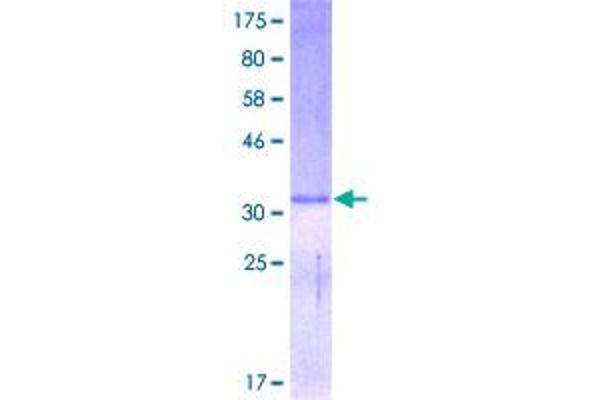 DEFA5 Protein (AA 1-94) (GST tag)

(ABIN1351412)
DEFA5 Origine: Humain Hôte: Wheat germ Recombinant AA, AP, ELISA, WB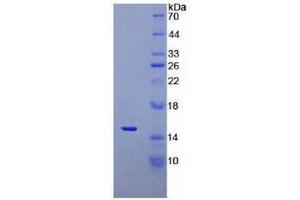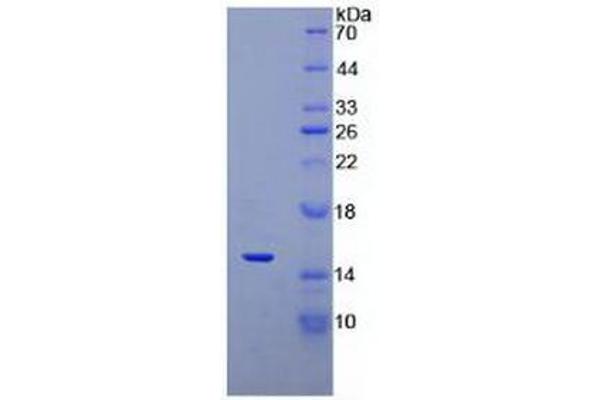 DEFA5 Protéine

(ABIN3009135)
DEFA5 Origine: Humain Hôte: Escherichia coli (E. coli) Recombinant > 95 % SDS, WB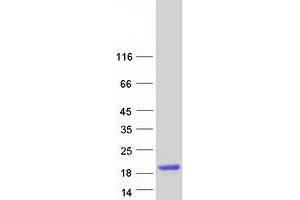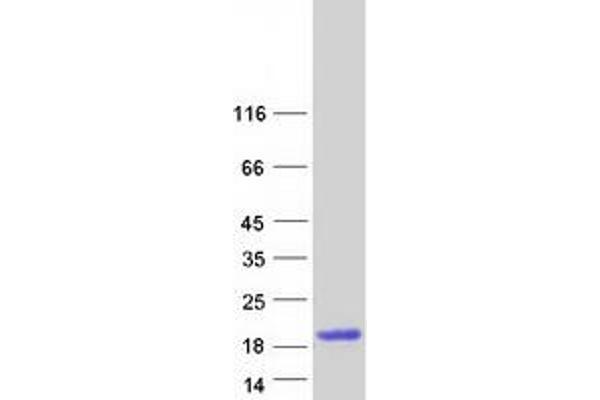 DEFA5 Protein (Myc-DYKDDDDK Tag)

(ABIN2719350)
DEFA5 Origine: Humain Hôte: HEK-293 Cells Recombinant > 80 % as determined by SDS-PAGE and Coomassie blue staining AbP, STD
DEFA5 Protéines par Origin
Trouvez DEFA5 Protéines pour une variété d'espèces telles que anti-Human DEFA5, anti-Mouse DEFA5, anti-Chimpanzee DEFA5. Les espèces listées ci-dessous sont parmi celles disponibles. Cliquez sur un lien pour accéder aux produits correspondants.
DEFA5 Protéines par Source
On trouve ici des DEFA5 Protéines avec un Source spécifique. Les Source mentionnés ici sont quelques-uns de ceux qui sont disponibles. Un clic sur le lien correspondant permet d'accéder aux produits
DEFA5 Protéines par Type Proteine
On trouve ici des DEFA5 Protéines avec un Type Proteine spécifique. Les Type Proteine mentionnés ici sont quelques-uns de ceux qui sont disponibles. Un clic sur le lien correspondant permet d'accéder aux produits
DEFA5 Protéines par Application
Trouver DEFA5 Protéines validé pour une application spécifique telle que WB, SDS, Imm, PC. Certaines des applications disponibles sont énumérées ci-dessous. Cliquez sur un lien pour accéder aux produits correspondants
DEFA5 Protéines fréquemment utilisés
Produit
Reactivity
Source
Validations
N° du produit
Quantité
Fiche technique
Reactivity Human
Source Wheat germ
N° du produit ABIN1351412
Quantité 2 μg
Reactivity Human
Source Escherichia coli (E. coli)
N° du produit ABIN3009135
Quantité 100 μg
Reactivity Human
Source HEK-293 Cells
N° du produit ABIN2719350
Quantité 20 μg
Reactivity Mouse
Source Escherichia coli (E. coli)
N° du produit ABIN7081096
Quantité 50 μg
Reactivity Mouse
Source Escherichia coli (E. coli)
N° du produit ABIN7081098
Quantité 50 μg
Reactivity Human
Source Escherichia coli (E. coli)
N° du produit ABIN7081097
Quantité 50 μg
Reactivity Mouse
Source Escherichia coli (E. coli)
N° du produit ABIN6122281
Quantité 100 μg
Reactivity Chimpanzee
Source Yeast
N° du produit ABIN1632558
Quantité 1 mg
Pseudonymes pour DEFA5 Protéines
defensin alpha 5 (DEFA5) Protéines
defensin, alpha, 5 (Defa5) Protéines
defensin, alpha 5, Paneth cell-specific (DEFA5) Protéines
defensin alpha 5 (Defa5) Protéines
alpha-defensin 1A (MNP1A) Protéines
DEF5 Protéines
Defa Protéines
DEFA1 Protéines
DEFA5 Protéines
Defa29 Protéines
Defcr5 Protéines
Defcr29 Protéines
HD-5 Protéines